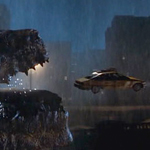 "We got approached with GODZILLA, and Dean was really in favor. I said, 'Are you crazy? Have you seen a Godzilla film? How does the monster look? They put a guy in there.'" –Roland Emmerich
May 20, 1998
Man, LOST IN SPACE was a terrible summer blockbuster, but I was kind of excited to take a look at it because I had skipped it at the time and there was 20 years of curiosity build-up. And there's another one coming later in the summer that I despised at the time, but it ended up being influential and kickstarting an in-my-opinion-bad-but-oddly-fascinating filmography, so I'm looking forward to finding out how I'll feel about it now.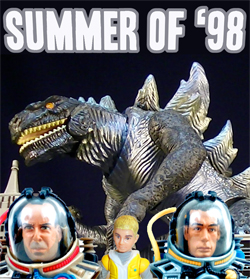 GODZILLA has neither of those factors going for it. I thought it sucked then and it has not grown better or more interesting. Director Roland Emmerich (WHITE HOUSE DOWN) has gone on to make fairly successful (but widely mocked) FX movies, often in the disaster genre. The only significance to this one is that it deflated his premature ascension to blockbuster-A-list after the still-befuddling-to-me smash success of INDEPENDENCE DAY in 1996. TriStar Pictures managed to build up fevered anticipation with a series of teasers that kept the design of the monster a secret. I remember one used the scene where the fisherman runs down the dock as Godzilla's spikes tear through it. The tagline "SIZE DOES MATTER" simultaneously promised thrilling spectacle and giggled "ha ha, you get it, because of penises."
I was skeptical on account of my belief in the auteur theory. I was one of the rare wet blankets who hated ID4 (which stands for "Independence Day takes place partly on July 4th") and as much as I wanted to see a cool modern Godzilla movie I didn't think this guy had the skills to do it. On May 20th most of the world ended up agreeing with me. (read the rest of this shit…)
VERN has a new action-horror novel out called WORM ON A HOOK! He has been reviewing movies since 1999 and is the author of the film criticism books Seagalogy: A Study of the Ass-Kicking Films of Steven Seagal and Yippee Ki-Yay Moviegoer!: Writings on Bruce Willis, Badass Cinema and Other Important Topics as well as the crime novel Niketown.