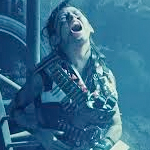 36.15 CODE PÈRE NOËL – a.k.a. WANTED: MR. XMAS, GAME OVER, DIAL CODE SANTA CLAUS, HIDE AND FREAK, or DEADLY GAMES on the German Blu-Ray I rented – is an A+ Christmas action-horror cult movie from 1989 that I can't believe I'd never heard of before. I read about it in the book Yuletide Terror: Christmas Horror on Film and Television edited by Paul Corupe and Kier-La Janisse. That's a small press book I pre-ordered last year and there was some mishap that caused it to be delivered a little after Christmas, so I had it set aside for 11 months, excited to bust it out this year.
As I go through it I've been making a long list of things to check out. This was at the top, but I can't imagine anything else on the list will match it. I was convinced I was sitting on the mother of all Christmas recommendations here and then I asked a friend if he'd ever heard of it and… yeah, there's a new A.G.F.A. restoration of it that was a big hit at Fantastic Fest this year and is even playing here in Seattle at the Grand Illusion this week.
Oh.
Still, I'm so excited to tell you guys about this one. Though it was made a year before HOME ALONE, it combines the kid-defending-his-house-at-Christmas concept with SILENT NIGHT, DEADLY NIGHT killer Santa horror and tinges of Jean-Pierre Jeunet heightened reality. It's so joyous in putting its young hero and his Danny-Cooksey-worthy spikey mullet through kid versions of '80s action tropes that if I didn't know it was from '89 I'd assume it was a tribute movie made by some French answer to Taika Waititi. And yet it's not at all a comedy. It absolutely works on the level of a serious stalk and slash movie, and it's about serious ideas. (read the rest of this shit…)
VERN has a new action-horror novel out called WORM ON A HOOK! He has been reviewing movies since 1999 and is the author of the film criticism books Seagalogy: A Study of the Ass-Kicking Films of Steven Seagal and Yippee Ki-Yay Moviegoer!: Writings on Bruce Willis, Badass Cinema and Other Important Topics as well as the crime novel Niketown.