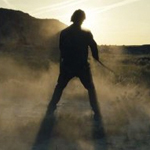 "I remember everybody, kid. Most of 'em are dead."
After finally watching STAKE LAND six years after the fact I looked it up on IMDb and was surprised to learn that they already made a sequel that just premiered on SyFy last week and was free on-demand through the 30th. Pretty good timing.
It's directed by Dan Berk and Robert Olsen, who wrote the upcoming Dolph Lundgren picture DON'T KILL IT. Don't worry. Part 1's Jim Mickle did produce it along with Larry Fessenden's Glass Eye Pix, and Nick Damici returns as screenwriter and starring as Mister, as does Connor Paolo as Martin. It's not some bullshit TV exploitation of the title, it's a legit sequel that they made and then must've gotten more money from SyFy than they would've going the normal VOD-then-video route. So more power to them.
(On the other hand, there seem to be virtually no reviews of it and not even poster art available online. Does anyone even know it came out?) (read the rest of this shit…)