RARE EXPORTS is this year's hottest Christmas horror movie. It's a killer Santa movie but not in the SILENT NIGHT, DEADLY NIGHT sense – in this one Santa is a monster. It's kind of like THE THING – an American team finds him frozen in a block of ice under a small mountain. They say it's actually a burial mound. They dig him up and this might cause some repercussions that could put a damper on the season.

The protagonists are the folks who live a simple life near the mountain, rounding up reindeer. In particular the movie follows Pietari, a little boy who still believed in Santa until he figured out what the Americans were digging up up there. I guess he still believes in Santa, but in a different way. His dad, a butcher, thinks the detonations on the mountain have worked up the wolves and caused them to kill all the reindeer. But, see, it probly wasn't wolves.
All of the faces in this movie are interesting – very Nordic, very lived-in, very un-Hollywood. Pietari's dad is a rugged outdoorsman type of badass. We trust his abilities because he's intorduced carving wooden stakes for a tiger-pit style wolf trap. Then he cuts an apple with the same blade, takes a bite and puts the rest in the mouth of the severed pig head he has as bait.
Well, his trap doesn't catch any wolves. Instead it catches a skinny old naked man with a long white beard. He kinda looks like Brion James. He doesn't seem jolly at all in my opinion and won't talk to them, but does perk up when he smells gingerbread or senses a naughty kid nearby.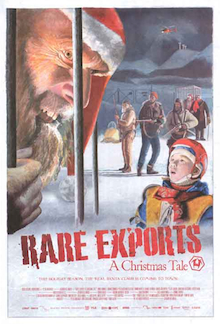 It's a great relationship between this man's-man butcher and his goofy little son who walks around in the snow in his underwear. Dad looks kind of annoyed and embarrassed by his son at first but we see and hear about alot of examples of him being a good father and looking out for his kid's safety and happiness.
The landscape is bleak and eery, the performances are quiet and understated, there's an underlying tension and the absurd premise is treated very dryly, without mugging or wackiness. They bring up old legends of mean Father Christmases that punish naughty children, so it seems to have some kind of logical basis in mythology. And the photography is really nice, looks great on the blu-ray.
But it seems to me like there's a major shift in tone for the last act. Suddenly the kid turns into an action hero. He tells all the adults what to do, and they listen, even though it involves hanging all their kids from a helicopter net as bait, with him hanging on the side like Batman. And this part involves some showy CGI, for the first time in the movie. And then the very end of the movie, where you find out what the title means, makes the whole thing sillier than I was taking it for. I was enjoying it as a serious (if absurd) horror movie, so the punchline made me feel a little dumb – oh, you guys were just making a joke this whole time?
The extras shed some light on that situation. Turns out the movie was preceded by 2 shorts made by an advertising firm. They're little fake documentaries about these elite hunters and then you find out that the wild animals they're hunting are "Father Christmases." The movie is sort of a prequel leading up to that concept, and it's funny and all, but for my tastes I think they came up with something better expanding it for the movie that they undermined a little by sticking with the original idea at the end. I mean, a monster Santa isn't any sillier than a doll possessed by a serial killer. I'm glad they didn't turn CHILD'S PLAY into a joke at the end. They shoulda waited for BRIDE OF RARE EXPORTS.
Still a good movie though.