June 21, 1985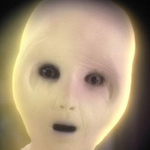 COCOON is directed by Ron Howard (his followup to SPLASH) and produced by Richard D. Zanuck (SUGARLAND EXPRESS, JAWS), but I bet some people assumed Spielberg had something to do with it. It opens with an Elliott-like little boy (D.A.R.Y.L. himself, Barrett Oliver) who's up past his bedtime sneaking a look at the moon through his telescope. And then there's a spaceship (designed by Ralph McQuarrie, like the one in  E.T.) flying down over some dolphins in a scene lit much like the opening attack in JAWS. The story involves a close encounter of the third kind with friendly e.t. the extra-terrestrials, so lots of people stare up in awe at glowing alien and spaceship effects by Industrial Light and Magic. And hey, the main characters are the elderly residents of a retirement community who find a magical way to recapture their youth, much like Spielberg's "Kick the Can" segment of TWILIGHT ZONE: THE MOVIE!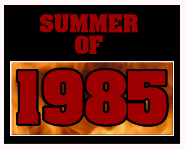 Best pal retirees Ben (Wilford Brimley, whose other 1984 releases were MURDER IN SPACE, REMO WILLIAMS and EWOKS: THE BATTLE FOR ENDOR) and Art (Don Ameche, who starred in THE THREE MUSKETEERS and THE STORY OF ALEXANDER GRAHAM BELL when Brimley was five years old) are residents of the Sunny Shores Villa in St. Petersberg, Florida. They're kind of the cool rebels of the place, because while many of their peers are sitting around playing cards and shuffleboard they're strutting out in their beach clothes that look like pajamas, squeezing through a broken gate to trespass in somebody else's indoor swimming pool. Sneaking around like a bunch of goonies. (read the rest of this shit…)
VERN has a new action-horror novel out called WORM ON A HOOK! He has been reviewing movies since 1999 and is the author of the film criticism books Seagalogy: A Study of the Ass-Kicking Films of Steven Seagal and Yippee Ki-Yay Moviegoer!: Writings on Bruce Willis, Badass Cinema and Other Important Topics as well as the crime novel Niketown.