June 5, 1998
I thought I had reviewed A PERFECT MURDER before, but for some reason it didn't come up when I searched for it, so I watched it again. Then when I searched for my DIAL M FOR MURDER review to refresh my memory I did find a review of A PERFECT MURDER from five years ago. But that review wasn't that good so fuck that review. This is the first time I've reviewed it in my opinion.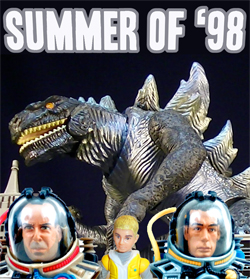 A PERFECT MURDER is the first of two Viggo-Mortensen-co-starring Hitchcock remakes that came out in 1998. The other is Gus Van Sant's PSYCHO, which is not a summer movie, but is worth bringing up as a comparison. While that was a complete anomaly – an audience-provoking experiment infused with bright colors and stylized costuming – this loose, updated remake of DIAL M FOR MURDER is an expensive, high gloss star vehicle. Remember? They used to make R-rated thrillers that were A-movies, sometimes by top directors. Michael Douglas's movie before this was David Fincher's THE GAME. For co-star Gwyneth Paltrow it was part of a prolific period – after being in SE7EN and then really blowing up with EMMA she starred in five 1998 movies: SLIDING DOORS, GREAT EXPECTATIONS, HUSH, this, and best picture winner SHAKESPEARE IN LOVE. (read the rest of this shit…)
VERN has a new action-horror novel out called WORM ON A HOOK! He has been reviewing movies since 1999 and is the author of the film criticism books Seagalogy: A Study of the Ass-Kicking Films of Steven Seagal and Yippee Ki-Yay Moviegoer!: Writings on Bruce Willis, Badass Cinema and Other Important Topics as well as the crime novel Niketown.