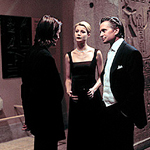 With DIAL M FOR MURDER fresh on my mind I was really curious how they updated it in the 1998 remake A PERFECT MURDER. In this one Michael Douglas plays the scheming husband, Gwyneth Paltrow is the wife and Viggo Mortensen (when he was still a rising character actor and not yet the guy from LORD OF THE RINGS) is her boyfriend.
The basics are all there. The husband knows the wife is cheating, he blackmails someone else into doing the deed, but she ends up killing the guy, and he has to desperately maneuver to cover his tracks, ultimately being undone by a mistake he made after giving the would-be killer a key to the apartment. But within that framework they do all kinds of things to update, expand, complicate and alter things. Some of it is kinda clever in the way it will surprise you if you're expecting everything to go the same as in the Hitchcock version (I can't say "the original," because that would be the play by Frederick Knott, credited as the basis of this).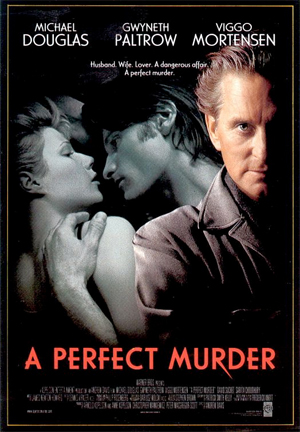 The role of the boyfriend is significantly different. They're still together, and we see them having sex in his gigantic Greenpoint warehouse studio. He's an artist, but has hidden a secret past from her, which allows for one of the biggest changes to the story: it's the boyfriend who the husband blackmails/pays to kill his wife, not some con man college acquaintance. Mortensen, as always, puts more into the character than required, and I like how it's kind of ambiguous about his feelings on the matter. The husband makes a case that this guy sought out his wife for access to her money, and he has newspaper clippings about her from before they met which seem to confirm this. But when confronted he's quiet and shaky-voiced. He never admits it, and Mortensen plays it like he's a victim in all this. Even after he gets involved in her murder he keeps photos of her and seems to regret it all. A bad person, but not the bad guy.
I would also argue that the wife is not that great of a person. She doesn't know that her husband is a maniac when she cheats on him. When she confides to her best friend about it she just talks about how self-centered and controlling he is. She doesn't have the DIAL M excuse that it's 1954 and hard for a woman to get out of a marriage. She's even independently wealthy so there's no financial reason why she would have a hard time leaving him. She should woman up and get a fuckin divorce, instead she has her secret rugged bohemian man of mystery on the side. You can understand why her husband would be pissed.
Still, when I realized she was being victimized by both of these guys I started to feel sorry for her and was okay with her being the protagonist.
When the inspector shows up it's the actor David Suchet, and of course my first thought was "it's the terrorist from EXECUTIVE DECISION!" but my second one was the more relevant "it's Poirot!" Take that, Michael Douglas. Can your perfect murder hold up to one of British TV's most prolific mystery solvers? But the bastard lucks out, because the inspector doesn't end up doing much in this version of the story. He's just the guy the wife tells what happened at the end. A bit where she impresses him by speaking Arabic doesn't pay off the way I expected, as a method of secret communication. It's just a reason for him to sympathize with her, but it doesn't seem necessary, since her case for justifiable homicide at the end is pretty rock solid. It made more sense after I watched the alternate ending where she shoots him without being attacked and lies about how it went down.
They still have the phone call, but he doesn't say anything and he calls from a cell phone which he throws away, because they have to account for 1998 phone-tracing technology. Of course, this was 15 years ago so the technology is already completely different now. It was too early for them to call it TEXT M FOR MURDER. It would've had to be EMAIL MURDER@AOL.COM. So they just said fuck it, A PERFECT MURDER, but with the M in a different color than the other letters in tribute to Hitchcock's version.
Also she kills her attacker with a totally different household item than what Grace Kelly used. So that's why it was worth doing a new one.
When I thought about it beforehand I wondered how they could make DIAL M into a 1998 studio suspense thriller, when it mostly takes place in that apartment. The answer is that they don't do that. They have scenes in art museums and offices and on streets and in the studio and shit. They even have a chase scene. It's just a normal movie. I can appreciate that they didn't want to make an intimate dialogue based movie with long uninterrupted conversations, but it kind of takes away what is enjoyable about the previous version of the story. Simplicity was better.
The director is Andrew Davis of ABOVE THE LAW and UNDER SIEGE and to a lesser extent CODE OF SILENCE fame. I didn't notice any stylistic connection to those movies. Maybe he was out of his element because it takes place in New York instead of Chicago. For a minute I thought George Wendt was playing one of the cops, but then it turned out it was just a guy who kinda looked like George Wendt. So I don't know if he's from Chicago or not.
It's a competent movie of its type, I don't think it's very good, but it was enjoyable enough to watch and compare to DIAL M FOR MURDER. I'm sure it plays like gangbusters on Lifetime or something.