August 16, 1985
Two John Candy movies in a row, and now all the sudden we're back to weird science? THE BRIDE asks the question "What if WEIRD SCIENCE happened not in the modern day with teenagers, but with adults a long time ago, and instead of Gary the main guy's name is Frankenstein?" Or "What if FRANKENWEENIE was a Franken-adult-human-lady?" Or I guess if you want to be a wet blanket you could call it a riff on BRIDE OF FRANKENSTEIN. But it's totally different. The hair is not even the same, to name only one example.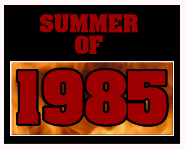 Director Franc Roddam had done QUADROPHENIA (1979) and THE LORDS OF DISCIPLINE (1983) and was attempting his first big mainstream movie. According to his refreshingly frank DVD commentary track, he had Sting (who had been in his first film) originally slated to play the small part of Josef, but "we said to ourselves this could be a great movie for young people" if they had it star this huge rock star, with his first solo album coming out in June, alongside Jennifer Beals, the hot newcomer fresh off the massive success of FLASHDANCE. So they gave the Josef role to some schmuck named "Carrie Elways" or some shit and Sting played Baron Charles Frankenstein opposite Beals as the titular Bride. But it's only modernized in some of its themes, while being fairly classical in form and content. It's not rock 'n roll or flashdancy at all. So I'm not sure the young people much noticed. (read the rest of this shit…)
VERN has a new action-horror novel out called WORM ON A HOOK! He has been reviewing movies since 1999 and is the author of the film criticism books Seagalogy: A Study of the Ass-Kicking Films of Steven Seagal and Yippee Ki-Yay Moviegoer!: Writings on Bruce Willis, Badass Cinema and Other Important Topics as well as the crime novel Niketown.