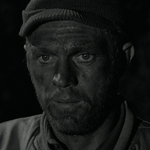 HELL IS FOR HEROES is a tight little black and white Don Siegel war movie that I watched because of that Village Voice piece I just did about the McQueen/Marvin/Bronson/Brown film series it's playing in later this week. To tell you the truth I don't watch too many war movies, and I don't really have a desire to get more into them, but I liked this one.
It's about a platoon of American soldiers in Montigny, France, 1944. They've been hanging out in this "rest area near the Siegfried Line," waiting to go home. You got your eccentric goofballs: Corby (Bobby Darin) is a talker and hustler who carries around a bunch of junk and prides himself on being able to get people whatever they need. He'll tell you all about it. Henshaw (James Coburn, HARD TIMES, DEADFALL, ERASER) is some kind of mechanical genius. He seems to keep his mind occupied by puzzling over how machines work. In the opening he has a car dismantled and Sergeant Pike (Fess Parker, THEM!) asks what was wrong with it. "Oh, I don't know," Henshaw says, seeming to have not considered that question. Also there's Homer (Nick Adams, REBEL WITHOUT A CAUSE, FRANKENSTEIN CONQUERS THE WORLD), a young Polish guy who clings on to the soldiers, runs errands for them and dearly wishes to join them in hopes that he can go back to the States with them.
Into this hangout movie is transferred Reese, played by Steve McFuckingQueen. Pike knows him and trusts him as a soldier, but he's trouble. He walks in with his rucksack and an air of superiority, finds his corner and minds his own business until he sneaks off to get a late night drink even though it's strictly forbidden. (read the rest of this shit…)
VERN has a new action-horror novel out called WORM ON A HOOK! He has been reviewing movies since 1999 and is the author of the film criticism books Seagalogy: A Study of the Ass-Kicking Films of Steven Seagal and Yippee Ki-Yay Moviegoer!: Writings on Bruce Willis, Badass Cinema and Other Important Topics as well as the crime novel Niketown.