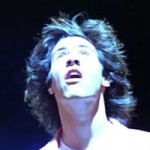 Hey folks, Harry here in my geek recovery ward. Been getting a lot of reviews of CONSTANTINE in and it seems the more familiar with the comic the reviewer is, the more they dislike the film. Personally – other than seeing a lot of the covers, I've never been a big HELLBLAZER reader, and I found myself liking the film quite a bit. Almost exacly like Vern here, only less literate. Here he is…. on your knees, for he speaks…
Dear Harry,
Here is a review of a movie I saw starring Keanu Reeves (guy from the Matrixes)
Okay, first I got a warning for some of you comic strip wise guys out there. If you like the comic strip this movie is based on, DON'T WATCH THE MOVIE. It's just not worth it, man. You're gonna be mad because, according to my sources, in the comic strip the dude is British, and even if he wasn't British, he wouldn't be Keanu Reeves. Hey man I'm a purist too sometimes, I understand this. I'd be pissed if they made DIE HARD into a comic strip, but they got John McClane wearing shoes or something. Or playing a guitar. It's gonna be hard to get past what they did here so forget it man, save your time, save the stress. Go get a massage or something. (read the rest of this shit…)
VERN has been reviewing movies since 1999 and is the author of the books SEAGALOGY: A STUDY OF THE ASS-KICKING FILMS OF STEVEN SEAGAL, YIPPEE KI-YAY MOVIEGOER!: WRITINGS ON BRUCE WILLIS, BADASS CINEMA AND OTHER IMPORTANT TOPICS and NIKETOWN: A NOVEL. His horror-action novel WORM ON A HOOK will arrive later this year.