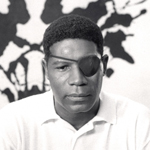 I'm not sure if SUTURE (1993) counts as a neo-noir, but it seems a little related to other '90s indie crime movies like RED ROCK WEST and THE UNDERNEATH and stuff. The plot definitely seems like something out of an old crime novel. Clay (Dennis Haysbert, NAVY SEALS, ABSOLUTE POWER, The Unit, SIN CITY: A DAME TO KILL FOR) is a guy from rural California who has come to visit his half brother Vincent (Michael Harris, ZAPPED AGAIN!, SLUMBER PARTY MASSACRE III, MR. STITCH) in Phoenix. They'd never met until recently, at their father's funeral, when they were surprised to find out how uncannily they resemble each other.
Vincent is very rich, lives in a fancy modern house with art and slicks his hair back and generally reminds you of AMERICAN PSYCHO. Clay keeps worrying that Vincent will think he wants money from him, which he doesn't. In fact, it's Vincent who wants something from Clay, and it's much more than money. He gets Clay to put on his clothes and drive his car and then blows him up, to fake his own death. Terrible hospitality from this fuckin guy, jesus christ.
Clay survives, though. His face is messed up and he doesn't remember who he is, but everybody assumes he's Vincent and tells him about "his" life, including that he's a suspect in his father's death. (read the rest of this shit…)
VERN has a new action-horror novel out called WORM ON A HOOK! He has been reviewing movies since 1999 and is the author of the film criticism books Seagalogy: A Study of the Ass-Kicking Films of Steven Seagal and Yippee Ki-Yay Moviegoer!: Writings on Bruce Willis, Badass Cinema and Other Important Topics as well as the crime novel Niketown.