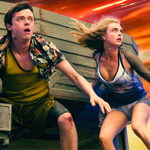 Ladies and gentlemen, we have the movie that the director of THE FIFTH ELEMENT makes eight years after he sees AVATAR. One of the first scenes in Luc Besson's VALERIAN AND THE CITY OF A THOUSAND PLANETS, the one right after the title, brings us to the island paradise planet of Mul, where elongated, glittery-skinned beauties with star-shaped irises fill their giant shell backpacks with pearls, and they feed one to a little pangolin-like creature who puffs up and starts pooping duplicate pearls from under his scales that drop into a hole as an offering to the planet, but suddenly the skies are darkened by an apocalyptic event and the destruction of the planet wakes up our hero Valerian (Dane DeHaan, THE PLACE BEYOND THE PINES) while he's napping on a beach chair somewhere. And at some point in the middle of that you realize that this is by far the most French-comic-book movie ever made.
And it continues like that, a two hour, 17 minute non-stop kaleidoscope-fantasia-carnival-parade of colorful creatures and planets and space ships and gimmicks inspired by the comics series Valérian and Laureline (1967-2010). The titleistical City of a Thousand Planets (Alpha for short) is a gigantic space station that started out by uniting representatives of every country on Earth, but kept expanding to encompass alien cultures. And since much of the movie takes place on this multi-species megalopolis, this intergalactic Epcot Center, it's like a marathon of STAR WARS cantina scene after STAR WARS cantina scene. (read the rest of this shit…)
VERN has a new action-horror novel out called WORM ON A HOOK! He has been reviewing movies since 1999 and is the author of the film criticism books Seagalogy: A Study of the Ass-Kicking Films of Steven Seagal and Yippee Ki-Yay Moviegoer!: Writings on Bruce Willis, Badass Cinema and Other Important Topics as well as the crime novel Niketown.