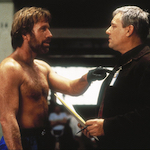 May 3, 1985
Just like with GYMKATA, I've reviewed CODE OF SILENCE before, and I had some good jokes in there. I also wrote about it a little in Seagalogy, as a comparison to ABOVE THE LAW. But it's one of the movies that was playing when the summer of '85 began, and representative of the type of action movies that were summer moviegoing events in those days. So I thought it was important to revisit. And just do a quick 3,000 word deep dive.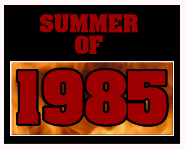 CODE OF SILENCE stars Chuck Norris as respected Chicago P.D. sergeant Eddie Cusack, part of a team trying to take down coke gang brothers the Comachos. He's spent a month planning a sting operation that goes horribly wrong in two ways. First, a rival gang coincidentally goes in right before them and machine guns all the Comachos, kicking off a brutal gang war. Second, one of the guys on his team shoots and kills a young civilian in the apartment building hallway. As a cop with a moral code, a strong work ethic and good karate kicks, Cusack will spend the movie trying to deal with the repercussions of both of these things. Also there's a robot.
Let's set the scene a little. Norris was already well established as a movie star, having released one movie a year since '77 (and two in '82). His first independent starring vehicles BREAKER! BREAKER!, GOOD GUYS WEAR BLACK and A FORCE OF ONE were all successful, leading to studio releases THE OCTAGON, AN EYE FOR AN EYE, SILENT RAGE, FORCED VENGEANCE and LONE WOLF McQUADE. MISSING IN ACTION, his first film on a new multi-picture deal with Cannon, had been a big hit. (read the rest of this shit…)
VERN has a new action-horror novel out called WORM ON A HOOK! He has been reviewing movies since 1999 and is the author of the film criticism books Seagalogy: A Study of the Ass-Kicking Films of Steven Seagal and Yippee Ki-Yay Moviegoer!: Writings on Bruce Willis, Badass Cinema and Other Important Topics as well as the crime novel Niketown.