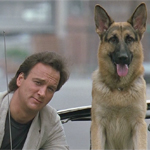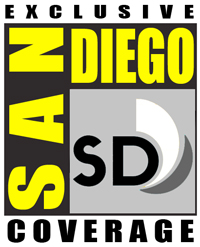 K-9 is a weird type of action-comedy that only existed in the '80s. James Belushi plays own-rules-playing San Diego narcotics detective Mike Dooley, who sneakily borrows a K-9 patrol dog off the books for an unauthorized raid, and then treats the dog as his partner, talking to him as if he's a human in a regular non-dog-related cop movie. And the dog, Jerry Lee (introducing Jerry Lee as himself according to the credits, which is a lie because the dog was named Rando and got totally fucked over because dogs aren't SAG), will sometimes make human gestures like covering his face with his paws in embarrassment or making a little arf sound that resembles a human sigh.
It's humor that often seems more for kids than adults, yet every single other aspect of the movie – the car chases, the bar fight, the shootouts, the angry chief, the arrogant, swimming-pool-lounging drug lord villain (Kevin Tighe, ROAD HOUSE), the relationship problems caused by his occupation, the dramatic score, etc. – is 100% standard issue PG-13 (when that was edgy) action movie. And I don't mean as a parody, mimicking the style to get laughs from absurdity. They're just making a movie how movies were made back then. It wasn't weird at the time.
Belushi plays it kind of like if Bill Murray had turned macho and got into making BEVERLY HILLS COP ripoffs. He's a dry wiseass but obviously gets joy out of putting the holster on in the morning. He does stuff like handcuff a guy to the side of his convertible and then drive, to force him to give up information. In the movie it's a funny, clever thing for a cop to do to get what he wants out of a bad person, in real life it's kinda similar to how cops tortured a prisoner to death last year in Baltimore.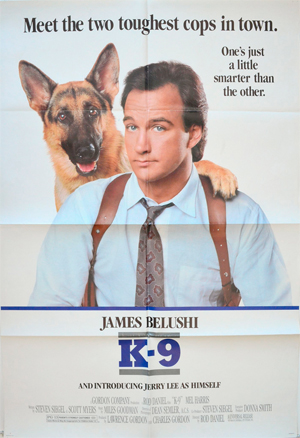 Dooley has a Riggs approach to his police work – do something crazy, get in over his head, improvise, barely get away with it, usually thanks to the intervention of the dog. I actually found myself giving an honest chuckle in the Axel Foley type scene where Belushi interrupts a crazy bar brawl to buy everybody drinks and do a bad job of acting like he fits in. "Give me, uh, whatever you got that's, uh… diet."
They're ready to kill him when Jerry Lee comes in and takes them all out in a dog attack scene with Greengrassian handheld shots that culminates in Jerry Lee biting a guy named Benny the Mule's dick (completely with dog-lunging-at-dick-POV-shot) until he gives up some information about who contracted the helicopter attack on Dooley's car (long story).
The next scene actually got the biggest laugh out of me, when they go to the car and he dresses down Jerry Lee. "Don't you ever, ever pull anything like that again without talking to me first! You lost it in there, you know that? You lost control. We could've gotten killed!"
But this brings up the big mystery that confounds me about this movie. I honestly can't tell how we're supposed to take these types of scenes. Does he just think it's funny to pretend the dog understands him and act out long comedic sketches for himself? Or are we to take it that he's serious? There aren't other indications that he's meant as a weirdo. I don't think there are any scenes of people hearing him talk to the dog and doing a double take (or hearing him talk to the dog and going along with it, for that matter). And there's a long, seemingly sincere monologue about their relationship when he thinks the dog is dead.
It's also one of those movies that asks you to get emotional along with the protagonist even though in real life his position would be completely unreasonable. Jerry Lee gets shot and instead of bringing him to a veterinarian he brings him to the hospital and forces a doctor (first by yelling, then by guilting about the dog being a cop, then by showing his gun) to operate on him. But the doctor is correct that he's untrained to operate on animals and not allowed to have them cut open in the hospital due to health codes. He could also mention that they don't have the equipment, medicine or protocols to treat animals there. It is just an absolutely terrible idea to bring an injured dog to a human hospital. But we're supposed to be like "THESE FUCKING ASSHOLES DON'T WANT TO HELP JERRY LEE HE IS A HERO!" I can imagine the San Diego police union putting out an inflammatory statement about it.
By the way, file this under "stuff that comes off differently 30 years later": the part where Dooley's almost spotted following the bad guy on a beach so he hides by pinning down a random sunbather and kissing her.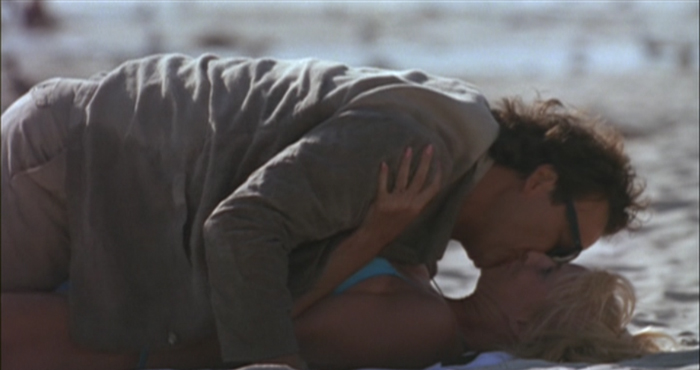 To be fair, he does leave the scene walking funny from a knee to the balls, but then the woman seems to just let it go. Men did beach assaults all the time in '89. It was considered good clean fun.
There's one running joke that really grosses me out. Jerry Lee gets excited when he sees a poodle – code for girl dog – in a parked car. Belushi teases him about it, then says "You got ten minutes" and proceeds to stand guard while his dog climbs into another man's car to hump a dog. And then the guy comes back and Dooley offers to pay him to let the dogs finish.
When Jerry Lee first sees the poodle it plays "Oh Yeah!", when he leaves it's "I Got You (I Feel Good)." Dooley smiles, proud of his dog for fucking another dog. Later he says "You should be mellow, you just got laid."
Do we really want to see a human talking lasciviously about a dog?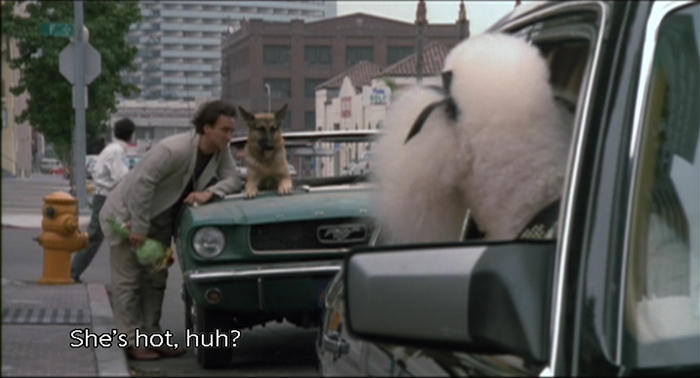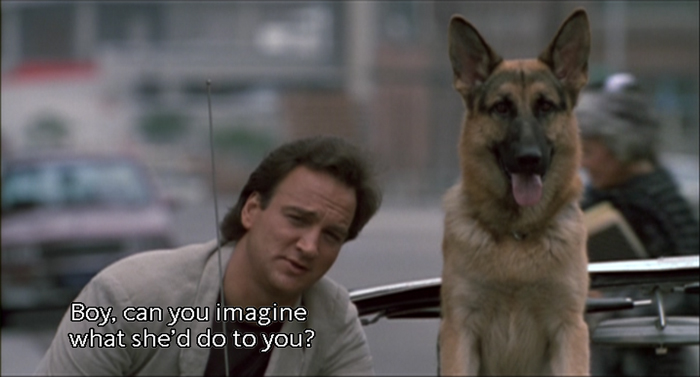 At the end of the movie he brings the poodle up again when he's saying they should've "picked up a couple broads" and taken them to Vegas.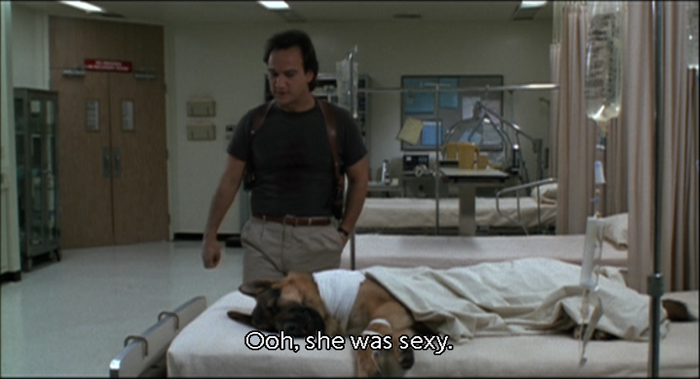 What kind of a sicko are we supposed to be rooting for here?
But I don't think anybody took it that way back then. It was a pretty successful movie, opening bigger than the other new releases that week (CRIMINAL LAW, LOVERBOY, THE HORROR SHOW and SCANDAL), taking second place to another fun animal movie, PET SEMATARY, which was in its second week.
Years later there were a couple sequels. I haven't watched K-911 because… I don't know. Too soon. I haven't even watched UNITED 93. The other one is K-9 P.I.
K-9 is shot by Dean Semler (ROAD WARRIOR), and I can't say it's his best work, but his participation helps explain why it looks legit. Editor Lois-Freeman-Fox also did TURNER & HOOCH, the other human/dog buddy cop movie of 1989 (it came out three months later). Not willing to take sides, I guess. There are a few surprising character actor appearances: Ed O'Neill, a couple seasons into Married With Children, as the guy who loans him the dog; Pruitt Taylor Vince (HEAVY) as Benny the Mule, who gets his dick bit by Jerry Lee…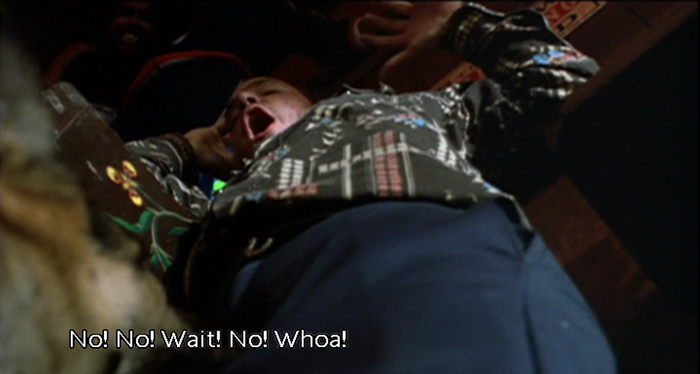 William Sadler, one year before playing the lead villains of both HARD TO KILL and DIE HARD 2, has a bit part as a goofy car salesman…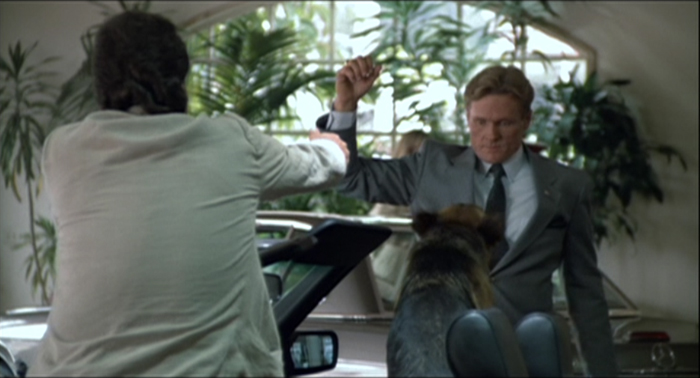 and Dan Castellaneta, months before The Simpsons started, plays a maitre d'.
Director Rod Daniel, who passed away just a few months ago, was an '80s TV director (WKRP in Cincinnati, Harper Valley PTA, The Duck Factory, etc.) before hitting the big screen with TEEN WOLF, LIKE FATHER LIKE SON and then this. After THE SUPER and BEETHOVEN'S 2ND he went back to sitcoms and TV movies for the rest of his career. His final film was HOME ALONE 4 in 2002.

The last San Diego Comic Con before the release of K-9 was the August 1988 one at the Omni Hotel. George R.R. Martin – at that time a writer for TV's Beauty and the Beast – was one of the guests. It was the first year they had an anime department.
While you're at Comic-Con this year if you want to visit a historic K-9 filming location, I do believe this is the block where Dooley criticizes Jerry Lee's out of control dick biting. In front of 2616 1/2 National Ave.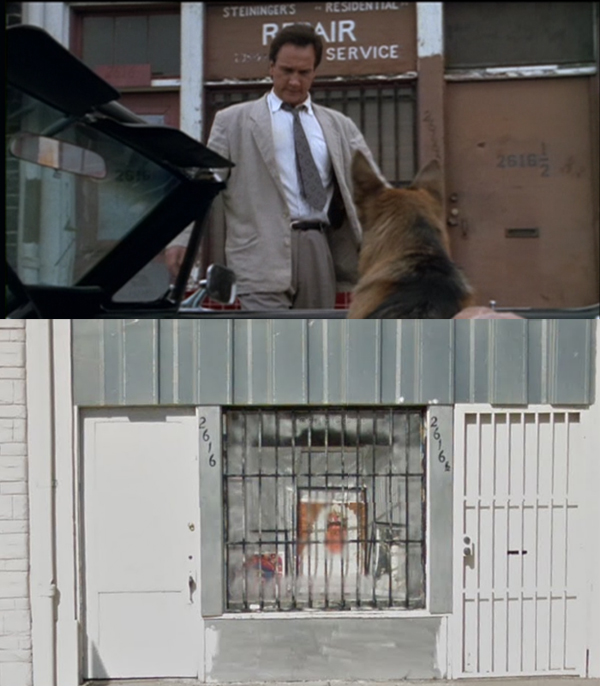 and here is the intersection where Dooley does a donut after getting his windshield shot out while bickering with Jerry Lee about sharing a cupcake. Look for The Turf Supper Club, 116 25th St, San Diego, CA 92102.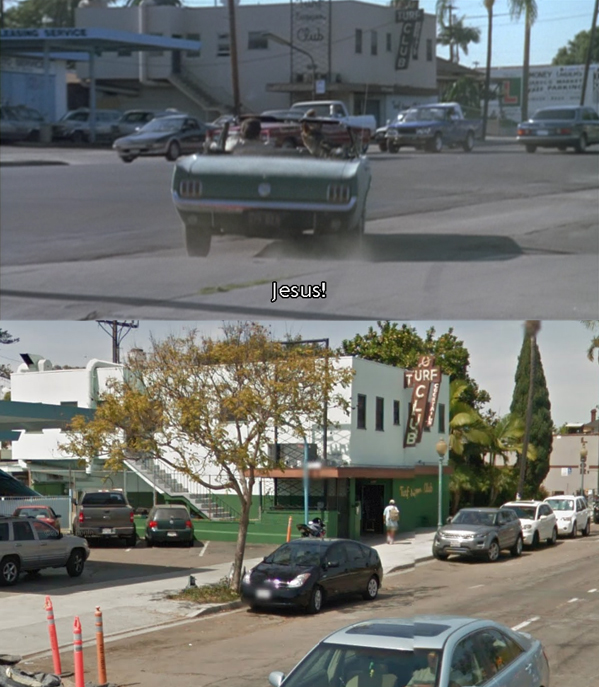 If you go to either of these important sites, please send me a picture.
This entry was posted on Thursday, July 21st, 2016 at 10:46 am and is filed under
Action
,
Comedy/Laffs
,
Reviews
. You can follow any responses to this entry through the
RSS 2.0
feed. You can skip to the end and leave a response. Pinging is currently not allowed.