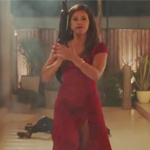 SPOILERS for both MISS BALAs
You may find this shocking, but the American remake of the great 2011 Mexican film MISS BALA is not as good as the original. Director Catherine Hardwicke (THIRTEEN, LORDS OF DOGTOWN, THE NATIVITY STORY) doesn't Hollywood it up quite as much as the trailer made me think she might, but maybe she should've. She stays maybe 75% faithful to the original, maybe more, but the normal, slick style severely blunts the impact of the story compared to the previous suspensefully long, unblinking takes and documentary-like realism. It goes from an intense CHILDREN OF MEN type of style that puts you in the middle of it all with the protagonist to just some random, normal TAKEN sequel or something. And the major story changes that do happen are, in almost all cases, less interesting than the earlier version.
It might seem okay if I hadn't seen the original. Gina Rodriguez (ANNIHILATION) is quite good in the lead. In this version her name is Gloria Fuentes and she's an American citizen returning to Tijuana to visit her friend Suzu (Cristina Rodlo, The Terror) and help her with her makeup when she tries out for the Miss Baja California pageant. After an audition they go to a party where her friend tries to flirt with the corrupt chief of police (Damian Alcazar, MEN WITH GUNS), who supposedly has some sway over who wins the pageant. So they're there when members of the Las Estrellas gang come in to massacre the police, and Gloria, having seen them sneak in while she was in the bathroom, escapes alone. (read the rest of this shit…)
VERN has a new action-horror novel out called WORM ON A HOOK! He has been reviewing movies since 1999 and is the author of the film criticism books Seagalogy: A Study of the Ass-Kicking Films of Steven Seagal and Yippee Ki-Yay Moviegoer!: Writings on Bruce Willis, Badass Cinema and Other Important Topics as well as the crime novel Niketown.