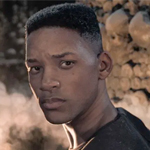 GEMINI MAN is your traditional "the greatest assassin anybody ever saw decides to retire and then god damn it I thought they loved me but they're sending a guy to kill me what the fuck" type scenario. The gimmick is that the guy they send after him is a younger version of himself created through the miracle of cloning. He figures this out a good third or more into the movie, but we know from frame one because of the studio's decision to advertise the film.
Will Smith ("Nightmare On My Street") plays both extreme retiree Henry Brogan and the facial expressions of the very advanced digital animation character playing his clone. Junior, as he's called, gets dispatched after Henry's Old Buddy From the Marines Jack (Douglas Hodge, THE DESCENT PART 2) and Russian operative Yuri (Ilia Volok, AIR FORCE ONE) tell him that that last guy they had him kill, the terrorist, was actually an innocent scientist being eliminated as part of a cover-up. When Henry hears this information he looks up to the clouds just as the lite on a satellite blinks, but it's only to tell us someone heard this. He doesn't seem to figure it out himself.
He does catch on that the new manager at the docks where he keeps his boat is really a D.I.A. agent sent to keep tabs on him. He asks Dani (Mary Elizabeth Lucy McClane Winstead, BOBBY) on a date, maybe just to get her to admit she's spying on him and convince her he's not a threat. But when some dudes try to kill both of them they end up on the run together. They head to Colombia to meet up with his Old Agency Friend turned small plane pilot Baron (Benedict Wong, LARGO WINCH). (read the rest of this shit…)
VERN has a new action-horror novel out called WORM ON A HOOK! He has been reviewing movies since 1999 and is the author of the film criticism books Seagalogy: A Study of the Ass-Kicking Films of Steven Seagal and Yippee Ki-Yay Moviegoer!: Writings on Bruce Willis, Badass Cinema and Other Important Topics as well as the crime novel Niketown.