(here's another one I watched because it played at ActionFest this year)
Largo Winch (Tomer Sisley) is an unusual hero: he's a globetrotting adventurer and/or vagabond, he knows how to fight and how to escape, he likes to rebel against authority, tends to fall for beautiful aid worker women helping the poor… and he's the CEO of a huge Hong Kong-based international corporation called the W Group.

Well, not at the beginning of the movie. As we begin the Group's founder Nerio Winch (Miki Manojlovic) is pulled off his yacht by a scuba diver and suffocated underwater. We don't know who the diver is or who sent him, but there are alot of suspects. There's alot of super-rich-people shenanigans going on including a notorious gun runner planning a hostile takeover of the Group and the company's board fighting over who should take control of the company.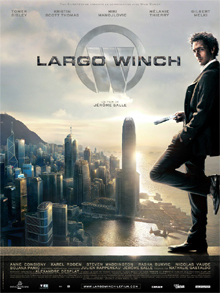 What they didn't know until their boss's death was that he had a contingency plan for this occasion: he had secretly adopted this kid Largo and had him groomed to take over the company. That doesn't mean sending him to business school, though, it means sending him to a hidden island. He can boat there, but it has a secret entrance like the Batcave. Most people would never find it. This movie makes business seem thrilling like a James Bond movie.
It's based on a Belgian comic book. I guess the author Jean Van Hammer created the character in a series of novels, but they didn't do very well so he turned them into the graphical comic book novels. This first movie is adapted from the first one, "The Heir," and there's a part 2 coming soon.
The feel is more pulp adventure novel than what people would associate with a comic book. But there is one magical touch that I'm not sure if it's supposed to be taken literally or not. When we first meet Largo he's getting an "invincibility tattoo," a picture of a dragon. The artist just has to finish the eye when Largo hears a woman getting harassed outside. So he doesn't finish the tattoo, he goes out, fights some guys and makes a daring motorcycle escape.
After that there's nothing supernatural in the movie, but Largo sure does survive alot of scrapes. And the way his tattoo gets "finished" is a great moment in the story.  It does kinda seem like he's invincible, but I guess the jury's out on whether it was caused by a magic tattoo. (Is that what the girl with the dragon tattoo was up to also? This keeps coming up.)
See, there's alot of people that want to make sure Largo doesn't take over the company. And it doesn't seem like he'd want to do it either, but it's what he was raised for and since he suspects somebody killed Nerio he at least wants to take advantage of this opportunity to find out who did it.
So alot of the movie involves board rooms, shareholder meetings, press conferences, back room deals, corporate espionage, double/triple/quadruple/infinity crosses and legal maneuvering. Largo is smart enough to navigate this world, but it's not his home because he's, as one person who doesn't want him running the company calls him, "a wild adventurer." So you also got Largo travelling to multiple continents getting involved in foot and car chases, shootouts, prison escapes, running along the edge of a cliff with a helicopter chasing after him, shit like that. He knows how to use a fist, a gun or the pocket knife Nerio gave him when he was a kid. When he meets with the company he seems like kind of an asshole for coming in wearing jeans and a t-shirt with his handsomely disheveled head of hair, but hey, it's hot out there, he's running around alot, he should wear something comfortable.
He has a whole team of sidekicks, including a scar-faced guy who's looked after him for Nerio since he was a kid, plus some people at the company and some family members. It's cool to have people like that you can count on, but it turns out a whole lot of people have dollar signs in their eyes (or whatever currency they use, this is an international corporation as I said). It starts to get upsetting that everybody is out to get him. So many people that seem like good allies doublecross him, it's just depressing. It's like if Batman got screwed over by Alfred, Robin, the Morgan Freeman guy, Batgirl and Commissioner Gordon all in a couple days. But when it's all over there are a couple non-traitors left in the world so I guess it's okay. There's still a ray of sunshine left.
It's kind of funny how many billionaire comic book heroes there are. Bruce "Batman" Wayne (SPOILER) fights crime by night and runs a company mostly as a front. Tony "the Iron Man" Stark runs an arms manufacturing company  but likes to fly around in a supersuit. The Green Hornet is a rich party kid who decides to do something with his money after his dad dies. And Richie Rich is overdue for a gritty reboot.
These are old characters, but is the "what if I had all the money I needed to do whatever I want?" fantasy a modern one too? In a way it is because for the last decade there have been so many of these reality shows about the daughters and sons of rich hotel owners, lawyers and rock stars, and how wonderful their lives are of shopping and starting clothing labels and shit. Those stories appeal to people because we hate having to punch a clock and we wish we could just spend the day doing whatever lazy bullshit we want, although in our case it wouldn't be making sex videos and buying shoes. We'd have to make better use of our time than those assholes. But we'd be able to sleep in.
Largo Winch is a little different from that because although he can kick ass, ride a motorcycle and jump off tall things his training was all business related. His super power is being able to run a company and survive all the backstabbings, lit and fig. And he didn't spend his childhood in pampered indoor luxury. He travelled around, looks like mostly living in impoverished areas. Those are his people. I'm sure that safety net of a super-rich adopted father couldn't have hurt him in his travels, though.
To me a blue collar hero is more appealing, a guy who never has it easy and has had to work hard all his life. But for a rich guy this Largo seems to be down. I liked this movie. It's beautifully shot in varied exotic locations, the action is pretty good, the guy is suave and cool like Mesrine minus the murder and always seems to be one step ahead of the convoluted schemes against him.
The movie jumps around in time and uses multiple languages (Largo speaks both French and English) but never seems pretentious or overly serious.
I wonder what his company does, anyway? That'd be funny if they made t-shirts and that's why Largo dresses casually. I don't know much about 'em, I just know they're in a tall sleek looking building in Hong Kong. Maybe they should sell invincibility tattoos. They'd make a fortune.
This entry was posted on Tuesday, April 19th, 2011 at 2:21 am and is filed under
Comic strips/Super heroes
,
Reviews
,
Thriller
. You can follow any responses to this entry through the
RSS 2.0
feed. You can skip to the end and leave a response. Pinging is currently not allowed.