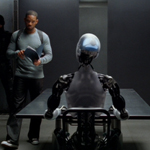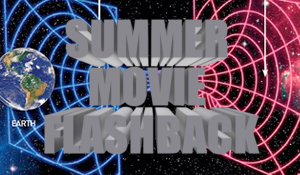 I, ROBOT is a movie that I had low expectations for when I saw it that summer, and it exceeded them, so it seemed pretty good. Re-watching it now it's still pretty good but maybe a little less pretty good now that I expected it to be pretty good.
If you haven't seen it, it's a mystery story in a sci-fi world of 2035 where helpful robots are a common household appliance. Will Smith plays Detective Del Spooner (Spanish for "Detective of the Spooner"), an arrogant, trenchcoat-wearing Chicago cop who is horribly racist against robots and always trying to accuse them of crimes, even though they're programmed to always protect humans and have never in history committed a crime. His boss (Chi McBride) is constantly embarrassed by this fucking idiot working for him but must have an old friendship with him and feels sorry for him enough not to fire his ass like would probly happen to anybody else fucking up as bad and often as this fuckin guy does and always acting like a total crazy person in front of numerous witnesses both at work and in public.
The biggest change in my second viewing was just noticing what a dick Spooner is. It's like Smith has some BAD BOYS residue on him or something. In the beginning he demands for a random citizen to hold his half-eaten pie for him, threatening "Sir, hold it or wear it." Look at this poor guy. What did he do?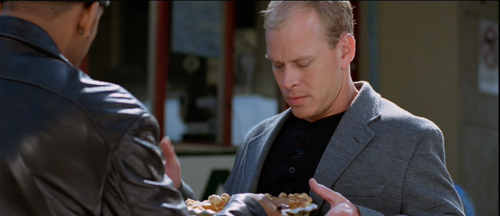 Menacing a random bystander so he can chase an innocent machine that's actually saving an old lady's life. Great job, Spooner!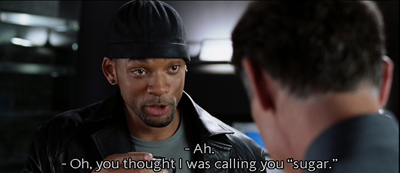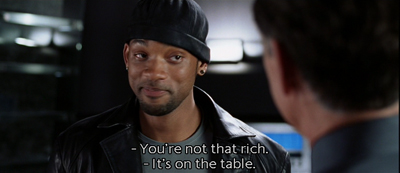 When he interrogates the CEO of USRobotics (Bruce Greenwood) he's hostile toward him for no reason too. He tries to fuck with him by interrupting his story to ask for sugar. Then he fake laughs about that he thought he was calling him "sugar" when really he wanted it for his coffee.
This guy's dear friend and colleague just committed suicide! He is in the middle of telling you about it! What the fuck is your problem, detective?
Some of these little weird moments I think could be funny done completely deadpan, but I don't like the way Will Smith always changes his voice into "funny mode" when he thinks he's being funny. It ruins any odd sense of discomfort that could've been mined from it, and just makes him seem like an asshole. But he's not being a charming asshole either, just a bitter one.
Luckily, Dr. Susan Calvin (Bridget Moynahan) handles him perfectly when he's comparing her to his ex-wife and she asks, "I'm sorry, are you being funny?" It would be kind of cool to have a button to push to bring that clip up whenever you need it in other movies or in life.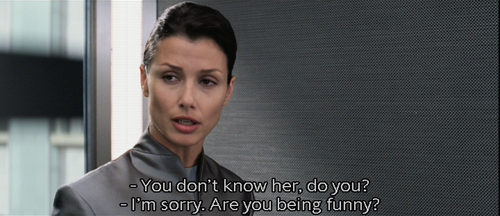 The future technology has aged pretty well as far as these things go. Their phones are Bluetooth type headsets, not smart phones, but I guess your robots  could Google shit for you if you needed them to, and nothing else seems dated. I like that the robots have wifi and get daily firmware updates, that still seems right. The cars and robots and everything still look slick. But nine years later we are no closer to a 2035 where Converse All Stars are weird and rare. He has to order "vintage 2004" Chucks and his Grandma asks "What are you wearing on your feet?" Didn't smell right then and still doesn't. But I guess we just experienced a short time when Twinkies didn't exist, so you never know.
One thing that does play differently in 2013 is Shia LaBeouf. He has a small but prominent role as some kid that is friends with Spooner. He comes up to him on the street asking him for a favor and Spooner lectures him about swearing. Then he shows up later and for some reason seems to be the leader of the human contingent in a medieval style battle against robots: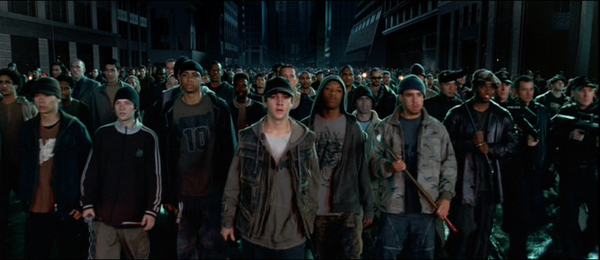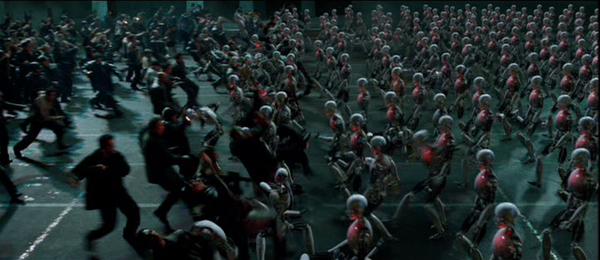 I feel a little weird about this part. I know it's not a realistic movie overall, but somehow the stark propaganda imagery here seems out of place. There should be more chaos, more confusion it seems like. Have I been brainwashed by all these handheld movies to expect documentary-like realism? I don't know.
One thing I do appreciate, this is the only time you will see Shia LaBeouf fighting a CGI robot and be able to clearly see exactly what the robot is doing to him and which way the robot is facing and what part is his head and stuff.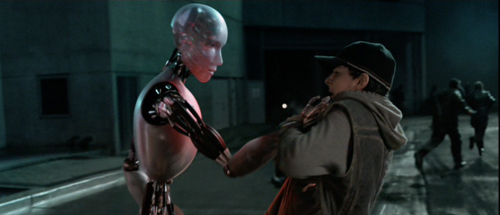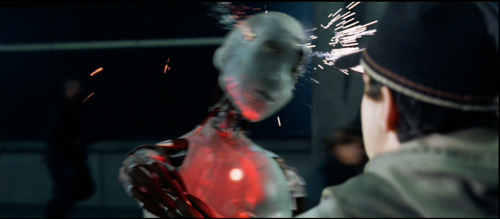 And what the hell, I'm always down for some HARD TARGET era John Woo type action, so what do I care if slow motion Will Smith jumping off a motorcycle and firing two guns seems pretty different from the rest of the movie? I still enjoy it.
I actually couldn't remember the solution to the mystery of why the doctor died and why the robots were doing what they were doing, so it was still suspenseful for me, and I think the explanation does make sense. Reading about the development of the movie, though, I learned that earlier scripts had a more involved mystery story that was rewritten by notorious Academy Award winner and writer of some of the worst movies of all time Akiva Goldsman to be more Will Smithy and have cars crashing and what not. Trying to make it more Big Willie Weekend compatible. What sounds real interesting though is the original draft of the script which was not meant to be based on Asimov and was a one location story like a play, or maybe like a lower budget sci-fi like MOON. In that version the entire story takes place at the crime scene and the detective is the only living human in the story, and he interviews various robots until he solves the mystery. I want to see that!
But what they made instead comes together well. I like that I totally forgot about Spooner's robot arm by the time he needed it to grab onto the glowy thing when he made a Vin Diesel style leap of faith. It seems like it's all thematic, he hates them because he's like them, but then also it's used for a couple big action moments. Good shit.
The director, you remember, was Alex Proyas (DARK CITY) and this was his big Hollywood movie that he had trouble making. In an interview with Quint he described it as "a particularly arduous experience" and "the most unbelievable level of meddling I could possibly imagine," but it's not a "we need a director's cut" situation because he also says "I am still proud of the movie and I actually feel I made the best possible movie I could have made."
He's only made one movie since, and it took him 5 years to get that one on screen. That movie was KNOWING, which plays with the expectations of being a pretty normal studio movie like this one and then goes nuts. Didn't go over well, but me  and especially Roger Ebert enjoyed it.
I still like that the I, ROBOTs look like iMacs. They look like products that would exist more than they look like traditional sci-fi robots. They're sleek like something you would want to own. But also they do so many creepy things. When they swarm they look so inhuman. One part I really appreciated this time is when Sonny fights other robots in the hall. They have sort of their own robot fighting style based around their own movements instead of only copying human fighting systems. They jump through the air and do weird types of spins that humans wouldn't. They also run in a very efficient manner based on Tom Cruise rather than on regular running.
As a director Proyas also moves like a robot. He does impossible camera moves like following Will Smith as he's carried by a flipping robot, or spinning all the way over and under as he runs on a catwalk. I wouldn't want everybody to do this but since they don't it's kind of cool to see him taking advantage of the fact that the shots are being done in a computer, not the real world.
I guess my 2004 take on this movie hasn't changed that much. It's got more imperfections than I want but enough good shit that I like it. In the end I respect it. I can shake its hand just like racist Spooner can shake the robot's hand and it looks like he's genuine, he's not gonna go squirt some hand sanitizer on there afterwards.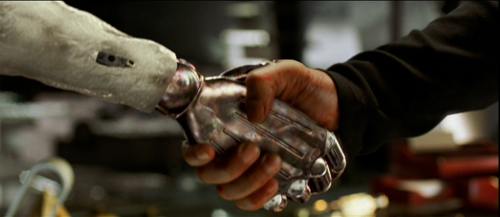 My original review
other movies that came out that summer: TROY, THE DAY AFTER TOMORROW, HARRY POTTER AND THE PRISONER OF AZKABAN, THE CHRONICLES OF RIDDICK, SPIDER-MAN 2, KING ARTHUR, I, ROBOT, CATWOMAN, THE BOURNE SUPREMACY, ALIEN VS. PREDATOR
highest grossing movie that year: SHREK 2
This entry was posted on Tuesday, August 20th, 2013 at 12:55 pm and is filed under
Action
,
Reviews
,
Science Fiction and Space Shit
. You can follow any responses to this entry through the
RSS 2.0
feed. You can skip to the end and leave a response. Pinging is currently not allowed.