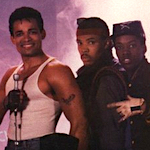 May 10, 1985
As I might've told you before, I've got a soft spot for the hip hop movies of the '80s. None are exactly great films, and most are made by people who could've just as easily been doing one about BMX or video game competitions or something. WILD STYLE is one of the few that could be argued to genuinely come out of the hip hop culture, and I never saw that until I was older. But BREAKIN', BREAKIN' 2 and the more legit BEAT STREET (all released in 1984) were formative for me, softening me up for Raising Hell and Licensed to Ill to come along and change my life.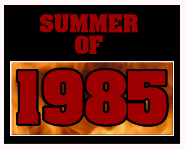 For me, enough time has passed to forgive any lacking in authenticity and enjoy these movies as time capsules of a time when exploitation filmmakers valiantly tried to straddle the zeitgeist, grab the horns of a movement they didn't understand, and somehow wrestle it to the ground.
I must've known the word "rap" in '85 – as in "a rap," because everyone knew about "The Super Bowl Shuffle," and I was obsessed with the Grandmaster Melle Mel song "Vice" from the Miami Vice soundtrack. But I also called it "breakdancing music." I was learning. It might be for the best that I didn't learn from RAPPIN', a movie I didn't know about back then even though it was from the same studio and director as BREAKIN', and supposedly released as BREAKDANCE 3: ELECTRIC BOOGALEE somewhere, though I haven't been able to find any advertising art to support that claim. (read the rest of this shit…)
VERN has a new action-horror novel out called WORM ON A HOOK! He has been reviewing movies since 1999 and is the author of the film criticism books Seagalogy: A Study of the Ass-Kicking Films of Steven Seagal and Yippee Ki-Yay Moviegoer!: Writings on Bruce Willis, Badass Cinema and Other Important Topics as well as the crime novel Niketown.