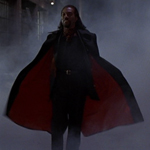 I don't know why there was a Wes Craven movie that I didn't bother to see in the theater and then didn't bother to see on home video for over 20 years. Granted, everyone said it was terrible, and it seemed to be an Eddie Murphy comedy vehicle, not a real horror movie, and he started wearing fat suits and shit right around that time.
But these days you can't take fresh Wes Craven movies for granted, so I decided the moment had come to watch VAMPIRE IN BROOKLYN. The verdict: it's not an unheralded gem. But it's also not what I had pictured. It's a mildly interesting failure.
Murphy (DOLEMITE IS MY NAME) plays Maximillian, the only survivor of a tribe of Egyptian vampire who "traveled south through Africa and over the Atlantic to a beautiful island hidden deep in the Bermuda Triangle," where they lived for centuries before the vampire hunters found them. There's a certain parallel to COMING TO AMERICA, because he's this confident, exotic visitor from another culture, looking for a woman. In this case it's a specific woman, Rita (Angela Bassett, PANTHER, BLACK PANTHER), a rookie NYPD detective who doesn't know there are vampires, or that her dad was one, or that she's the last descendent and only hope to revive the race.
And instead of Arsenio Hall, Maximillian has Kadeem Hardison (DRIVE, DEF BY TEMPTATION) as his comical sidekick/servant. He plays Julius, a petty criminal who witnesses Maximillian's Dracula-style arrival into town (in the form of the wolf on a boat full of dead people) and soon gets transformed into a "ghoul," a rotting undead person but not a vampire. He keeps looking worse and then body parts start falling off, which allows his uncle Silas (John Witherspoon, HOUSE PARTY) to say the funniest line in the movie, an ad lib, I'm guessing: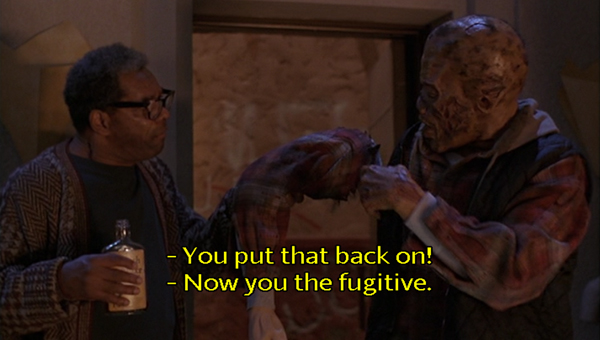 (As in The Fugitive. The TV show. I think you get it.)
Oh, here's a part I was curious about. Julius becomes his limo driver and he's driving him around and he makes a reference to MC Hammer. But then he says some other things and I started thinking wait a minute, is he now referring to Hammer Studios and their version of Dracula? I might be reading too much into it. You be the judge.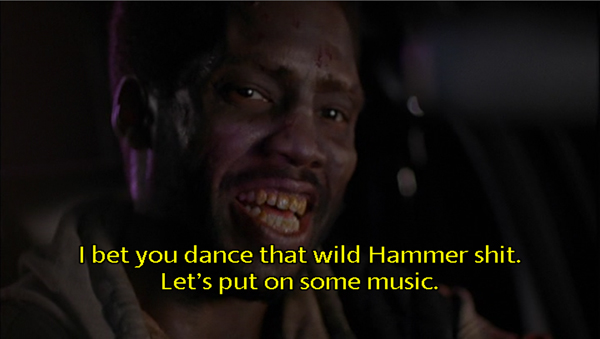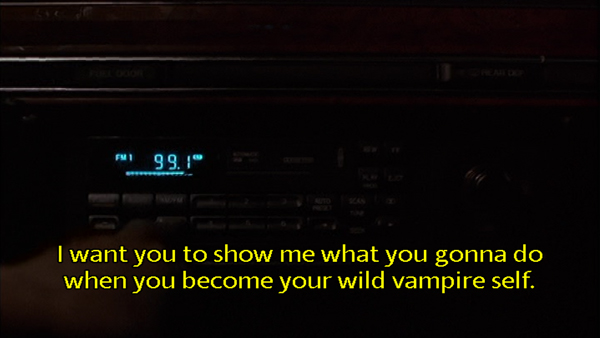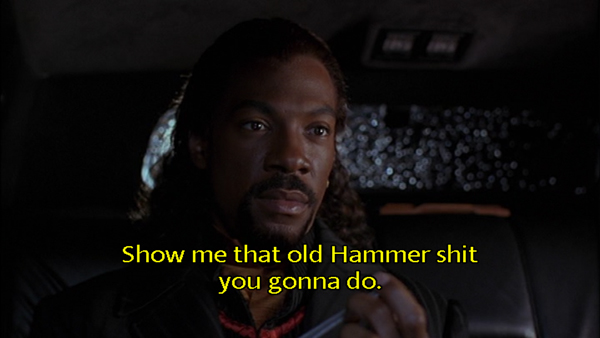 Of course Julius manages to get in a BLACULA reference, and at times Maximillian is definitely a Mamuwalde type character who uses his powers against people who deserve to have powers used against them. For example he rolls into an alley in a wave of fog to rescue Julius from some mobsters who are shaking him down (one of them played by SHOCKER himself, Mitch Pillegi). And of course from his point of view people putting stakes in the heart of vampires is genocide, so he can talk about his people's historic treatment and you wish he had showed up in NIGHTBREED.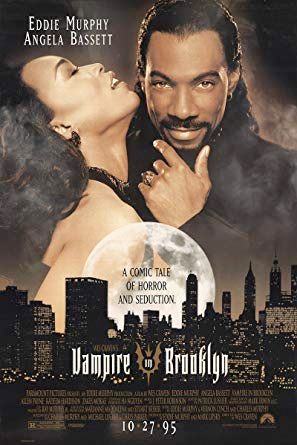 But most of the time Murphy plays him as a dangerous monster. His suave flair is only for seduction, and he's mean. He cruelly has loud sex with Rita's horny roommate Nikki (Simbi Khali, A THIN LINE BETWEEN LOVE AND HATE) so she will hear it and think it's Justice (Allen Payne, CB4), her partner who she has a crush on. Then he crucifies Nikki on top of a building.
There's an awkward thing where Rita believes in superstitious shit and her boss (Joanna Cassidy, THE OUTFIT) thinks she sucks at her job, but eventually Justice recognizes that Rita's paintings of her nightmares are predicting the murders. (They skip over the obvious idea of the paintings making her a suspect.)
Speaking of nightmares, there's a cool image when he kills Nikki: from outside her room, we see blood pour out of the keyhole. I bring this up because it kind of reminded me of the famous Johnny Depp blood geyser in A NIGHTMARE ON ELM STREET. There can't literally be enough blood for that to happen, and that's why it's cool.
The thing I remember being a big turn off in the ads, but honestly this was probly the biggest selling point it had going for it at the time, was that Eddie plays a couple other characters under makeup. Of course that was popular when he did it in COMING TO AMERICA and later THE NUTTY PROFESSOR, but it has been done in many non-Eddie comedies including DR. STRANGELOVE, THE FATTIES FART 2 and SUSPIRIA.
The biggest such character in this one is Preacher Pauley, sort of a low rent Al Sharpton who Maximillian kills and takes the place of. There is a morphing effect involved. This is maybe the most comedic section of the movie and it's kind of a funny idea that he's impersonating this guy outside of the church and then some people try to walk him in to do his sermon. That would cause him to catch on fire or something so he has to think fast, and what he comes up with is "It's a hell of night outside! Let's do the sermon on the lawn."
Then either he has no idea the normal things that would be said in a sermon, or he tries to take advantage of the opportunity to push his own agenda. By the end he has the choir singing "Evil is good."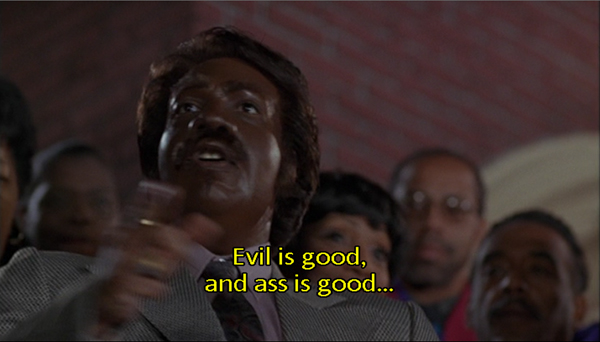 He also plays a white guy named Guido, with less success.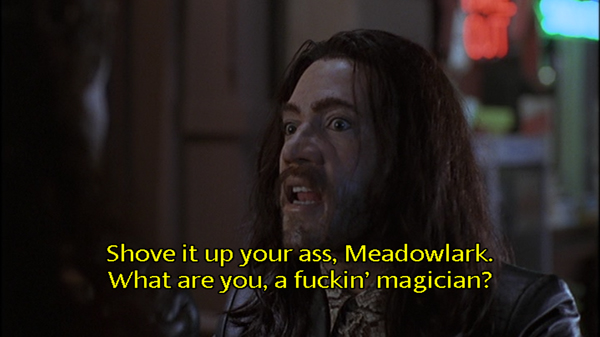 The movie was originally conceived as a straight horror movie that Murphy's company would've produced for someone else. But he liked the script and thought it would be fun to play a bad guy. They say Craven wanted to add more comedy and also convinced them to give Maximilian some good qualities instead of just making him straight evil.
The original script was by Murphy's brother Charlie Murphy (PAPER SOLDIERS) and half brother Vernon Lynch, a.k.a. Vas from K-9 Posse.
It was later rewritten by Michael Lucker & Chris Parker, the young writers of a western script that Eddie had liked. (They went on to write SPIRIT: STALLION OF THE CIMARRON and some DTV Disney sequels.) Eddie wanted it to be a serious movie, but Paramount executives and Craven tried to convince him to make it more comedic, which may account for the not entirely consistent tone.
There's always some appeal to the rare horror movie with a primarily black cast, and I actually think Murphy is good at playing it straight. It's kind of a cool character. But the mythology and what he's up to are a little too generic to get excited about, and Rita is not the kind of strong character Bassett would soon be known for playing. I like when Craven is treating it as a real horror movie, the camera swooping around for vampire POV shots and shit, and when Maximillian and Rita turn monstrous at the climax. Unfortunately it doesn't build to much, and the budget was cut during filming, causing them to have to scratch an action finale that would've taken place on the Brooklyn Bridge.
Sadly there was enough action that stunt woman Sonja Davis, who had also doubled Bassett for STRANGE DAYS, hit her head doing a backwards fall off a building and later died from her injuries. Nothing is worth that. But otherwise this movie isn't the worst.
Some of the behind-the-scenes information in this review comes from this oral history of the movie