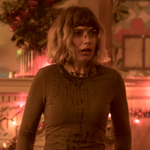 BLACK CHRISTMAS (2019) is another loose remake of BLACK CHRISTMAS (1974). Like the original and the 2006 remake it's about a group of sorority sisters who stay on campus during winter break and then start getting stalked and murdered. The creepy phone calls have been updated to creepy texts, and the identity and mythology behind the killings is completely different from either of the previous versions. Which I support. No reason to do this otherwise.
The opening feels like the serious, scary parts of SCREAM. A student named Lindsay (Lucy Currey) is walking home one snowy night, getting weird texts, thinking a dude is following her. He's not, but suddenly she crashes into a different man wearing a mask and black robe who chases her around a heavily Christmas-decorated house where no one responds to her cries for help. But the horrifying/beautiful overhead shot of Lindsay making a snow angel as she dies and is dragged away sets a bar that's never met in the subsequent off rhythm and ineffective cat and mouse scenes. I didn't realize until afterwards that it's a PG-13 movie, which might explain some of that, but doesn't really justify that the mask isn't particularly cool or creepy. That shit is important in a masked slasher movie.
But maybe not as important as a good protagonist, and in that department BLACK CHRISTMAS definitely delivers. The story centers on Riley (Imogen Poots, 28 WEEKS LATER, FRIGHT NIGHT, GREEN ROOM), who is helping the sisters prepare for some sort of Christmas performance at a frat party, but doesn't plan to participate. Even though she's in a sorority, her long coat and Doc Martens signal a tinge of cool non-conformist status that Poots somehow makes credible.
Everybody seems to be pretty good friends, which I like. It's common for slasher movies to have everybody fighting all the time, but I prefer the ones with cameradery. Everyone's trying to be sensitive and supportive about something Riley is dealing with, and one conversation about a planned "orphan dinner" for the friends not going home for Christmas seemed to imply that her parents were dead. We've seen variations of that backstory in SCREAM, HAPPY DEATH DAY, THE FINAL GIRLS, SILENT NIGHT DEADLY NIGHT, FREDDY VS. JASON, surely others, but here it turns out the past trauma is something I'm not sure I've seen addressed in a horror movie before: she was raped. Her rapist was the president of a fraternity, she was called a liar, and people still harass her about it like she did something wrong. The rapist was never held accountable – based on the time frame mentioned, he remained fraternity president a year after it happened! – and now word is he's coming to the party.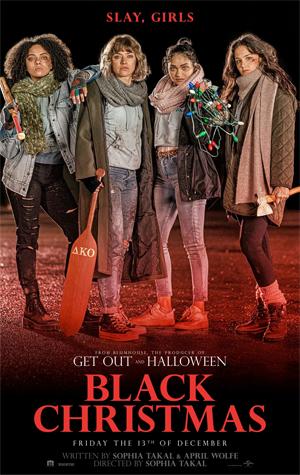 Young people not being able to convince the authorities that they're in danger is also a common horror movie trope – I think of it as the A NIGHTMARE ON ELM STREET tradition, but it goes back to at least THE BLOB. It's interesting how much more vital it feels when it's explicitly about rape victims having difficulty being believed and not just a parallel to it.
So far I've managed to miss it if the "keep your self expression out of my entertainment" people are self-incriminatingly pissed that a horror movie is about this stuff. The original, of course, dealt with abortion and a controlling boyfriend in a way that was pretty frank for its time, but when you do that these days you risk the wrath of the people who get more angry about the alleged overreach of "p.c." and "s.j.w." and "wokeness" than about the undeniable injustices they're reaching for. It might be tempting to not make movies about stuff anymore just to avoid these tedious god damn discussions, but why self censor? Give the p.c. police police something to do, I guess. Keep 'em off the streets.
Admittedly the politics here are not subtle. It's not really subtext – it's explicit. But I think it's all very organic to the central BLACK CHRISTMAS subject of college women being attacked by scorned men. It's contemporary in that the villains are a bunch of future Brett Kavanaughs – arrogant preppies who assault women, then belittle and threaten them about it, and feel they're entitled to powerful positions in society – but it's timeless in that this shit has been going on forever.
Which is also one of the themes. Riley's friend Kris (Aleyse Shannon, new version of Charmed) is a political activist who previously got a bust of the school's woman-hating, slave-owning founder Caleb Hawthorne removed from public display, and now has a campaign against cartoonishly awful Professor Gelson (Cary Elwes, BRAM STOKER'S DRACULA, SHADOW OF THE VAMPIRE, SAW), who trollishly quotes Camille Paglia to "prove" that writing doesn't have a gender and therefore it's only coincidental that only white male authors are included in what he considers "the classics" worth teaching.
Long dead assholes still have a hold on our lives. Riley catches fraternity pledges worshiping the bust of Hawthorne in some kind of occult ritual. The threatening text messages are made under Hawthorne's name. The interchangeable pretty boy Aryan-ness of the frat is too on-the-nose for me, but I suppose it helps illustrate this idea of the same elitist, chauvinistic bullshit being passed on through inheritances, legacies, secret societies. People like Kris try to stand up to it and people get tired of it and want her to just acquiesce – even her friends, like Riley. And now somebody's straight up murdering the women who threaten the patriarchy. SPOILER THAT IS IN THE TRAILER: Basically, 1974's obscene-phone-calling misogynist murderer in the attic has been traded out for an elite institution that goes back hundreds of years. Which makes a whole lot of sense.
There are two males who hang out with the women and help them. One is nice nerd Landon (Caleb Eberhardt, "Lounge Patron," ROXANNE ROXANNE), who awkwardly shows interest in Riley at the coffee shop where she works, and I spent the movie afraid he'd turn into an asshole. The other one is a boyfriend (Simon Mead, Power Rangers Dino Charge) who supports the sisters in playing a very confrontational prank on the fraternity (kind of equivalent to playing "Nazi Punks Fuck Off" for the nazi punks in GREEN ROOM) but later gets defensive and rants against feminism, actually using the phrase "not all men." And it seems like shit that guy would really say. It's not as forced as it might sound.
I was a little surprised by the serious tone. I could use more humor between the sisters, but it's nice to see them trying to replicate some of the approach of the original. I respect that.
That said, I much prefer the rowdier 2006 version, which was not a comedy but was full of crass gore and holiday-themed gimmicks. It was arguably as scary as this and definitely way more fun. Being the first holiday slasher movie, Bob Clark's original can be forgiven for not having that much holiday content outside of Christmas lights, but I think this one could go further. It has lots of snow, an icicle stabbing, a mention of a Secret Santa, some sexy Santa-themed dresses (homage to MEAN GIRLS?). I suppose there's some merriment there, but it gives me even more appreciation for the 2006 version's dedication to working in as many Christmas tree ornaments and glasses of eggnog and shit as possible. The killer bakes pieces of skin cut into cookie shapes – it's a classic! This version would never dream of doing something like that. In retrospect, there are no severed body parts. Is there even blood? I'm honestly not sure.
SPOILER FOR FANS OF THE ORIGINAL: There is no Billy this time, no mysterious person living in the attic, but it does have the famous image of the dead body found strung with Christmas lights on a chair. It seems strange that they leave out the disturbing touch of the plastic bag over her head, but later Riley attempts to suffocate the killer with a plastic bag. Nice switch up (though, like many things in the movie, it goes by quick and kind of clumsy instead of playing like a big moment).
The scares are pretty far apart and often not very impactful, but I was with this movie most of the way. The cast (particularly Poots) are very compelling, and it feels fresh in the issues it chooses to address and in the way it seems pitched specifically at women. (For example, I had to Google "diva cup" afterwards to verify it was what I thought it was.)
But it lost me at the climax. SPOILERS AHEAD. I didn't really care for the late-arriving supernatural element, but what killed it for me was the abrupt arrival of Kris and the gang posing with weapons, saying one-liners, and pairing off with the evil frat boys for action duels. I mean, I'm a guy that loves that kind of shit. But here it seems out of nowhere and completely at odds with the tone of the rest of the movie, like adding some ARMY OF DARKNESS shit to the end of CANDYMAN. It could be that they put the thematic cart ahead of the narrative horse, but it feels to me like they replaced some other ending so they could market it as a fun girl power movie.
Oh well. I'm glad Blumhouse are trying to make movies that say something, even in remakes. Director Sophia Takal (ALWAYS SHINE) wrote the script with April Wolfe, former LA Weekly critic and host of the podcast Switchblade Sisters. I feel good about some younger horror fans growing up with movies exploring these topics. I hope this speaks to them.