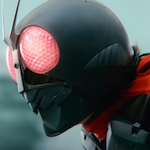 From what I've read, "SHIN" can mean new, true, or God. SHIN KAMEN RIDER – which I saw at a Fathom Events screening last week, and it's playing again tonight only, check local listings – is the third and (as far as we know) final movie in the "SHIN" series by Hideaki Anno. Best known as the visionary director of the anime Neon Genesis Evangelion, Anno kicked off this live action thematic trilogy with 2016's SHIN GODZILLA (which he wrote himself and co-directed with Shinji Higuchi). It was a strikingly reimagined Godzilla with memorably bizarre monster work (as Godzilla evolves through multiple stages of development) and the best and most detailed portrayal ever of a government bureaucracy tackling the problem of a giant monster.
Next was SHIN ULTRAMAN, directed by Higuchi and written by Anno. I haven't seen that one yet because I skipped it when I realized the second night screenings were dubbed, and it doesn't come out on disc until next month. But the "Shin Japan Heroes Universe" concept is just meant as a brand name for merchandising, not an MCU-style shared universe, so I knew whatever happened to the new true god Ultraman in his movie would have no bearing on SHIN KAMEN RIDER, and I made sure to read the fine print on the listings this time.
The "Shin" marketing really was what lured me in, because I knew very little about Kamen Rider. I knew it was one of the tokusatsu TV shows that the Power Rangers people turned it into Masked Rider in the U.S. in the '90s. I did not know that was a direct translation of the title – I assumed a Kamen was a grasshopper or some other kind of bug. The Masked Rider is a super hero who wears an insect-themed helmet and drives a jet-powered motorcycle called the Cyclone. He can't turn giant or any other Ultraman shit, but he has some bug powers. He sure can hop, for example.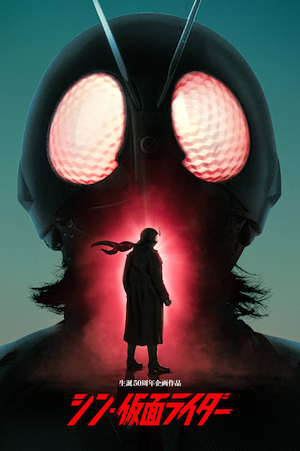 In the opening, where Takeshi Hongo (Sosuke Ikematsu, THE LAST SAMURAI) is chased on his motorcycle by two semis with a spiderweb strung between them, it's already clear that it's not going to be a similar approach to SHIN GODZILLA. It's not as much of a reinvention as a nostalgic adaptation of a TV show Anno grew up on. It reminded me much more of his live action anime adaptation CUTIE HONEY (2004) with its cheap, brightly-lit look, which takes a bit to get used to. It's not particularly cinematic. I read that some scenes are even shot on iPhones and GoPros, but I think those parts work pretty well – they're use for fast-moving flashbacks and things and have a great energy to them.
When an evil spider-masked villain's underlings are threatening to execute "traitors," Hongo appears dramatically on a cliff above, flies down and fights them to death. In a bit of flair that made the crowd laugh with delight, his punches and kicks just smash through these fuckers like Gallagher's hammer through watermelons, causing a shower of blood with each hit. Afterwards Hongo kind of acts like a lycanthrope, horrified to remember what he did, not understanding it, feeling he couldn't control it. He takes off his gloves to find strange alien hands, and under his helmet is an insect-like face. It's fitting that TETSUO THE IRON MAN director Shinya Tsukamoto plays Dr. Iroshi Midorikawa, the scientist responsible for this body horror when he worked for something called SHOCKER – not the Wes Craven movie, though. It stands for "Sustainable Happiness Organization with Computational Knowledge Embedded Remodeling."
Hongo finds that out after the doctor's daughter Ruriko (Minami Hamabe, ACE ATTORNEY) helps him escape to a safe house. Midorikawa experimented with human-insect hybrids, or "augments" – Hongo is "Grasshopper Aug" – but regrets it now that there are various insect themed SHOCKER agents out there terrorizing people. He and Ruriko teach Hongo (often in big chunks of expositional dialogue) how to control these new abilities. He absorbs the life force "Prana" from people to power himself, he can expel that energy in order to transform back into a human, but then he has to build it up again to get his powers back if, for example, Spider-Aug shows up, kills the doctor, kidnaps Ruriko and leaves Hongo stuck in a web.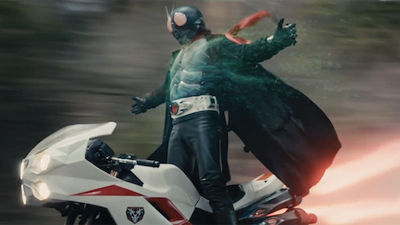 I've read that the story is a condensed adaptation of the events of the first 8 episodes of the show, which makes sense. It doesn't feel very structured, just an episodic series of showdowns with a scorpion lady, a wasp lady, a bat man, etc. Hongo names himself the Masked Rider, Ruriko slowly learns to trust him, they work together to fight the various bug and animal people, she keeps explaining in detail various concepts of how the shit works. It definitely has the feel of one of those old movies edited together from episodes of a show, which for me made it drag occasionally but mostly feels hyperactive and random in a good way. I like that after so much goofiness there's an emotional turn that the movie takes very seriously, and Hongo has a long crying scene on a beach. This is also when Anno starts using nice sunsets and stuff and it starts looking more like a movie.
Like in CUTIE HONEY, the action is very jagged and stylized, with an emphasis on poses more than on movement, sometimes using frame-skipping effects that make it look almost like limited animation. Much of the digital FX work isn't necessarily working very hard to look real, but often it looks really cool, especially in all the transformation sequences where the helmets snap open and closed, often with sound effects you'd expect to hear on those shows but not in a movie. At the same time, I noticed a real emphasis on the sounds of Masked Rider's leather gloves and jacket as he moves, a touch of reality I suspect is not from the shows, but I could definitely be wrong.
The soundtrack (score by Taku Iwasaki) is really good – it's a wild mix of rowdy rock 'n roll, over-the-top electric guitar hot-shotting, and retro sounds. I believe they use some old '70s theme songs augmented with electro beats. Other times they just use straight up old horn sounds and stuff that seem kind of cheeky because they're so defiantly out of fashion but undeniably perfect for the tone.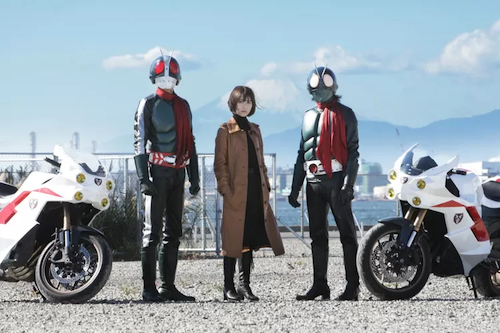 One of the more "you wouldn't get this on the TV show" scenes is a big mostly animated (I think) chase through dark tunnels, with multiple grasshopper-masked motorcyclists in an allusion to locust swarms. When Masked Rider comes face-to-face with Ruriko's scary brother Ichiro, the Butterfly-Aug (Mirai Moriyama, SAMURAI MARATHON), he's surprised with the existence of Grasshopper-Aug-2, or Masked Rider 2, Hayato Ichimonji (Tasuku Emoto, AIR DOLL).
Wait, should this be called SHIN KAMEN RIDERS? I got the feeling there was alot of throwing back to famous TV stuff I wasn't familiar with, so it was interesting to read that the original 1971 series invented the Ichimonji character to take over temporarily after Hiroshi Fujioka, who played Hongo, broke both of his legs doing a motorcycle stunt. In homage to this, Ichimonji is abruptly introduced pretty late in the movie, but has taken over the role of Masked Rider by the end. He's a cool loner so at first he plans to go off on his own without having to work with two government agents like Hongo does, but circumstances change and he decides to sell out, sorta. Oh well. At least he gets a new costume out of it.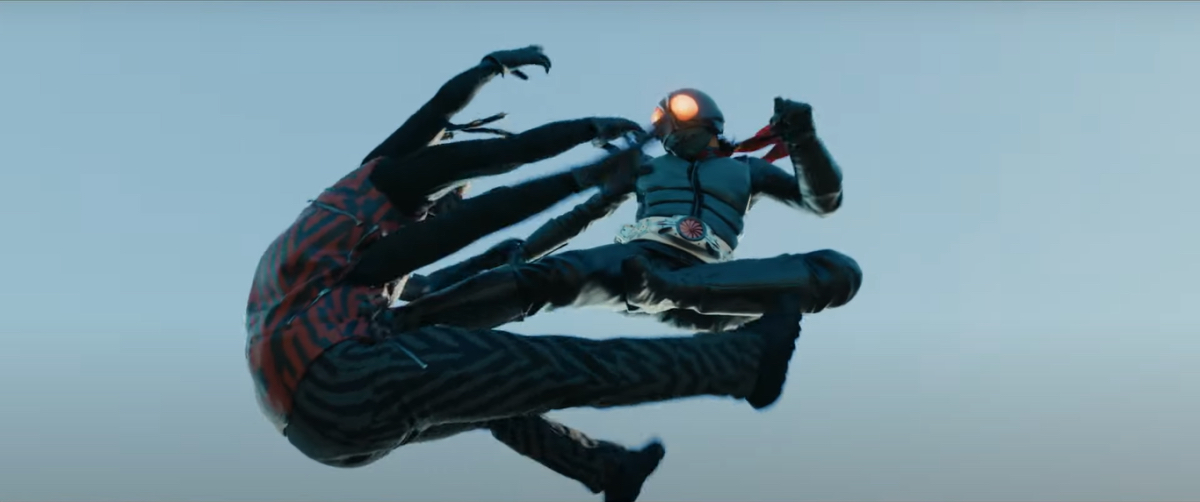 Much, maybe most of the fun here is one's inner child appreciation of just how fucking cool all this shit is: the helmets look cool, the bug eyes light up, they stand up on motorcycles and they flip through the air and do flying kicks. There's an elegant metal robot named K who wears a nice lavender suit with a white rose in the front pocket. Butterfly-Aug's whole face splits open and antenna come out. Personal meaning is assigned to the Masked Rider's red scarf, but also it just looks nice for a guy in a bug helmet to have a red scarf. I love this type of shit, and it goes a long way. Anno did some of the designs, and tried some modernizing, but leaned more into honoring the original versions.
I don't think SHIN GODZILLA requires you to be familiar with the Godzilla movies, though I am. With SHIN KAMEN RIDER I felt a little like a guest at someone else's party, not knowing anybody but going with the flow and having fun with it. For the Kamen-ignorant like myself it's a fun novelty, but I think fans of the shows will get more out of it, and I have evidence to support that theory. Though it was playing in various theaters around town, it was only one 7:00 showing for each, so my theater was most of the way full. When it ended I had a feeling it was a disappointment to them, just kind of a rehash, not an obvious cinematic triumph like SHIN GODZILLA. But they all stayed for the credits and had loud, excited conversation throughout. And then they applauded. And then it played the intro to the original TV show, and when that was over they applauded again. I heard excited nerd discussion all around me as I left. It was cute. It made me like it more.
I would like to see more Japanese pop culture institutions get the SHIN treatment. SHIN MOTHRA. SHIN GAMERA. SHIN WAR OF THE GARGANTUAS. SHIN PORCO ROSSO. SHIN KAGEMUSHA. But it's not up to me. I'm grateful for whatever new true gods they give us.