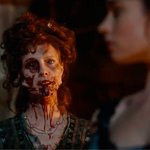 When I first heard about PRIDE & PREJUDICE & ZOMBIES – the book where Seth Grahame-Smith inserted the undead into Jane Austen's original text – it sounded like a clever public domain art project, something I could respect without wanting to actually read it. When I heard that they were making it into a movie it sounded like kind of a bad idea, but since David O. Russell was doing it I thought maybe it would be interesting. By the time Russell left and it was finally made by 17 AGAIN director Burr Steers I had written it off.
But then I saw the trailer, where the absurd premise was done with a straight face, and that was all I needed to get on board. I should've known better, too, because this is actually a repeat of what happened with Grahame-Smith's second book, ABRAHAM LINCOLN: VAMPIRE HUNTER. The wackiness of the title made me groan, but then I enjoyed the deadpan movie version. To this day it makes me smile to think that that actor had to master both delivering the Gettysburg Address and spinning an ax.
So I should learn to trust this Grahame-Smith guy. He also wrote Tim Burton's DARK SHADOWS, which I enjoyed. But more importantly he has a corner on this rare, ballsy type of movie: lavish, earnest productions of intentionally ridiculous historical drama/horror-action combos. Steers has the unlikely discipline to treat Austen's story of courtship among the rich with utter respect even though he's moved it to a post-zombie apocalypse London surrounded by a moat and wall and at war with the undead hordes. I actually found myself invested in Austen's original love story regardless of any zombie business.
This version of Mr. Darcy – the grouchy, reluctant suitor who made a generation swoon when played by Colin Firth – is a no-nonsense soldier who menaces the elites by snooping out the secretly infected among them (zombie bite victims can still talk, and don't fully transform until they've eaten human brains, so some of them try to pass). Sam Riley (MALEFICENT, 13) has a distinct, John Hurt-ian voice that works both for snooty lectures and eloquent apologies, both crucial for Darcy's romantic arc from frustrating curmudgeon to it-turns-out-he-was-misunderstood dreamboat.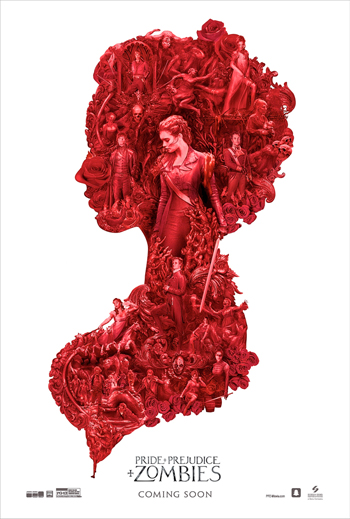 He gets a stubborn crush on Elizabeth Bennet (Lily James, Downton Abbey, WRATH OF THE TITANS), our strong Austen heroine who bucks societal and parental pressure and pursues her own path to happiness. When the obnoxious Parson Collins (Matt Smith, the worst character from the worst TERMINATOR movie) proposes to her and also tells her she will be required to stop being a warrior, it is very clear where he can, should, and will have to stick it. Her mother (Sally Phillips from the BRIDGET JONES saga) also wants her to stop chopping up ghouls, marry some uptight rich dude and squirt out a bunch of elite babies, but her cool dad (Charles Dance, Game of Thrones, THE LAST ACTION HERO) does one of those formulaically satisfying stick-it-to-the-mom surprises where he suddenly supports her right to warriordom.
(spit take. record scratch. gasp. faint.)
In fact, dad is the one who sent Elizabeth and her four sisters not to boarding school, but to Shaolin martial arts training. Fighting women are not completely frowned upon in high society, but the other ladies are still snobbish toward the Bennet sisters' elite sword skills and acrobatic moves because they consider Chinese martial arts training to be trash compared to the Japanese training all the posh families get.
One complaint: I didn't notice a distinction between the fighting techniques. This is a perfect setup for a HEROES OF THE EAST style kung fu vs. ninja challenge, something that would improve absolutely any movie from this to LAST YEAR AT MARIENBAD to ALL THE PRESIDENT'S MEN.
Of course, the living are usually fighting zombies, not each other. One exception is when Elizabeth rejects Mr. Darcy's presumptuous marriage proposal, they get into it and exchange both verbal and physical barbs. They're insulting each other but also sort of seducing each other but also knocking each other through furniture. I know this sort of thing has been done in everything from MR. & MRS. SMITH to DAREDEVIL, but it's kinda fresh when it's done with actual Jane Austen quips.
There's a bunch of intrigue about overheard gossip, money schemes, eloping and civilized zombies that survive on pig's brains. Lena Headey (Terminator: The Sarah Connor Chronicles, 300, DREDD) appears as Lady Catherine de Bourgh, an elegant and tough lady with an eyepatch who is suspicious of Elizabeth. She's the character most representative of the two sides to this movie, and gets the very best line, which was given away in the trailer but I won't give it away here.
The fights (fight coordinator: Maurice Lee, BEN-HUR [2016]) aren't, like, Hong Kong level great or anything, but they got these actresses twirling and kicking and flipping in fancy corsets. It's fun. Stylistically, Steers and cinematographer Remi Adefarasin (TRULY MADLY DEEPLY, EMMA [1996 Kate Beckinsale version], ELIZABETH, ELIZABETH: THE GOLDEN AGE) find the common ground between green-screeny FX movie and painterly grey-clouded period drama. The zombies are pretty good. They don't particularly stand out on a makeup level, but at least they're different in costume-drama garb, and I appreciate that they follow different rules than in other tales of the undead.
As we learn more about this world there's even a little ambiguity about whether it's morally right to kill these ghouls pre-emptively. There are many signs that they have a right to live despite their infection, and I think the heroes might be doing the wrong thing.
But they're more interested in finding worthy companions than in questioning their values. If one were to turn the movie off when the credits start, they would end on a straight rendition of Austen's original conclusion, bringing together the lovers to hopefully live happily ever after. And it's pretty satisfying! That it continues into monster territory mid-credits doesn't take away its apparent sincerity.
Neither PRIDE & PREJUDICE & ZOMBIES or ABRAHAM LINCOLN: VAMPIRE HUNTER are consistently great movies, but in a way they are miracles. The restraint and taste and trust required to go through with mounting such expensive movies based on joke premises without ruining it by winking or nudging is not something I expect to see repeated. They're pretty fun to watch, and any lagging portions are easy for me to forgive because of my delight that they even exist.