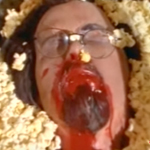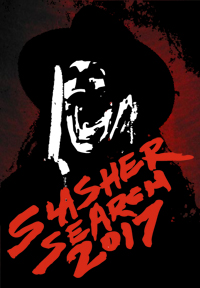 Okay, I'm not naive, I know a no-budget regional slasher nobody's ever heard of from the advanced year of 2001 was a long, long, loooong shot for kicking off Slasher Search 2017, this year's quest to find a great obscure slasher movie I've never seen before. But I don't know, man. The title GENERATION AX always intrigued me. That was a pretty good exploitation title for its time, or at least for several years before its time. The opening credits spell it out "GENERATION aX," as if we might not get the play on "Generation X" without typographic hints. In that case it's a misnomer, because this is a movie about 17 year olds in a year when the youngest Gen Xers were 25. In the movie's defense, though, the entire cast looks closer to 30.
The story opens with Todd (Brian Kelly, "Jacobi Boy #2," MANHUNTER), sort of a young Shea Whigham type, in a lone containment cell being taunted by a completely-by-himself cop or sheriff or whatever (Robert Steinmeyer?) who complains about having to fill out reports and helpfully talks about "those teens" and "those cheerleaders" Todd is accused of killing. Of course Todd escapes and the story jumps back two weeks. This tension-by-telling-us-the-future is maybe the closest thing to a successfully executed technique in the movie. If we were invested in the character Leslie (Jennifer Peluso, coach for The Firm: Total Body series of workout videos) it would be suspenseful as it goes back and forth about whether or not she'll make the cheerleading team.
I guess Leslie and Blair (Marina Morgan, CYBER VENGEANCE, TERROR FIRMER) are supposed to be cool outsider kids, hence Leslie's vintage Pac-Man lunchbox and Blair's disappointment at her friend's cheer aspirations. It's hard to really know how the cliques work in this high school, though, since we only ever see a tiny squad of stuck up cheerleaders, a handful of football studs (in one scene, I think) and a small group of stoner friends. I'm pretty sure we don't ever see any other students, even in the background.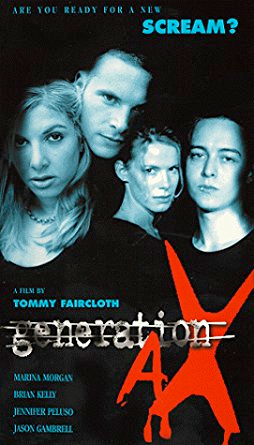 Blair brings Leslie to meet the stoners at a… bar? All ages club? Some place where they serve drinks but allow adult looking teens. They order "suicides," or "all the sodas mixed together" like a third grade roller skating party, as well as the very specific cocktail "Some hard liquor!"
Blair and Todd fall in passionate-young-people-love after a brief conversation about having "secrets." For Blair that means she murdered a cheerleader to get Leslie on the team. For Todd I guess it means a willingness to kill his friend for drugging and date-raping another friend in the club bathroom. (At least the rape scene is not graphic – the camera very slowly zooms into a snowy TV they have as restroom decoration.)
So then they go on a murder spree, for example they behead a bizarrely rude movie theater employee who refuses to sell them "suicides" because he claims it will screw up his inventory. The posters displayed in the theater seem to tell us the type of movie the filmatists are trying to make: SCREAM meets TRUE ROMANCE and WILD AT HEART. I'm sure they tried to get NATURAL BORN KILLERS too. They wanted to fit into the movie-savvy slasher wave caused by SCREAM but also do one of those murderous couple movies. I can see it. But I also noticed AIR FORCE ONE, FACE/OFF, MARS ATTACKS!, FREDDY'S DEAD: THE FINAL NIGHTMARE and G.I. JANE posters and standees, so I'm not sure how those fit in.
The movie made me really curious about South Carolina-based writer-director Tommy Faircloth, because it simultaneously seems like it's made by kids who don't know what adult life is like and adults who have no clue what the kids are up to. Turns out Faircloth was old enough to be a P.A. on DIE HARD 2 eleven years earlier, so he has to have been in the grownup category. He didn't make another feature until 2014's DOLLFACE (a sequel to his 1996 debut, CRINOLINE HEAD). According to his self-penned IMDb bio he spent the interim doing shows about theme parks for the Discovery and Travel Channels.
Some people are better than me at enjoying the hand-made-ness of these regional productions. Or at least they would be if it was shot on VHS. This looks slightly more professional than that but not much. It's one of my least favorite levels of horror movie – amateurish and not funny but with occasional "wink wink nudge nudge this is satirical" type jokes as a defense mechanism. The kind of movie that is not imaginative or dreamlike, but I keep getting distracted by how nothing feels like the real world. That's not what a news anchor would say. That's not how school works. That's not how a guy would sell a movie ticket. Why is this weirdly assholish popcorn seller still wiping that one section of glass with a rag?
And you don't get the consolation of seeing inventive low budget gore like you'd hope for in the FRIDAY THE 13TH ripoff days. Instead you get multiple scenes with the shadow of an ax being swung – not even blood splattering onto the shadow – and then the actor laying still with some blood on them.
Also, why does it open with him escaping jail, then flash back, then not get back to the point where he's in jail? Did they not know that that structure creates an expectation of returning to the opening to find out what happens next? Not that I'm complaining. I was definitely happy that it abruptly ended 15 minutes before story structure and standard running times dictate it should.
I'm afraid I cannot endorse GENERATION AX. But if they ever do a sequel or remake it should be called KILLENNIALS.