Luc Besson might be back. For a while there he was doing those ARTHUR movies for kids, then he said he wasn't gonna direct anymore. To be fair I haven't watched the ARTHUR movies, because in the U.S. the Weinsteins own them and only released them in a version where the characters are dubbed by Snoop Dogg and Madonna – I'm not joking about that, that's for real. Besson also directed that black and white movie called ANGEL-A, which I haven't seen and don't even know which way to pronounce.
So I probly shouldn't say Luc Besson is back. I guess it would be more fair to say that I'm back to Luc Besson. Point is he has this one now, based on a Belgian comic book. It came out April 2010 in Belgium and France and has rolled out everywhere from Argentina to United Arab Emirates since then, just not here so I had to get an import. It's fine, I'll watch it again if it comes out dubbed by Nicki Minaj or somebody.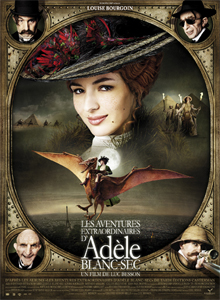 The tone is very light, a family friendly adventure movie, but not too stupid for adults, and with brief sideboob I believe. Besson's broad humor sometimes turns me off (example: Bruce's mom on the phone in FIFTH ELEMENT), but here he seems kinda witty, with lots of quick, funny quips. Yes, there is an uptight character who keeps seeing crazy things that make him faint, but that seems appropriate in this live action cartoon type of world where physical features are exaggerated to look like drawings. Lots of elaborate makeup jobs and fake ears. Everyone is big and round or horribly ugly or impossibly gorgeous. It's maybe kinda what that TIN TIN movie would be like if they did it with cameras and live humans.
At one point I was wondering if the ridiculously gnarled faces and crooked teeth of the Egyptians were a little racist. Then suddenly a villainous French character walked in that made the Egyptians look like Cary Grant by comparison, and I was able to go back to appreciating them in the drawing-come-to-life spirit they were intended.
It was this guy: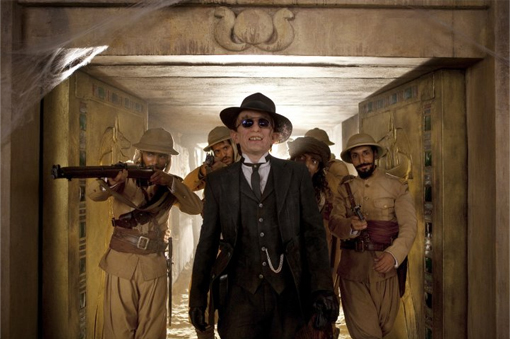 and I only now figured out that's who Mathieu Amalric from MUNICH and QUANTUM OF SOLACE plays.
Adèle Blanc-Sec (Louise Bourgoin) is a famous author. Her editor sends her on trips to exotic locales where she has crazy adventures, then comes home and makes up a bunch of unrelated shit for her books. As the movie begins she's being sent to Peru, but sneaks off to the Great Pyramids instead.
Adèle is kind of like a cross between Indiana Jones and Mary Poppins. She's a good lookin lady with fancy dresses and giant hats who refuses to have her world limited by the idiots around her or even by the laws of science. Her twin sister Agathe (Laure de Clermont-Tonnerre) is in a coma from having her brain impaled on a hat pin, so she needs to steal a particular Egyptian mummy that she thinks is a doctor to Ramses II and might be able to help. I mean, she'll have to figure out how to resurrect him from the dead first, but she'll cross that bridge when she gets to it.
Unfortunately the one guy that might be able to help her with that, a withered old mystic called Professseur Ménard (Jacky Nercessian), is on death row when she gets back from her trip. Ain't that how it is? You go out of town for a little bit, you come back and find out the buddy you're really counting on used his telepathic powers to hatch a pterodactyl egg from the museum and then control the beast remotely and the cops found him harboring a dinosaur and decided he was a maniac.
I love the special effects in this movie. They don't look as "real" as top-of-the-line Hollywood effects, but that's part of their charm. They have lots of personality. The pterodactyl and later a group of mummies are animated in a slightly herky-jerky style that reminds me of old stop motion animation. I guess the closest Industrial Light and Magic comparison would be the Martians from MARS ATTACKS!
The mummies are great because they're not based on the usual wrapped-in-bandages type of look, they actually look like mummified human remains come back to life. And they're animated with very human personalities. In one of the movie's best scenes Adèle sits and has tea with an animated mummy and tells him the traumatic story of her sister's accident and why she blames herself for it. And he sits and listens very supportively and comforts her. And he's a mummy. That asshole from the MUMMY movies could learn a thing or two about manners from this guy.
Another way that Adele is like Mary Poppins is that she pretends to not know her effect on men. There's a dude so in love with her he delivers poems to her every day, and she just kind of brushes him off but casually tells him that she reads all her mail in the bath tub. I mean maybe that's an act of charity, a generous donation of masturbation imagery, but it seems more cruel to me.
On the other hand, feigned obliviousness is one of her best qualities. The bowler hat wearing, mustache sporting authority figures all around her are constantly tripping over themselves failing to stop her from doing what she wants to do, and she doesn't waste time noticing or complaining. One exception is in Egypt when the Egyptians won't let her into the tomb. She just tells them to come get her when it's no longer a boy's club, and waits maybe a minute while they find out how badly they need her expertise.
There's definitely some AMELIE in here too. If you hate whimsy, there could be a problem. But people who think AMELIE is too cute are comparing it to real life and relationships, so this is kinda different. Even if you've had experience with real pterodactyls and this doesn't match up I'm sure you can enjoy the mummy part as an escapist fantasy, and vice versa.
It's a fun movie. I'm not sure why it's been banned in the U.S. The people have a right to know the truth.
nerd note: Her guide or assistant in Egypt is named Aziz – I kept waiting for her to say "Aziz, light!" But I guess there's not much reward for in-jokes about the Luke Perry part at the beginning of THE FIFTH ELEMENT. (Also I looked it up and this takes place about 2 years before that scene did, so age-wise it can't be intended as the same character.)
okay I would like to apologize for this trivia. Move along
This entry was posted on Thursday, September 8th, 2011 at 1:58 am and is filed under
Comic strips/Super heroes
,
Fantasy/Swords
,
Reviews
. You can follow any responses to this entry through the
RSS 2.0
feed. You can skip to the end and leave a response. Pinging is currently not allowed.