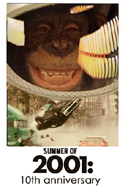 Yesterday I ran my last review from the Summer of 2001 10th Anniversary retrospective series, so let's go over our findings. I hope I didn't ruin it by spreading some of the reviews out to the anniversaries of their releases. I actually watched them all close together in chronological order and wrote about them but I wanted to have an ongoing series throughout the summer. At the end of this post I have the links to all of them in order in case anybody ever wants to read them in one long chunk.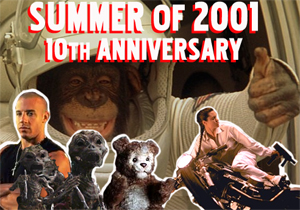 Well, it turns out 2001 was not a particularly memorable or groundbreaking summer for movies. In many ways it was sort of a summer of leftovers, the dregs of dying movements and trends. It had the improbably late last CROCODILE DUNDEE movie, the middle of Sylvester Stallone's pre ROCKY BALBOA quality drought, the end to the short period where studios thought they could replicate the success of TITANIC, the last JURASSIC PARK movie so far, the last John Carpenter movie until this year, the failure to restart PLANET OF THE APES movies until this year. On the other hand it was the start to the surprisingly long-lived FAST AND FURIOUS series, and as much as it sucked and failed I have noted the ways in which FINAL FANTASY: THE SPIRITS WITHIN foreshadowed many of the technological trends in today's movies.
A couple of actors had multiple appearances during the summer. Newcomer Estella Warren had the hot-girl roles in both DRIVEN and PLANET OF THE APES. Her biggest movie since then has been KANGAROO JACK (and she was recently busted for a DUI where she hit three different parked cars). Cary-Hiroyuki Tagawa, the cruel villain of MORTAL KOMBAT and SHOWDOWN IN LITTLE TOKYO, showed up in both PEARL HARBOR and PLANET OF THE APES. Since then he's continued to be prolific, but usually not in big studio movies (the biggest ones being ELEKTRA and MEMOIRS OF A GEISHA).
Did anybody notice that there were competing alien-ghost movies? FINAL FANTASY: THE SPIRITS WITHIN was about the spirits within post-apocalyptic earth that turn out to be ghosts of aliens that came down on a meteor. Who knew ghosts could be transmitted meteorically like that? We should start shooting haunted houses into space to get rid of the ghosts. Meanwhile GHOSTS OF MARS was about, you know, ghosts of martians. (On Mars, luckily.) This could've been a big showdown like the battle of the asteroid movies or the volcano movies or the Truman Capote movies if either of these two was worth a damn or at least not completely boring.
FINAL FANTASY also has a similarity to A.I.: both depict a post-apocalyptic New York. A.I.'s is submerged under the water from the melted polar ice caps, FINAL FANTASY's is just trashed. A.I. actually shows the twin towers of the World Trade Center, in real life destroyed a few months after the movie's release. PLANET OF THE APES has what could arguably be considered a post-apocalyptic Washington DC (or at least post-ape-alyptic) but nothing is destroyed and I didn't spot the Pentagon if it was shown.
Few of the directors of summer 2001 have taken the opportunity to improve in the ensuing decade, and most have floundered. CROCODILE DUNDEE's Simon Wincer went to TV, other than the Imax movie THE YOUNG BLACK STALLION. DRIVEN's Renny Harlin continues to struggle to capture his earlier success, although some of us got a kick out of MINDHUNTERS and I kind of liked 12 ROUNDS. THE MUMMY RETURNS's Stephen Sommers has only done two movies since, VAN HELSING and GI JOE, so he's pretty much stayed exactly the same. EVOLUTION's Ivan Reitman has also only done two, the poorly received MY SUPER EX-GIRLFRIEND and NO STRINGS ATTACHED, where at least Natalie Portman isn't wearing pants on the cover, so in my opinion that's an improvement over EVOLUTION. LARA CROFT's Simon West has stuck to TV and smaller movies like WHEN A STRANGER CALLS, but now gets to do THE EXPENDABLES 2. Since his remake of THE MECHANIC was okay he maybe improved, but not by leaps and bounds. FINAL FANTASY's Hironobu Sakaguchi was the creator of the Final Fantasy video game. He didn't direct another movie and his studio closed its movie-making arm after one short for THE ANIMATRIX. JURASSIC PARK III's Joe Johnston made the blandly-passable HIDALGO and the already-ruined-by-the-studio-before-he-was-hired WOLFMAN. His CAPTAIN AMERICA movie this summer is his first solid movie since THE ROCKETEER, and maybe his best ever, but not exactly visionary. PLANET OF THE APES in my opinion marked the end of Tim Burton's days as a visionary, personal director working within commercial movies and the beginning of his career as mostly a hired-hand who adds little quirks to other people's half-baked projects. He hasn't done any as bad as APES since, but also none as good as the ones before APES. I think he should stick to animation. John Carpenter had THE WARD this year and it's his only feature film since GHOSTS OF MARS. JEEPERS CREEPERS's Victor Salva has since only done a JEEPERS sequel and PEACEFUL WARRIOR, a weird inspirational Nick Nolte movie I kind of want to see.
The most prolific of the class of '01 would have to be RUSH HOUR 2's Brett Ratner. He's since done one remaquel (RED DRAGON), one original (AFTER THE SUNSET), one comic book sequel (X-MEN 3), one more RUSH HOUR sequel, and one segment of NEW YORK, I LOVE YOU. Also he produced the TV show "Prison Break" and does lots of music videos and shit. He currently has TOWER HEIST in the can, is directing this year's Oscar telecast and has 18 (eighteen) projects in development (details only on IMDbPro). None of this has gained him any more respect than he had back then, in fact he's way more hated on the internet now than then, mainly because they didn't like his X-Men part 3 I think. I don't think he's that bad, but he hasn't given me any strong arguments to defend him either.
I guess the most surprising fate went to THE FAST AND THE FURIOUS's Rob Cohen. He decided to leave the sequel when Vin Diesel did, and has been left in the dust. Since then he's done xXx, STEALTH and THE MUMMY: TOMB OF THE DRAGON EMPEROR, all of which I find semi-amusing but none are a third as good as FAST AND THE FURIOUS. It's interesting that the biggest surprise hit of that summer continues as a bigger and better series ten years later while the director is stuck doing part 3 to that same summer's biggest, crappiest sequel. (And blowing that, too.)
Of all these directors the only one who has continued to thrive making big ass summer movies is Michael Bay. He's since done BAD BOYS II, THE ISLAND (admittedly a flop) and the three TRANSFORMERSes. I haven't seen THE ISLAND. In my opinion the others are all way more incompetently made than PEARL HARBOR, but I guess more enjoyable in that they don't tastelessly mess with American history and are so excessive and ridiculous in both style and content that although they are absolutely terrible examples of their genres they are at least distinctive.
In his spare time Bay collects Ferrarris, Lamborghinis and the rights to make terrible remakes of everything that is important to anyone.
The winning director of the summer is, unsurprisingly, A.I.'s Steven Spielberg. I think he made the best movie of that summer and has the best track record since. His filmography this century is controversial – most people don't enjoy MINORITY REPORT, WAR OF THE WORLDS or INDIANA JONES AND THE KINGDOM OF THE CRYSTAL SKULL as much as I do. But I think we can all agree that CATCH ME IF YOU CAN was fun, right? And I'm not gonna be timid on MUNICH at all. Of all the movies that all of these directors have done since 2001 I think that's clearly the best one (also the only one nominated for best picture).
The summers of 2001 and 2011 ended up being similar in that both seem to be low on movies that will go on to be remembered as classics. 2011 probly has a higher number of pretty good also rans (X-MEN FIRST CLASS, CAPTAIN AMERICA, SUPER 8). Both summers had a FAST AND THE FURIOUS movie starring Vin Diesel, Paul Walker and Jordana Brewster as a highlight. 2001 had a PLANET OF THE APES remake as one of its worst, 2011 had a prequel to the same movie as one of its best. Another low-ranking 2001 movie was by John Carpenter (GHOSTS OF MARS), this year one of the best was heavily influenced by his work (ATTACK THE BLOCK). Joe Johnston in my opinion did alot better this year than back then (CAPTAIN AMERICA vs. JPIII). Michael Bay's TRANSFORMERSES 3D was definitely better received than PEARL HARBOR was.
I wish I could say that by watching all these movies I figured out something about what was going on in our culture right before 9-11, but to be honest I didn't hit on anything real revelatory. You might argue that we were in a cultural lull, our popular entertainment of mediocre quality, alot of it sequels and remakes and video game adaptations and blatant rip-offs. Of my two favorites of the summer #2 was a blatant ripoff of POINT BREAK, #1's originality was a fluke because it was a leftover project from a deceased director who was one of the best ever.
Have we gotten better since then, and if so, is it a good idea to say it's a reaction to that tragedy, or the wars that came in its wake? I'd have to study the next couple summers I think to get an idea of the evolution. My first tendency was to think that pop culture retreated into fantasy to escape the harsh realities of what was going on in the world, because the big movies of the next couple summers were SPIDER-MAN, STAR WARS II, X-MEN 2, MATRIX RELOADED, HULK, PIRATES OF THE CARIBBEAN 2… but of course that doesn't make sense, because every one of those was in the works long before 9-11. And furthermore the first HARRY POTTER and the first LORD OF THE RINGS both came out in 2001, kicking off the new fantasy boom.
We can all remember that for at least a year or two people worried that violence and destruction in the movies was passe because of 9-11. But it's not like Summer of 2001 was all Roland Emmerich movies and shootemups. Actually far from it. RUSH HOUR 2 was the most traditional action movie, and the fighting is mostly done with hands and feet. Then there's THE FAST AND THE FURIOUS, where there actually is a little bit of gun violence but not much, and the cars are used mainly for racing, not chasing or crashing into each other. A.I. is big special effects sci-fi but it's a very personal story about a little boy, and JURASSIC PARK III is monsters but they stay on an uninhabited island, no city attacks. PEARL HARBOR is the only one sensitive studio people might've worried about if it was coming out the next summer, but most likely it would've done better because it would've seemed more relevant.
So I don't know. I don't have the answers yet.
I would like to conclude with some lists and facts and shit.
if I was violently forced to rank the movies used in this study:
1. A.I. – ARTIFICIAL INTELLIGENCE
2. THE FAST AND THE FURIOUS
3. JEEPERS CREEPERS
4. RUSH HOUR 2
5. LARA CROFT is THE TOMB RAIDER
6. I hate to say it, but maybe PEARL HARBOR?
7. JURASSIC PARK III
8. DRIVEN
9. THE MUMMY RETURNS
10. PLANET OF THE APES
11. GHOSTS OF MARS
12. EVOLUTION
13. CROCODILE DUNDEE VS. LOS ANGELES
14. FINAL FANTASY'S THE SPIRITS WITHIN
ranked by Rotten Tomatoes percentage, for comparison:
1. A.I. THE ARTIFICIAL INTELLIGENCE: 73%
2. tie: THE FAST AND THE FURIOUS and RUSH HOUR 2: 52%
3. JURASSIC PARK III: 50%
4. THE MUMMY RETURNS: 47%
5. tie: JEEPERS CREEPERS and PLANET OF THE APES: 45%
6. tie: FINAL FANTASY THE ETC. and EVOLUTION: 43%
7. PEARL HARBOR: 25%
8. GHOSTS OF MARS: 21%
9. LARA CROFT THE TOMB RAIDER: 19%
10. DRIVEN: 14%
11. CROCODILE DUNDEE IN LOS ANGELES: 11%
by box office (figures rounded from Box Office Mojo)
1. RUSH HOUR 2 ($226 million)
2. THE MUMMY RETURNS ($202 million)
3. PEARL HARBOR ($198 million)
4. JURASSIC PARK III ($181 million)
5. PLANET OF THE APES ($180 million)
6. THE FAST AND THE FURIOUS ($144 million)
7. LARA CROFT RAIDIN' TOMBS ($131 million)
8. A.I. AND THE ARTIFICIAL INTELLIGENCE ($78 million)
9. EVOLUTION ($38 million)
10. JEEPERS CREEPERS ($37 million)
11. DRIVEN ($32 million)
12. FINAL FANTASY ($32 million)
13. DUNDEE 3 ($25 million)
14. GHOSTS OF MARS ($8 million)
note: all of these made more money than THE MAN WHO WASN'T THERE, MULHOLLAND DRIVE and GHOST WORLD
top 3 quotes from Box Office Guru's "Summer 2001 Box Office Preview"
1. "Also opening on June 22nd is Universal's drag-racing picture The Fast and the Furious which features lots of action but little starpower."
2. "Launching solo on July 27th is Fox's $100M remake of Planet of the Apes from director Tim Burton. This event film stars Mark Wahlberg and hopes to bring the beloved story of the 1968 hit to a new generation with the help of modern special effects."
3. "Otherwise, the wide appeal of A.I. might allow it to become the film that most parents take their kids to in July and August."
the retrospective, in order:
intro
April 20th: CROCODILE DUNDEE IN LOS ANGELES
April 27th: DRIVEN
May 4th: THE MUMMY RETURNS
May 25th: PEARL HARBOR
June 8th: EVOLUTION
June 15th: LARA CROFT: TOMB RAIDER
June 22nd: THE FAST AND THE FURIOUS
June 29th: A.I.: ARTIFICIAL INTELLIGENCE
July 11th: FINAL FANTASY: THE SPIRITS WITHIN
July 18th: JURASSIC PARK III (not an actual review)
July 27th: PLANET OF THE APES REMAKE
August 3rd: RUSH HOUR 2
August 24th: GHOSTS OF MARS
August 31st: JEEPERS CREEPERS
https://web.archive.org/web/20210213124201/https://www.youtube.com/watch?v=IJL5RJPLkKY&gl=US&hl=en
This entry was posted on Thursday, September 1st, 2011 at 5:09 pm and is filed under
Blog Post (short for weblog)
. You can follow any responses to this entry through the
RSS 2.0
feed. You can skip to the end and leave a response. Pinging is currently not allowed.