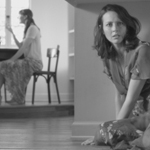 I got a ticket to the opening film of this year's Seattle International Film Festival, a movie called MUCH ADO ABOUT NOTHING, from the director of THE AVENGERS and the writer of HAMLET. Yes, idolized big brother of the internet Joss Whedon had some time off after directing the highest grossing non-James-Cameron movie of all time so he invited all his actor friends to his house to do a low budget William Shakespeare movie. It was so low budget he had to do it in black and white even though it was on a RED camera.
The cast includes Reed Diamond from Homicide: Life On the Street, the younger sister that was added later on in Growing Pains, two people from the LAST HOUSE ON THE LEFT remake, and nobody else you ever heard of except for like ten or fifteen people that starred in Joss Whedon's TV shows. A couple of them got intrusive applause when they showed up on screen or after their scenes were over, and to be fair at least nobody in the audience was dressed up like Firefly characters, but come on people, it's called self control, and it can be yours. I believe in you.
MUCH ADO ABOUT NOTHING is a romantical comedy about a couple of parties and weddings at Joss Whedon's house. There's this one guy Benedick (Alexis Denisof), instead of just changing his name to Benedict like anybody else would do he decides to keep the name but then overcompensate by strutting around arrogantly all the time. And this Beatrice (Amy Acker) thinks he's an asshole and always gives him a bunch of shit about it, but really it's like kids throwing rocks at each other, it turns out she actually has a thing for assholes.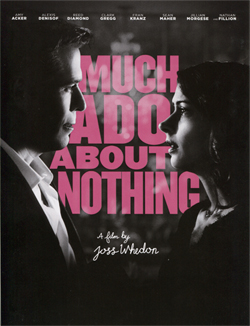 There's some comedy about how they overhear each other or other characters talking about them having special feelings for each other, they hide and comedically eavesdrop either in the background or foreground of the shot. There is some slapstick, falling down stairs and what not. Since I saw it with a SIFF audience as well as 3,000 people who worship these actors from TV shows there was an uncomfortably overblown amount of laughing and cheering for a very modest and slight movie like this. You might even say it's much a– nah, I can't do it. But I can't hold that against the movie, it is well done and should be amusing enough under regular circumstances.
It's a simple and appealing approach. It takes place in the modern day, but with the original language intact. The actors use their regular American accents and modern film emoting, which helps a nitwit like me to follow the archaic language I think. There's alot of room for the actors to add in their own humor with facial expressions and contemporary tones that fit with the scenes. Or like for example Nathan Fillion (DRACULA 2000), playing his character Dogberry as an oafish TV-style police detective, makes it clear at the end of a scene that he locked his keys in his car. But it's all visual, they don't have to add any new dialogue or anything.
In a way this is a weird thing for Whedon to do because he's usually more of a writer than a director. He gets to play with the staging but not the story or the dialogue, which would usually be his bread and butter. There's a slight cheap-video-y quality to the photography here (and to some of the music, credited to Whedon, who is no Clint Eastwood). He's certainly not trying to expand his visual chops, and not trying to cinema-tize the text like my favorite Shakespearist Julie Taymor would. But on the other hand this project shows off his ability to find these talented, mostly unsung actors, get them to work well together, shine a spotlight on their innate charm and humor, and in this case give the two leads to actors he likes who are usually confined to television. Denisof and Acker are very likable, which is crucial because the love relationship is way too superficial to truly get invested in it. With the wrong actors it would be easy to hate these two. (I do think Denisof goes a little too far with the comedic mugging in a couple scenes, but only a little.)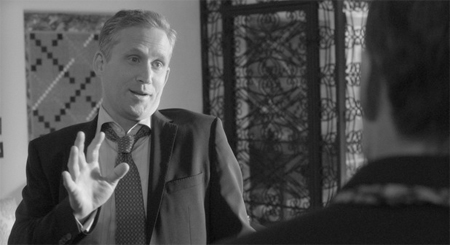 Seriously, Reed Diamond is really good in this in the role of Don Pedro. I doubt anybody else is gonna single him out, so I'll be the one to do it. You know, if you watched Homicide he was Mike Kellerman, the kind of dickish guy who was always on the verge of going too far. He's not usually a show-offy actor or a leading man type, including here. The whole cast are good at this, but I particularly liked his way of delivering Shakespeare's dialogue to sound like perfectly natural, modern speech, creating a character through the voice and gestures that somehow overshadows the words. (Clark Gregg is another standout in this category, but I know he's hot shit right now because he tricked Captain America into thinking he was dead, so he'll get the credit he deserves for it.)
Whedon and Shakespeare must've had this script laying around for a while because some of the content is kinda dated in my opinion. It's all about these men negotiating for marriages, there's a woman who gets called out as an alleged-ho at her own wedding, and faints on the spot, almost dies of Amidala disease. The love stories are really more like childish crushes, they don't even know each other and pretend to hate each other but then declare passionate love and get married one day later and it's meant to be accepted as actual true love. I'm not saying that Shakespeare should've done better, I'm saying that some of it is not a perfect fit for this modern and down-to-earth context, that's why for me this stuff works better with Taymor's crazy puppets and giant wolf heads and motorcycle armies and shit. But it's no big deal. It's a cute movie.
As far as movies filmed at somebody's house I'd definitely rank this above PARANORMAL ACTIVITY.
By the way, SIFF is (probly like film festivals in general) notorious for awkward post-film Q&As with ridiculous questions from asskissers, self-promoters, occasional ax-grinders and other weirdos. That combined with this fawning crowd of Whedomaniacs could've been off the charts, so hats off to SIFF for having a reasonably competent moderator to interview the director and cast rather than taking questions from the crowd. I usually believe in democracy but I'm willing to make an exception here. I know, slippery slope and all that, but I'm comfortable with this choice.
This entry was posted on Friday, May 17th, 2013 at 5:04 pm and is filed under
Comedy/Laffs
,
Reviews
,
Romance
,
SIFF
. You can follow any responses to this entry through the
RSS 2.0
feed. You can skip to the end and leave a response. Pinging is currently not allowed.