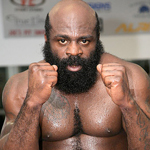 The legendary (infamous?) fighter known as Kimbo Slice died of heart failure today. Around here we know him as the guy in the opening scene of BLOOD AND BONE who tries to punk Bone in the prison bathroom but finds out that's not gonna happen. He also returns in the end credits to have his way with the main villain of the movie, and there's a great video on Youtube of Kimbo on set intently listening to a punching lesson from Michael Jai White.
Everyone's saying Kimbo was kind and gentle, which is amazing if true because look at that fucking guy! He was only in a couple other movies – two low rent MMA movies that I'll get to eventually, and SCORPION KING 3: BATTLE FOR REDEMPTION – but he obviously could've played a million Tiny Lister type roles if he'd wanted to.
Kimbo had a fascinating history, because he became famous originally as a street brawler, seen in Youtube videos of seedy arranged fights in backyards and parking lots, like something straight out of HARD TIMES, LIONHEART, FIGHTING or RUST AND BONE. Or BLOOD AND BONE. I like when they have be careful so as not to bump into a satellite dish or something. It's very unskilled fighting and totally unprofessional, presented like porn – that's because in stemmed out of him being a bodyguard and limo driver for the Reality Kings porn company. Try to duplicate that career path!
If that sounds interesting to you I invite you to fall down the rabbit hole of the videos. This is some crazy shit.
Kimbo became enough of a name through those videos that they knew they could sell some tickets if he went legit in EliteXC and later UFC. Although he'd been training with Bas Rutten and others he was controversial for using sloppy, dirty techniques in a sport of highly trained professionals. He had some embarrassments (like when he got TKOd by a dude in 14 seconds) but he did well overall and was important for the history of MMA to show how these styles of fighting compare. His last fight was in Bellator earlier this year, and against a fellow Florida underground fighter. He won, but it was overturned due to failing a steroid test.
Anyway, I was sad to hear about that. R.I.P.
This entry was posted on Tuesday, June 7th, 2016 at 1:46 am and is filed under
Blog Post (short for weblog)
. You can follow any responses to this entry through the
RSS 2.0
feed. You can skip to the end and leave a response. Pinging is currently not allowed.