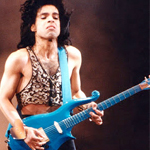 Can't believe I just wrote that subject line. I always thought Prince was an ageless immortal. I don't know if I'll end up writing a piece about him or not. You all know how much I love him.
It's kind of beautiful that he died in the studio, at least. I'm glad it wasn't in that random hospital when he made the emergency landing recently. And I'm glad I went through the trauma of worrying about him during that or I'd be blindsided today.
That guy had a talent and a drive beyond human comprehension. I don't know what will happen with his legendary vaults of unreleased music, but even among the official releases there is more than most people can handle. So his life was a gift to us all.
I just put on Lovesexy. It's weird, but that's the one that really made me fall in love with Prince's music. I mean, I enjoyed "Purple Rain" and "When Doves Cry" and "Little Red Corvette" and everything in the '80s. And I actually I got into Batman and Diamonds and Pearls and even the symbol album, but it was when a friend played me Lovesexy that it went from flirtation to love. These weirdly, uniquely Prince funk sounds that bleed into each other, Sheila E playing some weird super drum set, Prince singing about heaven and hell and sex and weird unexplained characters (Spooky Electric?), background voices and chants fading in and out. "And while you're at it tell your mom about THIS!"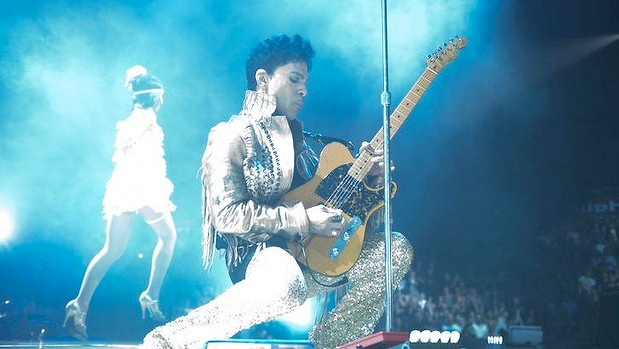 It's such a good full-album listen that even on the CD Prince wouldn't allow separate tracks for the songs. Kind of a pain in the ass. But kind of perfect. Like Prince.
And for years I heard about The Black Album that he recorded to be released the same day but then decided it was too dark and negative and pulled it from release. Surely a publicity or artistic stunt to reflect his obsession with duality (which then worked its way into his Gemini character in the "Batdance" video). But still, what a great legend!
Of course, when they finally released the album years later it was no Lovesexy. And maybe it really was too dark. I always think about and quote the last song on Lovesexy, "Positivity," when it says "Have you had your plus sign today?"
My plus sign today is that I did get to see Prince live one time. It was the Musicology Tour, which he claimed would be the last time he played the hits. I'd always wanted to see him and he hadn't come through Seattle in a long time and then I thought I couldn't justify $75 for a concert. (That's still pricey for me, to be honest.) But my lady surprised me by buying me a ticket for my birthday. And it honestly was one of the best shows I'd ever seen. He had a great band with Maceo Parker and everything, but of course he outplayed all of them. I remember thinking that if he only played guitar he would be one of the best, and that's so secondary to his singing you don't always even think about it.
In fact, if you've never seen it, here's a legendary guitar moment at a Rock 'n Roll Hall of Fame tribute to George Harrison. They put together this all star band and Harrison's son, to his surprise, got Prince to join in. He looks like a cool motherfucker in his red hat and cuffs, he's kind of laying back until his solo starts at about 3:30. He's on this stage of legends and he just smokes them. And he knows it – watch how he struts off at the end. Beautiful. He is untouchable. A guy that cool can get away with being half Joker half Batman, or singing a great song about being reincarnated as a dolphin.
(I would also like to point you to what I think is an underrated song, "Fury," from the later 3121 album. That's a good guitar song I think.)
Did I ever tell you guys about "The Prince Box"? That Musicology show was in the round, a big plus-signed shaped stage on the floor of Key Arena. When the lights went down I noticed some security guys pushing a big wheeled box like a giant speaker under the stage. I don't think I thought too much of it until the show ended and they pushed the same box back out and through the crowd. And I realized holy shit, they transport Prince in a box! Like that escape pod egg that the president's in in ESCAPE FROM NEW YORK. I like to picture the Prince Box being like a violin case, lined with foam with a Prince-shaped indentation that he fit right into.
Oh man, those people who got to go to Paisley Park and watch his intimate shows during that snow storm just recently! That is incredible! Did he know he was dying? Or did the universe? A Minneapolis reader named Daniel C. makes me think this was not expected. He says Prince had a "'Guys, I'm doing just fine' dance party" a few days ago.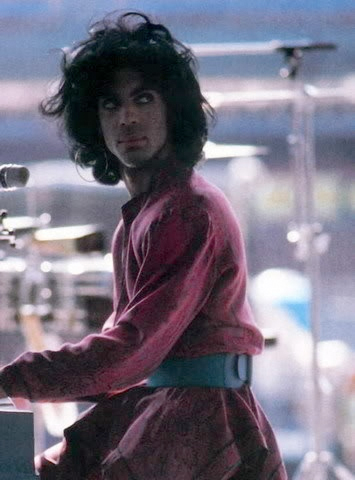 I can't tell if I'm in denial, or if I've just been through so much horrible shit with my family the last couple years that I'm numb to this, but at this moment as I write this I feel surprisingly at peace. When Michael died I remember – this is gonna sound made up – I literally fell to my knees. I tried to turn on the TV to see what they were saying and it took me like two minutes to remember how to switch it to the cable.
(It didn't occur to me to turn the TV on until now. MTV is showing "Ridiculousness.")
But with Michael I was really invested in the idea of him making a comeback, reminding everyone why he was great, making another great album, another great video.
Prince didn't have anything to prove. He was the biggest rock star in the world for a while and then he went off and did his own thing for many years. He didn't have ups and downs, he just had phases.
I really thought he would keep going forever, but going this long, at that rate of productivity and quality, was already impossible.
You know it was a great time for me rediscovering PURPLE RAIN for myself when I wrote about it last year. I gotta apologize to outlawvern.com's #1 Prince fan RRA because I had really wanted to surprise him with a week of reviewing all of the Prince movies, but then I ended up loving PURPLE RAIN so much more than I ever had that I didn't want to ruin it by watching GRAFFITI BRIDGE. Now I regret that I don't have reviews of those. But I'll get to them.
If you are interested in other Prince related reviews here, there is the time I celebrated the 25th anniversary of the Batdance video.
Well, Lovesexy is over, now I'm part way into Sign ☮ the Times, and I accidentally wrote a small piece about Prince that I thought was just gonna be a couple lines acknowledging our loss. Thank you Prince for all the beautiful music and entertainment. You left more than we'll ever even have time to listen to.
Peace everybody, and hold onto your soul, you got a long way to go.
This entry was posted on Thursday, April 21st, 2016 at 12:35 pm and is filed under
Blog Post (short for weblog)
. You can follow any responses to this entry through the
RSS 2.0
feed. You can skip to the end and leave a response. Pinging is currently not allowed.