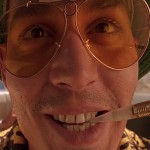 Hey, everyone. "Moriarty" here.
I'm not sure how I missed this in the e-mail box, but I did, and in a way I'm glad I did, because it now has a great Vern opening.
You know I love you, bud. As always, Vern's got something to say and I strongly urge you to pay attention:
Howdy boys,
I sent you guys this review several days ago and you never ran it, so I added this new paragraph to get your attention. Rocky Rocky Rocky, dragons, silver surfers, x-men, etc. As well as boobs and ass, boner boner boner, everybody has a boner, bodily fluids all over the place, geekgasm, etc.
Now to FREE LISL: FEAR AND LOATHING IN DENVER. I know, what kind of a name is Lisl, but I didn't name her. This is the new documentary by Wayne Ewing, who did the great Hunter S. Thompson documentary BREAKFAST WITH HUNTER. It is his third Thompson-related movie, although with the good doctor's passing each one gets more removed from the man himself. This one is not really about Thompson, but it's about a cause he aligned himself with in his last years. Lisl Auman is a woman who, at the age of 21, was sentenced to life in prison for a murder everyone agreed she did not commit. She was actually handcuffed in the back of a police car while a dude she just met the day before, who had been helping her move, killed a police officer and then himself. Because she was an accomplice to his crime she was considered guilty of the murder.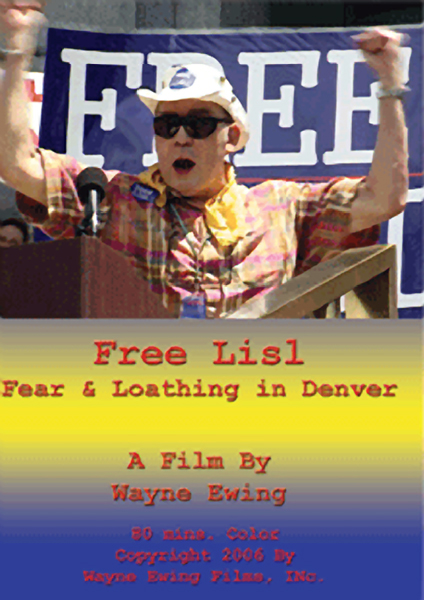 That crime, according to the movie, was moving her belongings out of the apartment where she lived with an abusive boyfriend. A friend who was helping her move out decided to enlist two skinheads. These assholes stole some of the ex-boyfriend's stereo equipment and basically took Lisl as a hostage in a stolen car – I'm sure about the time they were hauling down mountain roads and firing out the window at cops she knew these were not the best movers to be dealing with.
We hear the story from the point of view of Lisl and her parents. We see a rally on the capitol steps, where Thompson enlisted Warren Zevon to sing a song. We watch Lisl and her parents watch a video of the rally. The story of the case comes out suspensefully (sometimes frustratingly) in little bits. The movie shows how the media got the story wrong from day 1, portraying Lisl as the murderer's girlfriend and repeating questionable allegations as if they were fact.
(for all the complaining we all do about cable news and what not, what about the local news? Is there any reason why anybody should ever watch that shit? If it's important they don't seem to have a clue. I do like their coverage of waterskiing squirrels, though.)
One convincing moment is when the movie shows media reports that Lisl had been uncooperative with the police and wouldn't tell them if this dude had a gun or not. Then they show a file video of the actual police officer's interview, where he explains that she did tell him he had a gun and described what it looked like so he would know what type it was. There's also a scene where the murdered police officer's widow tells the media that she's not really sure if Lisl should be convicted or not. But she was.
Lisl seemed to get railroaded in court and on the news, and there she was rotting away in prison. Three years later she decided to write "that crazy bastard" Hunter S. Thompson to tell him she couldn't get his books in the prison library. He was touched and immediately went to work at bringing attention to her case. Next thing you know there's the rally with Warren Zevon, and for the first time the local news has to report that there are these people who think there is this other side to the story. A local
investigative journalist sees it, realizes how wrong her initial impressions of the case were, and begins months of in-depth coverage. And Thompson writes a story in Vanity Fair, both bringing national attention to the case and possibly endangering the cause with his over-the-top depiction of the events.
Although the movie is mostly about Lisl, Thompson explains that the cause is not about her at all. To him it's about the fact that anybody could have the bad luck to end up in a situation like that and take the fall for something they had nothing to do with. He felt like this injustice had come to his attention so he had to do something, otherwise he would be an asshole. Thompson's fierce sense of justice is as big a part of his appeal as his crazy drugged out stories, I think, and this movie pays tribute to that side of his personality.
Like Ewing's last movie, WHEN I DIE, this one makes it clear that Thompson's suicide was premeditated, not a spontaneous drug freakout. Without them really picking up on what was going on, he had advised his family on what to do about Lisl's case after he wasn't around. The Colorado Supreme Court reversed Lisl's conviction only 2 weeks after Thompson's death.
I like Ewing's movies. He's no Maysles brother but he's a real documentarian. It's all pretty straight forward, no fancy editing gimmicks or anything, he even uses some pretty cheap look fonts. My only real complaint about this one is that it's hard to follow the news reports while also reading the scrolling text pointing out what was misleading in the reports.
No, on second thought, I also don't like the title. I mean, this guy was buddies with Thompson so I can forgive him, but I hate how anything Thompson related has to be "Fear and Loathing in (whatever)." Or worse, things that aren't Thompson related. It's sort of demeaning the greatness of the fear and the loathing he found in Las Vegas and on the campaign trail. Let's leave that phrase alone.
Other than that though it's an interesting story, told pretty well. Turns out Ewing has a background in TV documentaries, which makes sense. He did shows for Bill Moyers, Frontline, etc. One thing I didn't know about Ewing until reading a bio is that supposedly "In 1992, the feature film director Barry Levinson asked Ewing to design the photographic style of the dramatic series Homicide: Life On the Streets. Ewing's handheld camerawork as Director of Photography brought a style of reality to drama that television critics have credited with changing the look of American dramatic television in the 1990's." Hell, if that's true he changed more than the look of television, if you consider the influence Homicide had on later Spike Lee movies and newer guys like Paul Greengrass and the Mission Impossible 3 guy. Come to think of it some of you are going to hate Wayne Ewing now that I've pointed this out, he has indirectly made you nauseous. Please don't blame him, his Thompson movies are not disorienting.
Even if you're not interested in FREE LISL, I highly recommend BREAKFAST WITH HUNTER. Ewing followed Hunter around for quite some time, mostly during the period that the FEAR AND LOATHING movie was being made. There are lots of crazy scenes including a tense reunion with Ralph Steadman and a scene where Johnny Depp convinces Hunter to teach his bird how to talk. The opening scene has Hunter driving up to the Viper Room in a convertible flanked by Johnny Depp, John Cusack, and an inflatable sex doll. But the very best scene in the movie is in an incredible tour de force where Alex REPO MAN Cox and his co-writer Tod Davies visit Thompson to discuss their pre-Terry Gilliam adaptation of FEAR AND LOATHING. Thompson claims he hasn't read the script but then immediately zeroes in on a problem with the way they condense the multiple Las Vegas trips in the book. He absolutely flips out over their plans to use animated versions of the book's illustrations, and Cox mistakenly thinks he can smooth talk him into liking the idea. You can't imagine how intense this scene is. Once he finally scares Cox and Davies away (Ewing says on the commentary he feared for their physical safety) Thompson calls the producer saying sympathetically, "Poor Alex Cox just left here in tears." So if you ever wondered about the "creative differences" that caused Cox to leave the project, well, they are available on DVD.
Ewing's second Thompson movie, WHEN I DIE, is good in a completely different way. It's sort of the culture clash story of Johnny Depp's Hollywood buddies arranging to fulfill Thompson's wish to have his ashes fired out of a cannon mounted on top of a giant two-thumbed gonzo fist. So it's not so much about Thompson as about the lack of him – you get to see the struggle a bunch of well-meaning people have doing something that only Thompson would've really known how to do correctly.
All three movies are available from this website.
thanks,
Vern
p.s. none of these have torture in them, do not call them torture porn
Originally posted at Ain't-It-Cool-News: http://www.aintitcool.com/node/31062
View the archived Ain't-It-Cool-News Talkback
This entry was posted on Friday, December 22nd, 2006 at 2:15 pm and is filed under
AICN
,
Documentary
,
Reviews
. You can follow any responses to this entry through the
RSS 2.0
feed. You can skip to the end and leave a response. Pinging is currently not allowed.