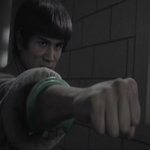 As much as beautiful action sequences are one of the great joys of life, the story really is the important part, it turns out. It can be formulaic and unoriginal – no problem, that can even be a plus sometimes – but it has to be a good engine for the fights and chases, giving us characters with motivations and making us want to see something happen, even something as simple as "I hope he kills that motherfucker" (or "I can't wait 'til he fights that little guy!" as the guy next to me at THE RAID said). Most of the better Asian martial arts movies are especially story-driven I think, because of their themes of brotherhood, honor, tradition vs. innovation, etc.
So this is unusual but here's one I'm recommending mostly just for the action. It's the reverse of so many modern American action movies where I liked it despite the action being weak. I liked it even though I didn't care much about what was happening until like halfway through.
I mean, there are elements I love here. The hero Ma Yongzhen (Philip Ng, DRAGON SQUAD) has a right fist so powerful his mom made him wear her jade bracelet to remind him not to use it. Donnie Yen's wife tied a string around his wrist for the same reason in KUNG FU KILLER, but this is a more severe punishment because it's pretty girly looking. His fist is often shot to look giant, and then we see that gaudy-looking bracelet with a metal charm on it that spins and hums with movement. So every time we see it we remember his vow of punchlessness.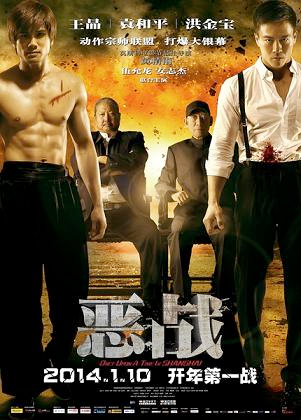 He's part of a troupe of street acrobats who comes to Shanghai and sees all kinds of extravagance goin on, but he can't take part because he doesn't want to join any of the Triad gangs that are fighting over the territory. To me it seemed kinda meandering and hard to follow until a great scene about halfway through when he challenges the cocky, handsome gang leader Long Qi (Andy On, TRUE LEGEND, BLACKHAT), who has recently conquered the city. Long Qi has been known to accept challenges, offering to give up a truckload of opium if a fighter can last with him until his cigarette burns out. Ma does last long enough and instead of taking his prize he immediately sets the whole shipment on fire, which Long thinks is hilarious. Not just because it's ballsy, but because he says it's a poor way to destroy opium.
In fact he really likes Ma, they become Fight Brothers and hang out together and he gives Ma a job at his fancy night club called Paradise. Ma refuses to become a Triad but defends his brother's honor when friends bad mouth him. I thought it was gonna be about luring the naive country boy in and corrupting him or screwing him over if he won't join up or something like that. Instead it really is about that great theme of friendship between opposites. That might be predictable to those critical of modern Hong Kong cinema's heavy government influence, because it becomes yet another story about resisting the influence of Japan and the West. Long actually straight up says that's his goal and then in case you need some underlining it's replayed in a sappy flashback montage of friendship highlights.
The bad guys are Japanese gangsters trying to control the drug trade there. The final duel takes place among terra cotta soldiers and ornate dragon-themed columns that keep getting chipped up by an errant Japanese sword, threatening the great Chinese legacy. There's even a line about "the Chinese are no longer the sick men of East Asia," which is why these modern propaganda movies don't seem like a new problem to me: this has so much in common with FIST OF FURY I had to consider whether it was supposed to be a loose remake or not.
One reason I saw this: Sammo Hung, but he's got a pretty small part. The real reason to see it is action director Yuen Woo-Ping. I don't know if he wants to work in the U.S. anymore, but it's weird that none of the super hero movies have hired him (other than when Raimi almost used him on the original SPIDER-MAN when he thought the animation wasn't working). He continues to innovate ways to visualize extraordinary skill and power. There are many highlights here but I'll go with the two most over-the-top moments:
1. He punches a guy's punch, sending a lump that moves up the guy's arm like a wave. I'm not clear if it's his bone breaking or just a ball of energy shooting through his flesh, but it's amazing.
2. He punches a guy's kick. It's a nice slow motion side shot and the guy does a flying kick but he punches his foot in mid-air and sends him ricocheting like a foul ball. Absolutely beautiful.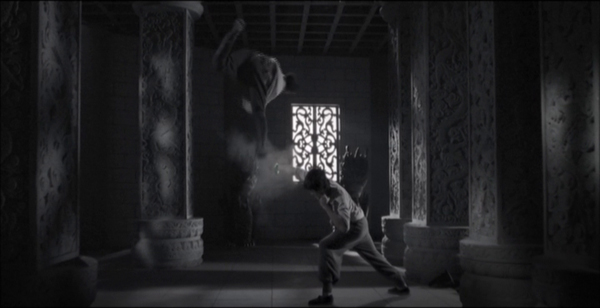 A word of warning though: That's the actual coloring of the movie on that still. For some reason cinematographer Jimmy Wong, or whoever was in charge of the coloring, drained so much out that I kept trying to figure out if it was actually in black and white or not. (The shots on the box are all colorized.) It's not like it looks terrible, I kinda like it, but it feels like kind of a cop out. They shoulda gone for full-on, stark black and white, in my opinion.
This entry was posted on Monday, July 13th, 2015 at 10:03 am and is filed under
Action
,
Martial Arts
,
Reviews
. You can follow any responses to this entry through the
RSS 2.0
feed. You can skip to the end and leave a response. Pinging is currently not allowed.