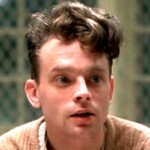 I don't know why it took me this long, but I've finally seen the most recent Chucky picture. This one came out on the tenth anniversary of Die Hard as well as the original Chucky picture so it is very special to me.
As some of you know, over there in Japan they are making cartoons for adults, and what they're doing with Bride of Chucky is doing the same thing for puppets. I think many adults have always wanted to watch a puppet movie but they were too embarrassed unless it had alot of blood and a respectable brand name like Bride of Chucky.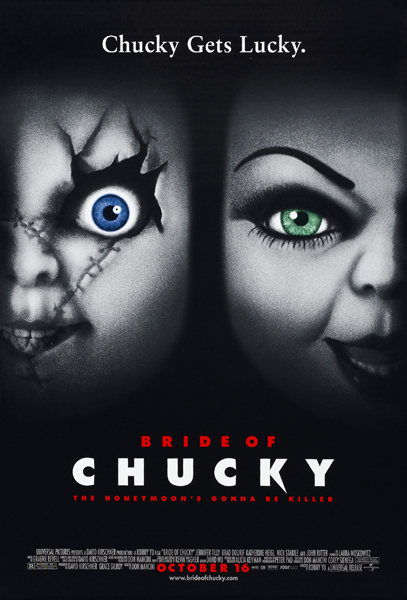 This is actually not as much a horror movie though as it is a campy comedy with occasional sadistic murder scenes. It is all very tongue in cheek. I don't know if the filmatists here realize that Chucky isn't scary anymore, but they definitely do know that there are some things that are just funny to see puppets do. Like shooting two guns at a time, or getting in a shovel fight, or making out in front of a fireplace. The best scene of the movie is when the girl doll Tiffany spectacularly mutilates and electrocutes a newlywed couple with the simple toss of a champagne bottle, and it impresses Chucky so much that he marries her and then there is a romantic love scene in silhouette. That is why the trailer (which is on the DVD) says "This October, Chucky gets lucky." I guess it came out in October.
I don't know what it is about the little bastard. His character is not as scary here and he's not really likable but he's still funny to watch. Tiffany has a little more dimension to her as far as killer doll characterization goes, because she is a homicidal maniac but also a true romantic. She offs a couple of swingers for tarnishing the sanctity of the marital institution, and she is genuinely moved by The Bride of Frankenstein which she realizes has strong parallels with her own monstrous type relationship. At the end she gets burnt up and she looks so cool, and you really start to feel sorry for her. I hope she stays burnt in the next one but you know how Hollywood is, stupid fuckers.
If you get the DVD, there are two different commentary tracks. One is Ronny Yu who is the Hong Kong director who did such a good job of making this crazy movie look real pretty. And that is really what is good about this movie, because the story isn't all that hot and the characters besides Tiffany definitely aren't very interesting. But there are some nice images like the burnt black Tiffany hobbling through the cemetery or Chucky looking into a gas tank or Jennifer Tilly with an eyeball in her mouth as she sews dead Chucky doll back together, and it's all very carefully lit and framed to look all beautiful and what not. And you don't usually get to see this type of poetic type visuals applied to some trashy slasher sequel about killer dolls, so my hat is off to Mr. Ronny Yu for making this all possible. But his track is kind of boring he just keeps talking about how hard it was to use the puppets. Sorry bud, that's how we do it in america, with puppets. Get used to it.
The other track is Brad Dourif (Oscar nominee, voice of Chucky) and Jennifer Tilly (Oscar nominee, voice of Tiffany) and Don Mancini (producer, writer, creator of Chucky an American institution). These motherfuckers really make it interesting, partly because they get to talk back and forth so maybe it's not being fair to Ronny. Anyway Jennifer Tilly is much more intelligent than I assumed from her acting and she seems to really like Chucky although she admits she's only seen part of Child's Play once on USA. And that in my opinion is what's wrong with America but that's another story.
Anyway I highly recommend Bride of Chucky if you like that sort of crap.