CLEOPATRA JONES AND THE CASINO OF GOLD is the second and unfortunately last Cleopatra Jones adventure. In the first one she was a glamorous globe-trotting secret agent who came back to the hood to clean up the streets. In this one she's on a mission in Hong Kong, so it's the type of shit she was used to dealing with before coming home. A typical couple days in the life of Cleopatra Jones.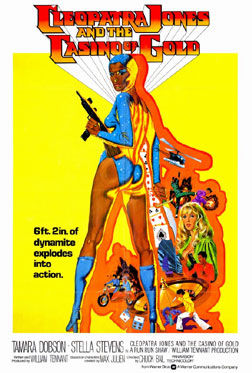 Two undercover brothers (Albert Popwell from the DIRTY HARRY series and some other guy, both returning from part 1) have gone missing during a drug buy in China. They got caught in the middle of a turf war, so they're in captivity now under the watchful eye of the Dragon Lady (Stella Stevens). She's kind of a more serious and pouty version of the Mommy character Shelley Winters played in part 1 – an arrogant, dangerous and powerful foe. She owns an island casino staffed with whores first seen with her in a giant all-girl sensual massage party, but later revealed to be her adopted daughters. She's also a hell of a brawler and swordswoman and often wears a black hat that makes her look like an evil Mary Poppins. Personally I liked Mommy better – she was funnier. But it was probaly wise not to just duplicate her in the sequel.
Cleo teams up with a local P.I. named Mi Ling who's handy with poison darts and has vast resources including a shooting gallery, a team of motorcylists and a network of street-kid informants. Then they follow the trail right to the casino and take on the Dragon Lady.
Cleo's fashion is even more crazy this time, more Grace Jones. She wears weird silver paint around her eyes, and Tamara Dobson herself gets the makeup credit (not sure if that means nobody else wanted to put their name on it). She looks hilarious walking around these neighborhoods because she's black, American, a foot taller than everybody else, and rocking giant hats and colorful plaid. And I thought Seagal stood out in a crowd in BELLY OF THE BEAST. When Cleo goes to the casino she wears a cape and a rhinestone-covered swim cap type hat. An offscreen voice says, "I want to dress just like her!"
Her personality is funny too. Her boss is Normal Fell and whenever he asks her to do something she basically tells him to eat shit. Then she smiles like she's just being cute with him, but still doesn't do what he says. But she's very friendly with Mi Ling, always calling her "girl" or "baby" or at the end "honey child." When she's getting beat up and Mi Ling (at that point a mere acquaintance) shows up to save her Cleo says, "Girl, when I looked up and saw you it was like money from home!" She also doesn't mind playing second fiddle, like when she rides in a motorcycle sidecar with a machine gun filling every motherfucker she sees with a hundred bullets. Alot of lead characters gotta always be the one driving, Cleo doesn't mind the sidecar.
That first fight was one of my favorites. Dobson (and stunt double)'s lanky frame makes for good visuals, and she moves fast and blunt. It's a Run Run Shaw production and the only thing blaxploitation about it is the funky soundtrack by Dominic Frontiere. Otherwise it's pretty much an Americanized martial arts movie like ENTER THE DRAGON. Actually it's kind of like a less jokey RUSH HOUR.
One action scene is kind of frustrating – a guy on a motorcycle chasing a bad guy on foot. This bad guy's not Jesse Owens or The Flash but somehow he gets away. Every time the motorcycle's right on his ass the camera changes angles and he's got a healthy lead again. It's like reverse Jason Voorhees.
The Dragon Lady is kind of like a James Bond villain. She has a circle of swords that pop out of the ground so the guy she wants to dual can't run away – it's really more of an honor system though because he could just step between the swords. I'm not sure how she got to be in charge of these people – I guess we'll just have to hold out for a prequel that explains everything. Whatever the deal is her people are fanatically dedicated. When her adopted daughter/whore helps they kill her with a chopstick through the tongue.
It all comes to a head at the end and there's a huge shootout and martial arts fight all through the casino, destroying everything. Cleo and Dragon lady fight each other smashing vases and doors, rolling and jumping and flipping and swordfighting. Mi Ling blows up a side of the casino with a bomb she calls her "Dragon Reducer." Their friends drive their motorcycles all through the casino. One of them jumps his bike off a balcony, jumps off of it and holds onto a hanging light as the bike lands on a roulette table and blows up, then he swings around and drops and fights some guys. None of this stuff would've happened if they made the movie in the U.S., so three cheers for Run Run Shaw.
It's really a shame that this was the end of the series. If it was one of a whole bunch of Cleopatra Jones adventures in different parts of the world it would be much cooler. "Oh yeah, is that the one where she's in China?" She's like James Bond, but taller and with more makeup. But I guess these types of movies were losing their popularity around that time and this one didn't do so hot.
Shit, I never thought about this before, but what if it was Cleopatra Jones and the Temple of Doom? I think she could've handled those monkey brain eaters and would've figured out a way to ditch the whiny blond lady. I'd hate to see Cleopatra recast, but if the Indiana Jones series ever makes it into the '70s I think it should be INDIANA JONES AND CLEOPATRA JONES AND THE BLOOD CULT OF FIRE ISLAND or some shit like that.
Anyway, I like the first one better, it's a more unique take on the blaxploitation and spy genres than this is on the martial arts and spy genres, and it's got more funny little jokes thanks to the script by the Mack himself, Max Julien. Still, CASINO OF GOLD is an enjoyable movie especially when the action goes ape shit at the end.
(note: there's no region 1 DVD yet but they got  bare bones one in Europe or you can find an old VHS tape)