DETECTIVE DEE AND THE MYSTERY OF THE PHANTOM FLAME is the latest directorial work from Mr. Tsui Hark. Yeah, admittedly I still mainly love him for the Van Damme/Rodman/Rourke picture DOUBLE TEAM, but he's actually a respectable director too. This was nominated for best picture in last year's Hong Kong Film Awards. It lost to GALLANTS but #1 I personally liked this better than GALLANTS and #2 Tsui won best director anyway. Like Soderbergh over Ridley Scott. Take that, GALLANTS.
DETECTIVE DEE is playing in American theaters now so check it out, but it's also come out on legit UK blu-ray so that's how I saw it.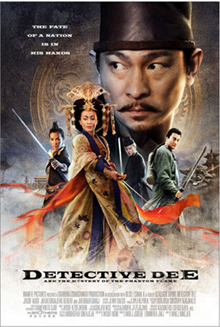 This is kind of a more popcorn take on the Chinese historical epic. It takes place before the coronation of Empress Wu (Carina Lau), China's only female emperor. Preparations are underway for a huge to-do, most notably the construction of a Statue of Liberty sized Buddha. Suddenly the previous emperor and another guy mysteriously burst into flames. An unfriendly albino named Pei (Deng Chao) is on hand to investigate, but the Empress knows what a threat to her coronation this exploding business is so she sends for China's best detective: a guy she locked up 8 years ago for supposedly betraying her.
That's Detective Dee of course, played by Andy Lau from HOUSE OF THE FLYING DAGGERS. There's a little Snake Plissken here 'cause he's a prisoner called into reluctant duty, but he's more of a Sherlock Holmes, always deducting shit. He's got a Rip Van Winkle/HARD TO KILL type beard and I was worried they'd keep him that way to appeal to today's self-consciously ungroomed rock 'n roller fuzzballs, but fortunately he cuts it down to a little pointy goatee.
He's got a pretty good team of supporting players. Pei resents Dee being in charge, but contributes alot in the detectiving department. Dee also has an old friend with a scar on his face and a hook hand. They served time together for "the betrayal" but that guy's now in charge of building the Buddha, so he has inside information for the investigation. Jing'er (Li Bingbing) is a pretty lady who's Empress Wu's personal assistant or something so she's sent to work for Dee.
There's alot of sexual tension there. She's pissed that the Empress sent her to "serve him," nudge nudge, and she's even more pissed that he acts like he has no sexual interest in her. When she straddles him and it seems like he's gonna go for it it turns out he's just thrusting to move her out of the way of an onslaught of arrows. You know how it is. Just a rescue thrust.
Jing'er has a whip, longer than Indiana Jones's and with more capabilities. She uses it like it's an extension of her arm, like it's a tentacle. That comes in handy alot, but Dee tops it with one of the coolest weapons I've seen in a long time, the dragon-taming mace. It's a long metal staff with a spinning piece that creates vibration sounds to detect cracks in an opponent's weapon so he can hit it in exactly the right place to shatter it. It also works on architecture.
With that crew and that awesome weapon Dee goes to work, following clues, figuring shit out, detecting. It's a real mystery story, but not exactly grounded in reality. There are "logical" explanations for spontaneous combustion and talking deers and shit, but it's fantastical logic, maybe a little Scooby-Doo. Except Scooby-Doo doesn't have a way that you can put a needle in your neck to disguise your face. It's accupuncture Mission:Impossible. But that's not a criticism. It's fantasy but thankfully not the kind where they just explain everything by saying "there was an evil wizard guy who did magic."
It's funny, this is kind of a genre now, you take an old detective character from your culture (in this case an actual historical figure turned literary character) and make a big expensive movie with a murder mystery and fantastical happenings in a stylized artificial version of a historical period. For example the French have that Pitof movie VIDOCQ, and the British have that Guy Ritchie movie SHERLOCK HOLMES, although he forgot to put a mystery in it as far as I could tell. Detective Dee follows in that tradition but since it's Chinese it also has great martial arts sequences.
The action director is the great Sammo Hung. I read that Tsui wanted the fighting to be realistic, but I don't know man, he still has some wires to make people hop around nimbly, skipping across objects like a pebble across the surface of a lake. They land in cool poses, sometimes they leap into the air and spin around several times before hitting or kicking. I like that shit. They kick logs through the air, catch arrows right before they hit, latch their whips onto things and swing around. Also there's a fight against some CGI deer. I cannot stress that enough. That is something I have not seen before. And the best fight is a Hollywood type climax, a battle taking place inside a location that's crumbling to pieces. The ol' climactic spectacular destruction.
It's real good stuff, but don't expect Hung to top himself. I much prefer IP MAN 1 and 2's fights. They're more memorable showstoppers and stronger character moments.
I've seen better but I was very satisfied with this picture. I look forward to DETECTIVE DEE AND THE MYSTERY OF THE TBD if they ever make one.
ABOUT THE ENDING, FOR PEOPLE WHO HAVE SEEN IT:
But you know what, did you notice at the end that the albino guy was right? He had zeroed in on the actual culprit early on, but Dee vouched for him and got him off the trail. So Dee actually fucked up, if he hadn't been involved they might've solved the case way earlier and prevented alot of trouble.
But I'll forgive him if he lets me borrow the dragon-taming staff just for like a weekend some time.
This entry was posted on Tuesday, September 6th, 2011 at 1:42 am and is filed under
Action
,
Martial Arts
,
Mystery
,
Reviews
. You can follow any responses to this entry through the
RSS 2.0
feed. You can skip to the end and leave a response. Pinging is currently not allowed.