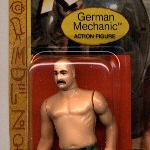 There's a new interview with me up on a websight called Hard Sensations. As far as I know it is not a pornographical type of websight, but it's hard to know. See, the whole thing is in German, so I don't know what the fuck I was talking about. Possibly THE LONE RANGER, judging by the pictures. Whatever it was, hopefully it's nothing I could be blackmailed with by German blackmailers (erpressers).
So let me know what you think CJ and the rest of you learn German and then read it and then let me know what you think. Dank Kumpel.
This entry was posted on Saturday, July 5th, 2014 at 12:30 am and is filed under
Blog Post (short for weblog)
. You can follow any responses to this entry through the
RSS 2.0
feed. You can skip to the end and leave a response. Pinging is currently not allowed.