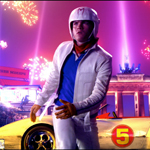 Thanks for indulging me with this Summer Movie Flashback series. Now that I've gone through 20 summer movies from the last decade I figured I should have a brief post-game huddle or whatever.
Shit, me starting writing this series almost seems like longer ago than PROMETHEUS, the most recent movie I reviewed in it. So it deserves a wrapup.
I did 10 movies I hadn't seen before and 10 that I had. Of those I hadn't seen I have to admit the ones I enjoyed most were LARA CROFT TOMB RAIDER'S CRADLE OF LIFE, STARDUST and THE AMAZING SPIDER-MAN – none of them great movies. So I guess I didn't do too bad of a job with the movies I skipped for 10 summers. The ones I watched that I enjoyed the least were THE DA VINCI CODE and PRINCE OF PERSIA. VAN HELSING is probly technically worse than those, but I enjoyed analyzing its terribleness (and it has some fun parts) so I definitely enjoyed it more.
Of those I had already seen the one that really surpassed my memory of it was SPEED RACER. I knew I liked it, but I didn't know how much. There was nothing I did a total flip on (admittedly I wasn't watching anything I flat out disliked before, like I didn't do TRANSFORMERS for example), but my appreciation definitely deepened on this one. Others that held up really well were WAR OF THE WORLDS and INCEPTION. Ones that I liked a little less than I remembered were HULK and SUPERMAN RETURNS, HULK being more disappointing since I remembered that being a favorite movie of the time. But I still got some enjoyment out of both, I just noticed more things I didn't like about them this time.
Based on the unscientifically chosen titles in this series I don't think there's any evidence of these types of movies getting better or worse over this period. There were risky, auteury ones early on (HULK) as well as later on (SPEED RACER). There weren't any as stupid as VAN HELSING in the later years, but that one is an anomaly in my opinion, not necessarily a standard we as a society have moved beyond.
I guess the titles I chose do support the idea that all the big movies of this era are based on previously existing "properties." I did 2 based on video games, 4 based on comics, 3 based on books, 1 TV show follow up, one based on an old cartoon, one non-adaptation sequel (one of the video game ones is also a sequel), 2 prequels/prebootquels, 1 remake, and 1 whatever you want to say VAN HELSING is. That just leaves MR. & MRS. SMITH, SUNSHINE and INCEPTION as original movies, plus COWBOYS & ALIENS, which they had to pretend was a comic book to sell to the studio. So, less than 25% original material.
Well, I don't know if I learned anything from doing this, but I had fun. Which I guess is what you're usually looking for from summer movies.
Here's the complete run of reviews:
2003:
LARA CROFT: TOMB RAIDER: THE CRADLE OF LIFE
HULK
2004:
2005:
MR. & MRS. SMITH
WAR OF THE WORLDS
2006:
DA DA VINCI CODE
DA SUPERMAN RETURNS
2007:
2008:
THE X FILES: I WANT TO BELIEVE featuring Xzibit (extended remix)
SPEED RACER
2009:
THE TAKING OF PELHAM 123
TERMINATOR SALVATION
2010:
PRINCE OF PERSIA: THE SANDS OF TIME
INCEPTION
2011:
COWBOYS & ALIENS
THE RISE OF THE PLANET OF THE APES
2012:
THE AMAZING SPIDER-MAN
PROMETHEUS
This entry was posted on Friday, September 27th, 2013 at 1:15 am and is filed under
Blog Post (short for weblog)
. You can follow any responses to this entry through the
RSS 2.0
feed. You can skip to the end and leave a response. Pinging is currently not allowed.