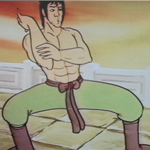 Speaking of weird animated martial arts videos, this week for my column on Daily Grindhouse I investigated a weird VHS tape I found of a 1976 animated movie purported to have Bruce Lee in it. Or a cartoon of him. It's called CHINESE GODS, aka THE STORY OF THE CHINESE GODS. Bruce has a third eye and he fights a nine-tailed fox lady and that sort of thing. You know how it is.
CHINESE GODS on Daily Grindhouse
This entry was posted on Tuesday, June 4th, 2013 at 9:08 pm and is filed under
Cartoons and Shit
,
Reviews
. You can follow any responses to this entry through the
RSS 2.0
feed. You can skip to the end and leave a response. Pinging is currently not allowed.