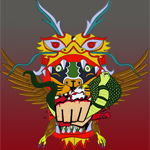 Friends, I am proud to announce a new outlawvern.com event, THE SUPER-KUMITE, tournament of tournaments. It is a 3-round tournament of fighting tournament movies, with only one victor.
I've been wanting to do this for a year or two, but it took me a while to figure out how to make it work. Even once I did I made some mistakes and had to do some adjustments. It turns out there are less straight-up tournament movies than I imagined, and weirdly little information about them on the internet.
Here's how it will work: I've put together 8 teams of 3 movies each which will be pitted against each other in one-on-one match-ups. In round 1 the chronological first films from each of the eight teams will compete in four bouts. The four winning teams will send their second movie to round 2, to be whittled down to the two finalists, which will compete for the crown.
To qualify all movies must be new to me, that's why BLOODSPORT and KICKBOXER are not in here. The movies also have to have an actual tournament in them, not just competitive fighting. This proved to be a big problem because it turns out many IMDb reviews and movie lists are unclear or incorrect about this aspect. I did not find any reliable lists of tournament movies online, so I hope to compile one at the end of this project.
Putting the teams together was harder than expected. Of course my initial hope was to have most teams be from a series. That works for BLOODSPORT and BLOODFIST, but when I watched KICKBOXER 3 it was only about a title match. That also happened with some of my non-series teams – the great NIGHT OF THE WARRIOR was about a fighting circuit, not a tournament, and made me realize I had to 86 Team Lamas. There may be disqualifications as the tournament goes on, but I weeded out all the non-applicable round 1 picks so that each one at least gave lip service to a tournament of some kind (for a few it is not the main story).
In the end I had to settle with some teams based around a connecting actor (Bolo Yeung, Billy Blanks) or a theme (starring a woman, based on a video game, Hong Kong productions) in order to make it work. So here are the teams (ceremonially carved into clay tablets, of course):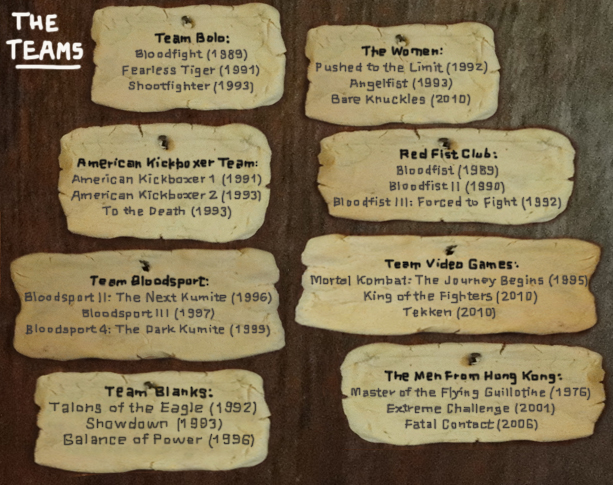 Once I had them figured out I seeded them at random by shuffling the stack of DVDs (and one tape). That worked out well because not only did two movies with "blood" in the title end up facing off, but one is a sequel to BLOODSPORT and the other has the same villain as BLOODSPORT. I almost had two "fist" movies against each other too until The Great FIST OF STEEL Mixup of '13. So I ended up with fist vs. talon.
Here are the brackets: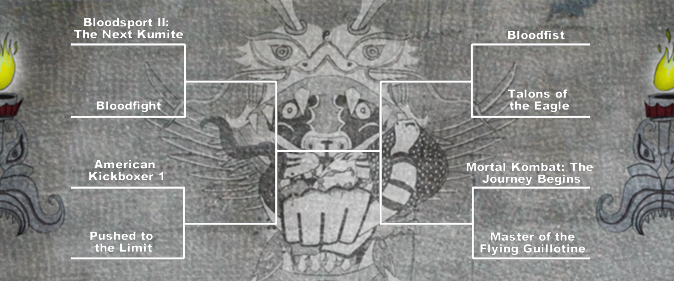 Feel free to watch along at home or make your predictions if you've already seen some of these movies. Your judgments are encouraged but of course for THE SUPER-KUMITE I will be the supreme judge of who wins, based on my own criteria. I will be mainly looking for the most entertaining movie that either does a good rendition of the tournament movie formula or an interesting twist or violation of it. Decisions may be arbitrary and will be final.
This will be fun and I hope we'll learn a few things by submerging ourselves in this classic but somewhat forgotten subgenre.
This entry was posted on Tuesday, May 28th, 2013 at 11:33 am and is filed under
Blog Post (short for weblog)
. You can follow any responses to this entry through the
RSS 2.0
feed. You can skip to the end and leave a response. Pinging is currently not allowed.