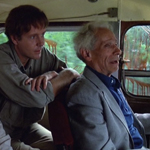 A RETURN TO SALEM'S LOT is Larry Cohen's weirdo theatrically-released sort-of-sequel to Tobe Hooper's TV mini-series of the Stephen King book. But really it just takes the location – the tiny town of Jerusalem's Lot, Maine – and the idea of doing a vampire story there. It's not the same vampire or the same type of vampire. It doesn't connect, from what I remember. But I like that.
Joe Weber (Cohen's muse Michael Moriarty) is an anthropologist working on a CANNIBAL HOLOCAUST type documentary when he finds he has to come home to look after his troublemaking teenage son Jeremy (one-time actor Ricky Addison Reed, who IMDb claims was cast to play Robin in Tim Burton's BATMAN in scenes that were never filmed). Joe brings his son to the old, recently-inherited fixer-upper in his birth-town of Salem's Lot (as some but not all abbreviate it). (read the rest of this shit…)
VERN has a new action-horror novel out called WORM ON A HOOK! He has been reviewing movies since 1999 and is the author of the film criticism books Seagalogy: A Study of the Ass-Kicking Films of Steven Seagal and Yippee Ki-Yay Moviegoer!: Writings on Bruce Willis, Badass Cinema and Other Important Topics as well as the crime novel Niketown.