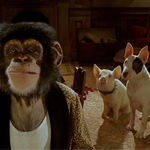 "So, will this little pink lunchness fulfill his destiny, nourishmentally speaking?"
"We shall see."
With BABE, writer-producer George Miller (and director Chris Noonan) created a warm little perfectly-told tale of a pig and a farmer finding happiness by violating social norms. (If that sounds gross to you, that's not what I meant.) For the bigger, darker, weirder sequel, BABE: PIG IN THE CITY, Miller dropped the pure-hearted little pig into that world's version of a noisy, chaotic metropolis, knowing he'd face the challenge with his head held high and make it out with his spirit intact, brightening lives along the way.
The Hoggett farm in BABE looks straight out of a storybook, but you figure that's an anomaly. When the family comes over for Christmas, bringing modern attitude and technology, they seem to be visiting from the real world.
Maybe not, it turns out. Esme Hoggett (Magda Szubanski, who was only 37 at the time! Holy shit!) and "the wee pig" get stranded in a major city. They don't say which one, but it's whichever city that is where the skyline includes the Hollywood sign, the Sydney Opera House, the Golden Gate Bridge and the Eiffel Tower, among others. (No Space Needle, I'm afraid.) Garish billboards hang above picturesque canals and cobblestone roads. Most of the hotels don't accept pigs, but they find one secretly housing a bunch of dogs, cats, chimps and an orangutan. (read the rest of this shit…)