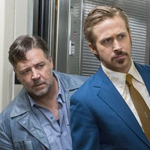 Holland March (Ryan Gosling, Kung Fu: The Legend Continues) is an alcoholic widower single father bottom-feeding private eye hired by an old lady (Lois Smith, KILLSHOT) for a case that has him following a young woman named Amelia (Margaret Qualley, PALO ALTO). Jackson Healy (Russell Crowe, NO WAY BACK) is a divorced thug hired by Amelia to beat up the people following her, i.e. March. When some other guys (Beau Knapp, the great Keith David) attack Healy at his apartment asking for Amelia he decides to go back to March and hire him to help find Amelia and ask her what's going on. So by trying to cut down on getting beat up this unlikely pair gets gummed up in a case involving a dead porn star and a corporate collusion conspiracy.
Of the two, the detective seems like the dumb one. But he has good luck and a smart daughter, 13-year-old Holly (Angourie Rice, WALKING WITH DINOSAURS 3D) who nancy drews him through the mystery. March is also a total coward who screams like a little girl and gives up information at the slightest threat. Healy behaves much more professionally, though he still does stupid shit like forget his brass knuckles at home when he goes to beat somebody up. And then it's too late to drive back and get them.
That's because this is the latest from Shane Black, as both director and writer (with Anthony Bagarozzi), so it's a twisty, complex mystery, a serious detective story but with frequent laughs from characters doing the wrong thing or the weird thing or saying what you're not supposed to say. Goofing on tropes but also respecting their usefulness. (read the rest of this shit…)
VERN has a new action-horror novel out called WORM ON A HOOK! He has been reviewing movies since 1999 and is the author of the film criticism books Seagalogy: A Study of the Ass-Kicking Films of Steven Seagal and Yippee Ki-Yay Moviegoer!: Writings on Bruce Willis, Badass Cinema and Other Important Topics as well as the crime novel Niketown.