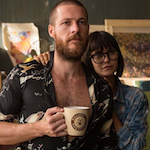 LUCKY DAY is a 2019 crime movie with death and laughs and colorful characters, including but not limited to Crispin Glover. It's not retro or a throwback, but definitely has shades of the '90s everybody-wants-to-be-Tarantino days and Guy Ritchie and stuff, which is not a pose because this is from writer/director Roger Avary (a.k.a. Oscar-winning co-writer of PULP FICTION), his first directing in more than 15 years.
It's about a crazy day in the life of a guy named Red (Luke Bracey, GI JOE: RETALIATION, THE NOVEMBER MAN, POINT BREAK remake, HACKSAW RIDGE) when he's released from a two year prison bid and returns to his French artist wife Chloe (Nina Dobrev, xXx: RETURN OF XANDER CAGE) and daughter Beatrice (Ella Ryan Quinn). I don't think it's ever specified what he did time for, but he does go to see his friend Leroy (Clé Bennett, JIGSAW) – who has changed his name to Le Roi – and the fact that they run a lock and key shop with a cool basement hidden inside a safe and inside that is a huge safe that he attempts to crack for fun seems like a hint. (read the rest of this shit…)
VERN has a new action-horror novel out called WORM ON A HOOK! He has been reviewing movies since 1999 and is the author of the film criticism books Seagalogy: A Study of the Ass-Kicking Films of Steven Seagal and Yippee Ki-Yay Moviegoer!: Writings on Bruce Willis, Badass Cinema and Other Important Topics as well as the crime novel Niketown.