I always root for Mark Dacascos to be in something really good. I love ONLY THE STRONG, and he's in some other fun ones, like the ridiculous CRADLE 2 THE GRAVE. I've watched his movie DRIVE a couple times, not the one with Ryan Gosling but the one with Mark Dacascos. And Kadeem Hardison and Britney Murphy. People used to always try to push that one on me and I never really got into it, but he's pretty good. He's a good martial artist. I was always curious about this little known one from 1998 'cause it's him starring in some kind of crime movie executive produced by Roger Avary. Could be interesting, right?
Could've been. Wasn't really. But here are a few words about it for the historic record.

Dacascos plays Jesse, a couple months out of prison. The type of guy who goes around wearing a sleeveless jean jacket with a skull on it over a leather jacket. He goes to meet up with Larry, his buddy and former cell mate, played by Jaimz Woolvett (The Schofield Kid from UNFORGIVEN). Larry immediately seems like an obnoxious troll of a guy, but he bought Jesse a motorcycle, which is pretty nice of him. Jesse hops on and Larry rides bitch (although he doesn't put his arms around him).
They go back to the crib, which is full of various junkies, a self-proclaimed Scream Queen b-movie starlet (Traci Lords, even though Linnea Quigley appears elsewhere in the movie) and a weirdo who just plays Doom all the time.
They go to a bar to watch a band called Jerk and the Rocket Brutes. The front woman, Jerk, is played by Joan Jett with short blond hair. Jesse is a drummer so he gets really into the show and makes drummer faces. But the actual drummer passes out so Jerk asks if there's a drummer in the house and next thing you know Jesse's filling in, like Dolph Lundgren would do.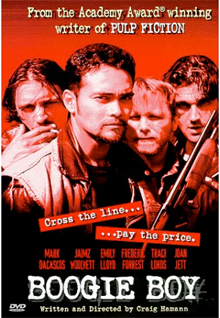 Jerk – who always sounds sarcastic and sits down to take a piss in the middle of a conversation with him – wants Jesse to do another show. So all his dreams could come true! He's a Rocket Brute. He'd probly get paid at least 20 bucks to play another shitty bar with this band! This is that "one shot" Eminem was talking about.
But wouldn't you know it, untrustworthy buddy Larry ruins everything by getting him to go along on a drug deal with some unsavory types, including John Hawkes. Jesse sees a guy reach into his jacket so it turns into a shootout and they gotta go on the run. They end up staying out in the middle of nowhere with an eccentric guy named Edsel (Frederic Forrest) who's the only likable character in the movie, and his daydreaming wife Hester (Emily Lloyd) who seems to be making a move on Jesse.
It's a really dull movie with generic scenes like the one where Jesse and Hester stand outside and talk about their unfulfilled lives:
"Do you ever dream?"
"Yeah."
"Yeah, I used to dream alot. Too much."
I really only got interested in the movie at the end when there turns out to be a bag full of money and a couple different factions fighting over it. I'm gonna go ahead and SPOIL the ending since it's about the only thing I liked in the whole movie. There is some gun play and in most movies like this the protagonistbwould leave with the money. I thought that was gonna happen but I didn't feel good about it since the money belonged to the more likable person, who's now dead, and Jesse did nothing to earn it. On the other hand the other two people left alive are definite scumbags, so if he stood on honor and didn't take the money then these assholes would get it. So I was happy with the solution he came up with: leave the bag of money across the room from them, along with his gun with one last bullet in the chamber. And of course as he drives away we hear the gun go off, but don't find out what happened.
Dacascos comes out of martial arts, but don't expect much action. When he gets in small scuffles he does use some of his movies, which is always funny. I like when movies have characters who don't have any reason to have martial arts training and it's never pointed out as being unusual when they use it. In one scene there's something that seems Brazilian jiujitsu inspired. He falls back on a bar and does something resembling "the guard."
If you know Dacascos only from Iron Chef, don't expect him to host any cooking competitions in this one either. This is a different type of role.
The only thing in the movie that seems very unusual is the aggressive gay subtext. Not only did Larry buy Jesse that bike and ride on it with him, but he keeps grabbing his face and neck, standing awfully close to him. They act like just some buddies but then they lay down on a bed together when they're hanging out. The number 69 is on a sticker on the wall at the center of the shot. A roommate comes in and it looks like they're gonna kiss. Larry gets called "punk" alot and Jesse takes offense to it. Lots of innuendo about what went on in prison.
So okay, that's there, but where does it go? Nowhere as far as I could tell. Doesn't really say anything or add anything much of interest.
I'd been thinking about renting this for a while, but I was reminded of it by that Killer Instinct book I talked about in the NATURAL BORN KILLERS review and supplemental material. I never realized this was by Craig Hamann, the guy who co-wrote and starred in Quentin Tarantino's unfinished pre-RESERVOIR DOGS film MY BEST FRIEND'S BIRTHDAY. If you haven't seen it, the parts they finished that weren't destroyed in a fire are online:
and it has some things that show up in other Tarantino works, including KBILLY and the name Clarence and the birthday thing from TRUE ROMANCE. And Tarantino himself.
Killer Instinct portrays Hamann – who Tarantino met in an acting class – as a wronged party because after Tarantino became famous Hamann wanted to try to sell the MY BEST FRIEND'S BIRTHDAY script and Tarantino didn't want him to. Because of their vendetta against Tarantino over NATURAL BORN KILLERS, Don Murphy and Jane Hamsher got Hamann to create a corporation with them to sign the rights over to so they could sue Tarantino over the script. Hamsher proudly portrays it as "helping Craig out" but I'm not sure how much help it was to him to make him go to court with his friend over a shitty script they wrote when they were in their 20s. And he never got it made anyway.
It's one of those things where Tarantino might not have been the best friend to the guy, but he was standing up on artistic integrity. Adam Sandler gets directing jobs for his college roommates, but doesn't always make the best movies. Tarantino could've let them exploit his name to make a piece of shit movie. It would've been a nice thing to do for his old buddy but a shitty thing to do to the audience.
In fact, it's good to know that history because it's one of the only ways to find anything interesting in this movie. It makes sense that the writer/director hung out with Tarantino and Avary back in the video store days. Elements of TRUE ROMANCE, PULP FICTION, KILLING ZOE and this are obviously inspired by the type of people they knew back then. This overlaps with all of those: a bunch of L.A. scumbag roommates hanging around, doing drugs, they know one person in the film industry (like in TRUE ROMANCE there's the actor friend and the movie producers, in PULP FICTION Mia Wallace was a former actress). They call each other "Kemosabe" and shit. There are some mild movie references (I did like how a hitman guy sarcastically introduces himself and his partner: "I'm Freddy, this is Jason.")
So they're kinda depicting the same thing but Tarantino makes it so much cooler. He makes it look better, he finds actors with charisma, he gives them funny things to say, he has better taste in music. Hamann makes it all very dull and generic and he actually has characters named "Bulldog" and "T-Bone." Every time a character talks about Bulldog or T-Bone it's hard to think of this as a professional movie.
As far as I can tell, Avary didn't have any creative involvement in the movie, he just put his name on it to help get it made. And the cover uses not his name, but his description to sell the movie: "From the Academy Award winning writer of PULP FICTION." Hamann had a little hand in that movie too. According to the talent bio on the DVD he "helped coach John Travolta and Uma Thurman through their drug scenes in PULP FICTION." I wonder why that wasn't on the poster?