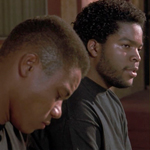 Of course I had to re-watch BOYZ N THE HOOD as part of the N.W.A celebration. Not only is it named after an Eazy-E song, but it's the actorial debut of Ice Cube, and still, in my opinion, one of his best performances. (No offense, GHOSTS OF MARS.)
The lead, though, is future DTV master (and Oscar winner, but who cares?) Cuba Gooding Jr. as Tre Styles, a teen in South Central L.A. circa 1991. He lives with his dad Furious (Larry Fishburne, DEATH WISH II), a firebrand mortgage broker who works hard to instill discipline and responsibility in his son, and whose fierce attention to politics gets him called "Malcolm Farrakhan." In one scene he drives Tre and his friend out to Compton to give them a big speech about gentrification and the importance of black-owned businesses. They're impressed, but mostly just scared to be in that neighborhood. They're happy to get back in the car and drive straight outta Compton.
Tre's friends don't have fathers, and most of them spend more time sitting on the porch drinking 40s than he does. One of them, Dooky, is always sucking on a pacifier. Apparently that's because the actor, Dedrick D. Gobert, did that to stop smoking, but it definitely comes across as a symbol of men who never get around to grow into adults, or never get a chance to. These guys live something closer to the lifestyle described in the Eazy-E song than Tre does, but with less shooting and drug money and no hitting women as far as we see. (read the rest of this shit…)
VERN has a new action-horror novel out called WORM ON A HOOK! He has been reviewing movies since 1999 and is the author of the film criticism books Seagalogy: A Study of the Ass-Kicking Films of Steven Seagal and Yippee Ki-Yay Moviegoer!: Writings on Bruce Willis, Badass Cinema and Other Important Topics as well as the crime novel Niketown.