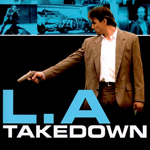 L.A. TAKEDOWN (or MADE IN L.A. as the credits said on the region 2 DVD I watched) is a 1989 TV movie written and directed by Michael Mann, that started as a TV pilot but the series wasn't picked up.
Actually, I take that back. It started as a 180 page screenplay that he wrote before THIEF, and tried to get Walter Hill to direct, but after a decade of not getting it off the ground he had a chance to do a TV series so he gave up and rewrote it as the pilot. It's too bad he didn't keep pushing for it, because it would've been interesting to see what the movie version would've been like. If it were up to me it would be called HEAT and star Al Pacino and Robert DeNiro. But of course there's already the Burt Reynolds movie called HEAT so that would never happen.
The story begins with a squad of ruthless thieves headed by Patrick McLaren (Alex McArthur, CONSPIRACY THEORY) driving a garbage truck, which they ram into an armored car. It flips and gets pinned against a wall before they attach bombs, yank the guards out and line them up so some of them can threaten them and punch them in the face while the others climb in the car and steal its contents.  But like an idiot, the squirrely rookie Waingro (Xander Berkeley, BARB WIRE) turns Mr. Blonde and shoots one of the guards, forcing them to kill the other ones too. This was supposed to be clean. (read the rest of this shit…)
VERN has a new action-horror novel out called WORM ON A HOOK! He has been reviewing movies since 1999 and is the author of the film criticism books Seagalogy: A Study of the Ass-Kicking Films of Steven Seagal and Yippee Ki-Yay Moviegoer!: Writings on Bruce Willis, Badass Cinema and Other Important Topics as well as the crime novel Niketown.