Johnny Depp as John Dillinger is not a bad idea. He's a charismatic guy, he projects intelligence and mischief. You believe he could pull off those robberies, charm the press and have the cops pulling out their hair. And Christian Bale makes sense as Purvis, the guy tough enough to take him out but who will spend most of the movie failing and fuming.
Michael Mann delivers a more mainstream, less brooding and macho movie than usual, so most people will like it better than MIAMI VICE (but not me). He still uses that style he's been fond of lately, lots of handheld shots, all shot digitally, kind of a strange choice for a period piece like this, but not too distracting (or revolutionary, either).
It has some real good gunfights. Not the choreographed sort of way that I usually like but more like MIAMI VICE, chaotic in-the-thick-of it kind of scenes, like you're an embedded reporter, hearing different gun sounds in all directions. Sometimes one whisks past you or hits a wall near you but luckily you survive. It has some tense scenes, a couple chuckles, the actors are all pretty good. There are lots of little surprise appearances to keep you on your toes (Lili Taylor, Stephen Dorff, Giovanni Ribisi, random Leelee Sobieski cameo). I didn't even realize that was Bill Crudup playing J. Edgar Hoover. Good job Billy. The movie is fine.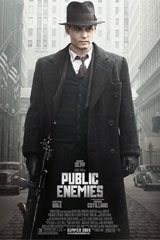 So why didn't I like it more? I'm trying to figure it out. It took me a while to get involved in it. It definitely got more exciting as it went along, but never got me in the gut the way some of these Michael Mann movies do.  I think the main problem is that I'm not sure what it is about this version of the story that's supposed to make it worth telling again. Yeah, maybe the period detail is more accurate, I think they dressed up the actual theater where he was shot, etc. (SPOILER). And they hit on some different themes. There's a couple nods to him being a folk hero (people cheering him on the road when the cops take him in, refusing to take a bank teller's money because he only wants money from the bank itself). And I like that they don't hit you over the head with it, but on the other hand they don't really do anything with it either. They just bring it up and then move on to something else.
I didn't notice any important new discoveries or interpretations of Dillinger's motives. It doesn't explore the mundane details of the robberies any more than a normal bank robbery movie does. It doesn't de-mystify or humanize the legend, or if it's trying to it doesn't do enough to be all that interesting. When it gets into the backgrounds of the characters it tends to be through clunky dialogue, like when his girlfriend (Marion Cotillard) basically does a monologue about her background during a sex scene. At least she didn't talk about what kind of music her dad listened to (see my MIAMI VICE review for more on Michael Mann's belief that your dad's record collection is the window to your soul).
It's very possible that I just don't get it, that there is something special about this and it went over my head. I tried to cheat by reading an interview with Mann, but that didn't help either. He says that the main thing he started with was the idea that Dillinger was great at planning bank robberies but had no concept of planning for the future. Which is nice and all but I got no clue why that seems like such a fascinating idea to Mann. To me that seems like a pretty obvious attitude for a daring bank robber to have and not enough to hang a movie on.
Also I gotta say I'm concerned about Christian Bale. I mean, I like the guy as Batman. I even like his controversial "Batman voice," known to non comic book readers as his "Clint Eastwood voice." And he's real good at playing dicks. Maybe that's a talent, maybe it's a personality quirk, maybe it's a result of his life long fear of lights being adjusted, whatever it is he's good at it. For example in the 2000 version of SHAFT he plays a racist rich boy asshole, and despite an accent that shifts here and there he's very believable in that role and you love to hate him. And of course he joined the pantheon with his all time classic performance in AMERICAN PSYCHO.
But after his John Connor and now this I think I'm starting to sympathize with the naysayers who're sick of his constant gloominess. He needs the humor back. In this one he's a dick, but not the kind that's fun to watch. He's just not likable, so you root for Dillinger, but only by default (or because you are so fascinated by Dillinger's contradictory nature in regards to planning). I'm sure Purvis isn't supposed to be charismatic, but I don't know man, maybe that would be a more interesting movie to watch. I think about AMERICAN GANGSTER, where I went in excited to see Denzel's badass gangster character, but ended up rooting for Russell Crowe as the cop trying to bust him. You see how his operation works in detail, much more than in this movie, and you root for him to succeed. That's a more interesting dynamic in my opinion. Also, wasn't that cool when I used the word dynamic. The noun version too, not the adjective.
Don't get me wrong, this is a pretty good movie. I think I like it best when it's getting into the operations of the police and their need to build new strategies of crimefighting, or when Dillinger does something really bold like escape prison in a stolen police car or walk through the task force headquarters and ask the cops for the score in the ball game. I was also impressed by the casting of some of the roughneck cops, especially the guy that leans down to hear Dillinger's (fictional) last words. He seems more like my idea of what a real G-man would look like than what these guys in modern movies usually look like, and that last scene with him is real nice. It's a Michael Mann movie, gotta get a little bit of macho man code of the honorarble warrior shit in there. I like it.
It's a watchable movie, and most people seem to like it better than I did. I just hope for more out of Michael Mann I guess. He may think I'm being unfair, that it's a double standard, that other directors would be rewarded for making an okay movie while he is being criticized for it. Well, tough shit Michael Mann. Remember in THIEF when you showed James Caan breaking into a safe for real, and we thought damn, I've seen a million thief movies before but I've never seen one like this? Well, there you go. You made your bed when you made THIEF. Now you gotta sleep in it.