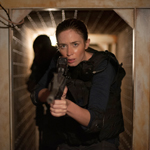 Here we go yo, here we go yo, so what's a what's a what's a sicario? In Mexico, the onscreen text tells us, it's a hitman. And the movie SICARIO is a nightmarish portrait of the byzantine conflict such a hitman would be in the middle of. Literally that would be the War On Drugs but metaphorically, it's easy to think, it could be about the War On Terror, or any number of seemingly intractable cycles of violence. This is, after all, Canadian director Denis Villeneuve (PRISONERS, ENEMY) making an American movie about Mexico. It's international and cross-cultural.
Our guide into Hell is Emily Blunt (EDGE OF TOMORROW, LOOPER) as Kate Macer, a new but talented FBI agent who raids a drug house in Phoenix and accidentally finds where a cartel has been stashing bodies. Next thing you know a meeting room full of mysterious higher-ups recruits her to aid in a vaguely defined interagency mission they say will lead her to the people responsible. She finds herself at an Air Force base with a couple dozen macho CIA, Delta Force and US Marshal tough guys who all seem to go way back and know exactly what's going on and do this kinda mission in their sleep. And next thing you know they're cruising over the border meeting up with militarized Mexican police forces and God knows who else. Nobody tells Kate anything. She just has to stay quiet and keep up. (read the rest of this shit…)
VERN has been reviewing movies since 1999 and is the author of the books SEAGALOGY: A STUDY OF THE ASS-KICKING FILMS OF STEVEN SEAGAL, YIPPEE KI-YAY MOVIEGOER!: WRITINGS ON BRUCE WILLIS, BADASS CINEMA AND OTHER IMPORTANT TOPICS and NIKETOWN: A NOVEL. His horror-action novel WORM ON A HOOK will arrive later this year.