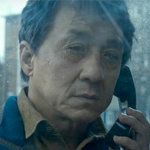 I'm more of an action guy than a thriller guy. But I can appreciate different stuff. Martin Campbell's THE FOREIGNER (2017 – not a remake of the Seagal film) is definitely more on the thriller side, mostly seeking its excitement in a complex web of police, compromised politicians and terrorist groups all dealing with the aftermath of the bombing of a London clothing boutique.
At the center of it is Deputy First Minister of Northern Ireland Liam Hennessy (Pierce Brosnan, FINAL SCORE). He's a former IRA member and seems to be pretty fucked over by this incident because he's built a reputation as a moderating force, but behind the scenes still has relationships and understandings with the IRA. This bombing was done by some young upstarts calling themselves "The Authentic IRA," and there's alot of pressure, including from police captain Richard Bromley (Ray Fearon, BEAUTY AND THE BEAST), to find out who's responsible. If another bomb goes off it'll be the end of his political career, so he spends most of the movie desperately asking around and trying to set up traps to out the culprits and stuff like that. (read the rest of this shit…)
VERN has a new action-horror novel out called WORM ON A HOOK! He has been reviewing movies since 1999 and is the author of the film criticism books Seagalogy: A Study of the Ass-Kicking Films of Steven Seagal and Yippee Ki-Yay Moviegoer!: Writings on Bruce Willis, Badass Cinema and Other Important Topics as well as the crime novel Niketown.