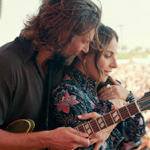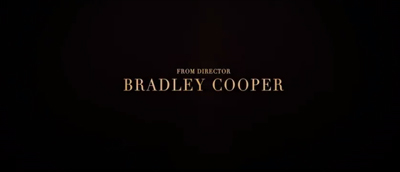 A STAR IS BORN, from director Bradley Cooper, is a very good adaptation of the trailer that played before every single movie I saw in a theater for the last three months. I saw that trailer so many times I would try to act it out and could sing the two songs (one with correct lyrics, even). I would get just those song fragments stuck in my head for days. So it's exciting to discover that they have second verses.
I don't know if it's as good as an adaptation of the 1937 film starring Janet Gaynor and Fredric March, or the 1954 one starring Judy Garland and James Mason, or the 1976 one starring Barbra Streisand and Kris Kristofferson, or the 1998 made-for-cable one starring Brandy and Casper Van Dien, because I haven't seen any of them and made up the last one. I have to assume it's closest to the '76 because actor Bradley Cooper (THE MIDNIGHT MEAT TRAIN) definitely seems to be channeling Kristofferson's rugged country poet vibe. I even contemplated whether or not he should be allowed to play Whistler if they ever do a new BLADE. Then I realized that really the voice he's doing is Sam Elliott, so I was delighted when the actual Sam Elliott (ROAD HOUSE) showed up, playing his older brother/road manager. I wondered if that was awkward between the two actors, and then I found a Good Morning America interview where Elliott says Cooper (THE MIDNIGHT MEAT TRAIN) warned him "this is gonna be a little weird" before playing him a tape of the voice he was working on. "And it was a little weird."
What if Elliott hadn't been available? If they ended up casting, like, Don Johnson or Willem Dafoe or somebody, would they have to imitate Sam Elliott too? (read the rest of this shit…)
VERN has a new action-horror novel out called WORM ON A HOOK! He has been reviewing movies since 1999 and is the author of the film criticism books Seagalogy: A Study of the Ass-Kicking Films of Steven Seagal and Yippee Ki-Yay Moviegoer!: Writings on Bruce Willis, Badass Cinema and Other Important Topics as well as the crime novel Niketown.