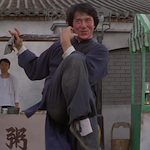 When we last saw Wong Fei-hung (Jackie Chan), he was a bratty kid always getting in trouble, getting disowned by his martial artist/physician father Master Wong, trained in drunken boxing by Beggar So, learning to fight really well if he has access to a gourd he can use to get blitzed out of his, you know, gourd.
Now its… I'm not sure how long later. But it's the early twentieth century. There are cars and shit. Though he's presumably an adult, he still lives with his parents – now played by Ti Lung (A BETTER TOMORROW) and Anita Mui (RUMBLE IN THE BRONX) – and fucks around and gets in trouble constantly.
When DRUNKEN MASTER came out in 1978, Jackie was just beginning to explore his comedic approach to kung fu movies, and it established him as a major movie star in China. Sixteen years later, when DRUNKEN MASTER II (a.k.a. THE LEGEND OF THE DRUNKEN MASTER) came out, Jackie and martial arts cinema were in an entirely different place. Jackie had moved over to Golden Harvest, directed ten movies, started the POLICE STORY and ARMOUR OF GOD series, even done a few American movies. And then he returned to the famous folk hero character in the only time he was ever directed by the great Lau Kar-leung (EXECUTIONERS FROM SHAOLIN, THE 36TH CHAMBER OF SHAOLIN, HEROES OF THE EAST, DIRTY HO, THE 8 DIAGRAM POLE FIGHTER, TIGER ON BEAT). But they fought about the shooting and fighting styles and Jackie took over to direct the final fight that the movie's best known for. (read the rest of this shit…)
VERN has a new action-horror novel out called WORM ON A HOOK! He has been reviewing movies since 1999 and is the author of the film criticism books Seagalogy: A Study of the Ass-Kicking Films of Steven Seagal and Yippee Ki-Yay Moviegoer!: Writings on Bruce Willis, Badass Cinema and Other Important Topics as well as the crime novel Niketown.